Four-time Grammy award-winning tenor Anthony Dean Griffey brings his powerful, lyric voice to the stage of the Lawrence Memorial Chapel Friday, April 9 at 8 p.m.  Accompanied by pianist Warren Jones, Griffey performs in concert as part of Lawrence's 2009-10 Artist Series.
Tickets, at $22-20 for adults, $19-17 for seniors and $17-15 for students, are available through the Lawrence Box Office, 420 E. College Ave., Appleton, 920-832-6749.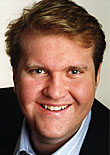 Best known for his "achingly vulnerable and alarming interpretation" of the title character in Benjamin Britten's "Peter Grimes," Griffey has performed with leading symphonies and at prestigious opera houses around the world, including the Metropolitan Opera and the Opera Nationale de Paris.  Among his other starring roles, Griffey has performed as Mitch in "A Streetcar Named Desire" and Lennie Small in "Of Mice and Men."
Steven Spears, assistant professor of music at Lawrence, says Griffey boasts three outstanding qualities that make him a bona fide star.
"First and foremost he has a sweet tone, which is not usual for a tenor voice of its size," said Spears, who sang with Griffey at the Opera Theater of St. Louis in 1994.  "He also possesses a keen intellect and musicianship, which is necessary for more difficult repertoire, both vocally and musically.  And thirdly, he brings sensitive insight into the text and his character comes from a beautiful soul."
A North Carolina native, Griffey added a pair of Grammy Awards to his collection in 2010 as the principal soloist on a live recording of the San Francisco Symphony's performance of Gustav Mahler's Symphony No. 8 and the Adagio from Symphony no. 10.  The recording earned Grammys for best classical album and best choral performance.
Griffey appeared on DVD in the Grammy-winning Los Angeles Opera production of "Rise and Fall of the City of Mahagonny," which also aired on PBS and has been featured as Artist of the Week on A&E's "Breakfast with the Arts."
Jones, who accompanies many of today's prominent singers, performing nearly all his music from memory, was recently named "Collaborative Pianist of the Year" for 2010 by Musical America.
A member of the faculty at the Manhattan School of Music in New York City, Jones leads a graduate degree program in collaborative piano and conducts frequent master classes around the country.  He also performs as principal pianist for the West Coast chamber music group Camerata Pacifica.