Mixing levity with serious economic solutions to climate change, University of Washington environmental economist Yoram Bauman delivers the second address in Lawrence University's 2010 Povolny Lecture Series in International Studies "The Climate for Climate Change."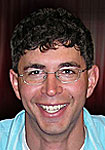 Bauman, who bills himself as "the world's only stand-up economist," presents "Comedy, Economics and Climate Change," Monday, April 26, 7 p.m. in the Wriston Art Center auditorium. The event is free and open to the public.
While poking good-natured fun at the field of economics, Bauman also will provide a serious examination of the ways economics can help address the problem of climate change. His address will focus on environmental tax reform — revenue-neutral carbon pricing — and explain why he favors lowering taxes on things we want more of, including employment, savings, and investments and raising taxes on things we want less of, specifically carbon emissions.
Based on 2005 emissions information, Bauman argues a tax of $30 per short ton of carbon dioxide emissions — approximately 30 cents per gallon of gasoline or three cents per kWh of coal-fired power — would generate enough revenue in Wisconsin to eliminate the state business tax and reduce the state sales tax rate by 50 percent.
A specialist on the economics of climate change, Bauman earned a bachelor's degree from Reed College and a Ph.D. in economics from the University of Washington. He joined the UW faculty in 2006 and teaches in the environmental studies program.
He also performs stand-up regularly at Seattle's Comedy Underground and at colleges, comedy clubs and corporate events around the country. Among his publications is the book "The Cartoon Introduction to Economics."
"The Climate for Climate Change" lecture series is sponsored by the Mojmir Povolny Lectureship in International Studies. Named in honor of long-time Lawrence government professor Mojmir Povolny, the lectureship promotes interest and discussion on issues of moral significance and ethical dimensions.