Artist Jerilea Zempel, who has created sculptures using dung, discusses her work in the address "Art and the Environment" Thursday, April 22 at 4:30 p.m. in the Wriston Art Center auditorium as part of Lawrence University's 2009-2010 Visiting Artist Series.
The presentation, part of Green Roots' celebration of Earth Week, is free and open to the public.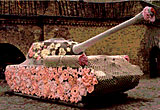 Zempel is known for uniquely integrating objects she has found in the U.S. and Europe into her art. In an attempt to alter their identities, Zempel covers ordinary objects such as cars or guns with unusual materials such as knit or crocheted yarn. One of her art pieces features a Russian tank covered with crocheted webbing and crocheted flowers.
Her installation "Laws of Nature" includes more than 35 guns covered with domestic materials such as lipstick or cornmeal. Incorporating the environment into her artwork, Zempel created outdoor replicas of master sculptors by using a more natural material — horse manure. The works were constructed with the hope that they would eventually decompose into the ground.
Along with her site-specific projects, Zempel has exhibited her work in New York galleries and museums. The recipient of numerous grants for her work, Zempel teaches at New York City's Fordham University.