Lawrence University student Bennett Pang never imagined he would be isolating "natural killer" cells from human blood samples as an undergraduate. The biology major from Honolulu, Hawaii contributed to a novel immunology study this summer at the University of New Mexico Cancer Center.
Lawrence junior Grace Rothstein spent her summer at the University of Georgia's Complex Carbohydrate Research Center exploring ways to modify plant cell walls so they can be used more efficiently for biofuel production. Part of her responsibilities included creating a database for more than 2,000 plants.
Pang and Rothstein were among 11 students who participated in an innovative undergraduate research program launched by Lawrence: LU-R1: Partnership Opportunities for Students.
The program pairs qualified Lawrence students with Lawrence alumni scientists who are directing research laboratories at major universities (R1 institutions) across the country, including the University of New Mexico, Michigan State University, the University of Utah, the University of Pennsylvania and the Mayo Clinic, among others.
LU-R1 takes undergraduate research to the next level, providing significant opportunities typically reserved for graduate students at major universities, clinical research settings and government agencies, while strengthening ties between Lawrence University and its alumni. An ancillary goal of the program is to provide research experiences that can enhance students' Senior Experience capstone projects.
"The LU-R1 program provides undergraduate students with innovative learning opportunities that are beyond the normal resources of most colleges," said Lawrence President Jill Beck. "By tapping our alumni as distinguished mentors, we're enabling our science majors to engage in cutting-edge questions, learn new methodologies and gain vital experience toward their graduate studies and careers."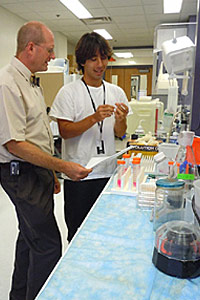 Working under the direction of Dr. Stuart Winter, a 1983 Lawrence graduate and chief of pediatric oncology at the University of New Mexico Cancer Center, Pang spent 10 weeks in the center's hematologic malignancies research program. Pang assisted on a potential drug therapy for the treatment of leukemia that uses the body's own immune system. Seeking alternatives to existing chemotherapy drugs, Winter began work on an "immuno-chemotherapy" model last spring.
"When I first arrived, I knew very little about immunology and leukemia. Now I have experience in both fields," said Pang, who is considering biomedical research as a career option. "The LU-R1 program was an opportunity to participate in top-level research. I could see myself working in a lab like that some day."
Winter admitted to some initial doubts, but discovered Pang was up for the challenge and was well-prepared by his Lawrence teachers.
"Bennett did a great job in the lab helping isolate the natural killer cells in the blood," said Winter. "At the undergraduate level, a lot of learning is done around basic human biology concepts. This research takes those concepts and applies them to human medicine."
Rothstein, a self-proclaimed science junkie from Whitefish Bay, Wis., says she came away from the experience "with a tremendous amount of respect for anyone who does research. How much work and independent study goes into everything isn't necessarily something I would have known had I not had an opportunity like this."
University of Missouri biochemist Scott Peck, a 1988 Lawrence graduate whose research focuses on boosting plant immunity against potential pathogens, sees training young scientists as future colleagues as an important part of his job. He served as a mentor for Lawrence biology major Jeff Nichols.
"This program is incredibly valuable on so many levels," Peck said. "Lawrence students receive additional laboratory training that reinforces their excellent classroom education and makes them more competitive in the job market or in their applications to professional school while the host universities receive assistance in advancing our research."
LU-R1's potential bigger impact, says Peck, is helping the United States improve its position in science, technology, engineering and math (STEM) careers.
"While STEM-related jobs continue to increase, the number of U.S. students pursuing careers in these areas continues to decrease. Bright, capable students interested in science often pursue careers as doctors. By exposing students to research and discussing career alternatives, we may open the door for a student to a fulfilling career that otherwise would have gone unconsidered."
According to a National Science Foundation report, Lawrence University ranked 37th nationally among undergraduate institutions, per capita, in producing the most students who went on to earn Ph.D.s in engineering and the sciences.
At its core, LU-R1 is about energizing undergraduate students about science says Professor of Biology Nicholas Maravalo, the program's director.
"One of the objectives is to have these students bring these projects back to campus, excite the other students and the faculty, bring the techniques and approaches back to campus and use them as a focus of their own Senior Experience."
The LU-R1 program is supported by a gift from the estate of Maurine Mueller in memory of her husband, Robert, a 1936 Lawrence graduate, and other alumni donations.
A video of the program in action can be watched below: