With the perspective of a 35-year career as a U.S. foreign service officer, former Ambassador Rudolf Perina shares his insights on the current state of affairs and prospects for the future for Eastern Europe in the opening address of the 2010-11 Povolny Lecture Series in International Studies.
Perina presents "Europe's Post-Cold War Conflicts: The Prospects for Peace in the Successor States to Yugoslavia and the Soviet Union," Monday, Nov. 8 at 7 p.m. in the Wriston Art Center auditorium. The event is free and open to the public.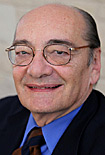 Drawing upon his experiences as head of the U.S. Embassy in Belgrade in the mid-1990s and as U.S. Special Negotiator for Eurasian Conflicts from 2001-04, Perina will discuss the major regional wars — the Bosnia and Kosovo conflicts in Yugoslavia, the Transnistria conflict in what is now Moldova, the Abkhazia conflict in Georgia, and the Nagorno-Karabakh conflict between Armenia and Azerbaijan — which accompanied" the break-up of Yugoslavia and the Soviet Union.
The talk also will explore what the conflicts shared in common and examine the prospects for the future given the varying degrees of stalemate and uneasy truce that exists in the region.
Perina is spending the fall term teaching in the Lawrence government department as the Distinguished Visiting Scarff Professor. The professorship was established in 1989 by Edward and Nancy Scarff in memory of their son, Stephen, a member of the Lawrence class of 1975, who died in an automobile accident in 1984. It brings civic leaders and scholars to Lawrence to provide broad perspectives on the central issues of the day.
Born in Tabor, Czechoslovakia, four months before the end of World War II in Europe, Perina immigrated to the United States with his family in 1951. Growing up in New York, Cleveland and Seattle, he graduated from the University of Chicago and earned a Ph.D. in European history from Columbia University. Inspired by German-born Henry Kissinger, he joined the U.S. Department of State in 1974, specializing in Russian, East European, German and NATO affairs.
During his career, he served in Moscow, Berlin and Brussels and spent 1998-2001 as the U.S. Ambassador to the Republic of Moldova.
Perina retired from the U.S. foreign service in 2006, but continues to accept occasional assignments from the state department. Earlier this year he served two months as the Chargé d'Affaires at the U.S Embassy in Reykjavik, Iceland.
Other career appointments include:
• U.S. Embassy in Ottawa (1975-76)
• State Department NATO desk (1976-78)
• U.S. Embassy in Moscow (1979-81)
• U.S. Mission in Berlin, 1981-85,
• U.S. Mission to NATO in Brussels, 1985-87
• Director, European and Soviet Affairs, National Security Council staff, 1987-89
• Deputy Chairman, U.S. Delegation to the Vienna Negotiations on Confidence & Security Building Measures in Europe, 1989-1992
• Chief of Mission at the U.S. Embassy in Belgrade, 1993-96
• Senior Deputy Assistant Secretary of State for European and Canadian Affairs, 1996-97
• Deputy Director, State Department's Policy Planning Staff, 2004-06
• Chargé d'Affaires, U.S Embassy, Chisinau, Moldova, 2006
• Chargé d'Affaires, U.S Embassy, Yerevan, Armenia, 2007
• Senior State Department inspector, 2008