Lawrence University Professor of Theatre Arts Timothy X. Troy directs two live stage productions of radio adaptations of "The Lonely Road" and "Rocket from Manhattan" Sunday, April 22 at the Cabot Theatre at the Broadway Theatre Center in Milwaukee.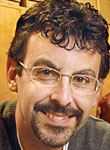 Two Lawrence students, senior Josh Kowitz,  a theatre arts and voice performance major, and sophomore Erik Morrison, a theatre arts and English major, are cast members in both productions, which will be staged by the Milwaukee Chamber Theatre.
Wisconsin Public Radio will broadcast the program live statewide at 8:30 p.m. on its Ideas Network Stations. The program can be heard over the air on WHID 88.1 FM or online.
In "The Lonely Road," a classic episode from the CBS radio drama series "Suspense," a husband and wife are caught in a femme fatale murder plot surrounding a housemaid. Arch Oboler's "Rocket from Manhattan" is a sci-fi thriller and cautionary tale for the atomic age. Both productions will be introduced by WPR host Norman Gilliland.
"'Rocket from Manhattan' is a remarkably prescient play when one considers that it explores the grim possibilities of the nuclear age only six weeks after the bombing of Hiroshima and Nagasaki," said Troy.
Troy has a long history of directing Lawrence's own "Theatre of the Air" program, which recreates classics from old-time radio's "golden age." He and Gilliland previously have collaborated on other time old-time radio related projects, including Lawrence graduate Eric Simonson's 2006 Oscar Award-winning documentary film, "A Note of Triumph: The Golden Age of Norman Corwin."
Gilliland reprises the role of Doc in "Rocket from Manhattan," a character he first portrayed in a live taping session for Lawrence's Theatre of the Air in 2003.
Tickets for the stage production are available for $10 at the Broadway Theatre Center Box Office, by phone at 414-291-7800 or online.
About Lawrence University
Founded in 1847, Lawrence University uniquely integrates a college of liberal arts and sciences with a world-class conservatory of music, both devoted exclusively to undergraduate education. Ranked among America's best colleges by Forbes, it was selected for inclusion in the book "Colleges That Change Lives: 40 Schools That Will Change the Way You Think About College." Individualized learning, the development of multiple interests and community engagement are central to the Lawrence experience. Lawrence draws its 1,445 students from 44 states and 35 countries.  Follow us on Facebook.