The wit and wisdom of a pair of French playwrights open Lawrence University's department of theatre arts 85th season.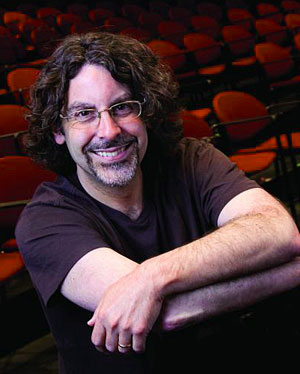 Four performances of the two premondern one-act plays — "Sganarelle, or The Imaginary Cuckold" by Moliere and "The Test" by Pierre de Marivaux — will be staged Oct. 29-31 in Stansbury Theatre of the Music-Drama Center.
Performances are at 8 p.m. each night with an additional 3 p.m. matinee on Saturday, Oct. 31. Tickets, at $15 for adults and $8 for seniors/students, are available through the Lawrence Box Office, 920-832-6749.
Written in 1660, "Sganarelle," a whirlwind of wrong-headed suspicions and imaginary betrayals, was the most produced play during Moliere's lifetime. The plot centers around two couples who each mistakenly believe their spouse has been unfaithful to them. Where circumstantial evidence is viewed as conclusive proof, they plot and scheme to seek revenge, only to entangle themselves further in their own delusions.
"We're going 'old school' this year by exploring the comic sensibilities of French and British playwrights, starting with two classic French comedies," said director Timothy X. Troy, professor of theatre arts and J. Thomas and Julie Esch Hurvis Professor of Theatre and Drama.  "Sgranarelle features broad humor and outrageous characters who grasp tightly to a misunderstanding they won't let go of. The dialogue features perfectly metered rhyming couplets that shows off Moliere's, and translator Richard Wilbur's, wit and control."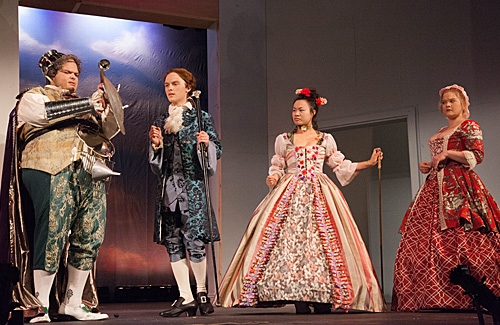 Like "Sgranarella," Marivaux's "The Test" also involves two couples — a valet and a maid, and a master and his vain mistress. The play revolves around the theme of sincerity, or at least the air of sincerity, as his characters wear a mask of sincerity. They enjoy being sincere and expressing their feelings when speaking of others, but are less receptive when similar sincerity is directed at them.
"Marivaux is less well known in the English speaking world, but was greatly admired by important playwrights in the 19th-and 20th-centuries," said Troy. "His humor is marked by witty dialogue and psychological insight. Though "The Test" was written in 1740, it still strikes as remarkably modern. Though the characters use heightened, often lofty language, Marivaux's prose is less self-conscious and flows easily from his character's hearts."
Stansbury Theatre has been transformed into a classic French theatre, complete with chandeliers, footlights and painted scenery for the production, which also features period-inspired sets and costumes.
About Lawrence University
Founded in 1847, Lawrence University uniquely integrates a college of liberal arts and sciences with a nationally recognized conservatory of music, both devoted exclusively to undergraduate education. It was selected for inclusion in the book "Colleges That Change Lives: 40 Schools That Will Change the Way You Think About College" and Fiske's Guide to Colleges 2016. Engaged learning, the development of multiple interests and community outreach are central to the Lawrence experience. Lawrence draws its 1,500 students from nearly every state and more than 50 countries.