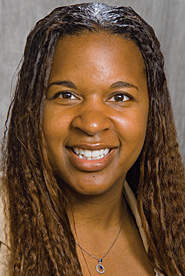 Christyn Abaray is the new Lawrence University Director of Athletics, President Mark Burstein announced today.
Abaray takes over for Mike Szkodzinski, who announced this past spring he was stepping down to devote his full attention to coaching the Vikings' ice hockey team. Abaray has served as director of athletics at Buena Vista University in Storm Lake, Iowa, since June 2012.
"Lawrence University's liberal arts focus comes to life for me in the engaged learning process both on the playing field and in the classroom," Abaray said. "I find myself drawn to this type of environment, where students are learning for the sake of learning and are developing the skills necessary to be the future leaders of our ever-changing and interconnected world. It's exciting to join the Lawrence community and become a part of their journey, learning along the way myself."
Abaray was selected after a national search that resulted in an applicant pool ranging from coast to coast, according to Burstein.
"We were very fortunate to have many talented individuals interested in joining Lawrence thanks to the momentum established by Mike Szkodzinski and our coaching staff," Burstein said.
"It was clear from our first conversation with Christyn that she knew how to lead a successful athletic program within a liberal arts college environment. Her passion for the scholar-athlete experience, her focus on excellence, both on the playing field and in the classroom, and her interest in sustaining a welcoming campus community for all Lawrence students made her the perfect choice."
Part of Abaray's motivation for joining the team at Lawrence was the potential of the Vikings' athletic program.
"I truly feel that Lawrence is in prime position for athletics success with its dedicated coaching staff and its aspirations for more, with its commitment illustrated by resource allocation to human capital and by improvements in the physical plant," Abaray said.
Abaray currently oversees 19 intercollegiate teams and a group of more than 40 coaches and staff at Buena Vista, an institution of 1,225 students that competes in the Iowa Intercollegiate Athletic Conference. She also serves as the college's Title IX coordinator.
During more than three years at Buena Vista, Abaray oversaw the conversion of the athletic department's in-house website to PrestoSports and was a player in a fundraising effort for new lights at the baseball and softball complex. Abaray noted that during her tenure at Buena Vista, she has worked to build a strong sense of community within the athletic department along with more integration of athletics into the larger fabric of the university.
"Christyn's commitment to having a high-quality athletics program that contributes to the education of our students is very exciting for all of us here at Lawrence," Provost Dave Burrows said. Abaray reports directly to Burrows, who added, "She clearly has great energy and is very positive about the future of athletics at Lawrence."
In speaking with Abaray's colleagues, praise was universal for her and her work. Abaray's associates describe a woman who "understands that athletics is about student development first and foremost." Another colleague said, "her vision is two-fold. It's all about the student-athlete experience, but she is also very competitive. She wants winning programs."
[Christyn's] passion for the scholar-athlete experience, her focus on excellence, both on the playing field and in the classroom, and her interest in sustaining a welcoming campus community for all Lawrence students made her the perfect choice."



— President Mark Burstein
Colleagues at Buena Vista describe Abaray as a great thinker, honest, tough, compassionate, accessible and a wonderful advocate for her department.
"Hopefully that is who I am," said Abaray, who has a husband, Chris, and two children, Jackson and Jade. "I know that's who I think I am, and that's who I try to be every day."
Abaray spent nearly eight years working at Swarthmore College in Pennsylvania before her stint at Buena Vista. She joined the Swarthmore staff as the assistant director of athletics in August 2004 and was promoted to associate director of athletics and senior woman administrator in 2007. From that point, Abaray supervised all sports, coaches and fundraising accounts. Abaray also served as the department's compliance coordinator, was a liaison for the Dean's Office and the adviser for the Student-Athlete Advisory Committee.
While completing her master's degree in exercise and sports science at the University of North Carolina from 2001-03, Abaray served as an intern in the athletics business office.
Abaray is a 2001 graduate of Washington University in St. Louis where she earned bachelor's degrees in anthropology and environmental studies. Abaray, who was inducted into WashU Sports Hall of Fame in 2011, was a four-year starting defender for the women's soccer team.
A three-time first-team All-University Athletic Association and All-Central Region selection, Abaray earned All-America honors from the National Soccer Coaches Association of America in 1998.
About Lawrence University
Founded in 1847, Lawrence University uniquely integrates a college of liberal arts and sciences with a nationally recognized conservatory of music, both devoted exclusively to undergraduate education. It was selected for inclusion in the book "Colleges That Change Lives: 40 Schools That Will Change the Way You Think About College" and Fiske's Guide to Colleges 2016. Engaged learning, the development of multiple interests and community outreach are central to the Lawrence experience. Lawrence draws its 1,500 students from nearly every state and more than 50 countries.