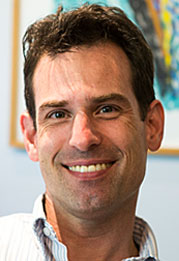 Any musician will tell you playing music changes the way they think, but how exactly does music affect the perception of the human brain?
John Iversen, cognitive neuroscientist at the Institute for Neural Computation at the University of California, San Diego, seeks answers to that question in his studies of rhythm perception and production in music and language, spanning behavioral and neuroscience approaches.
Iversen presents "Rhythms in Music, Language, and the Brain: Using Music to Study Neural Function" Wednesday, Feb. 24 at 7 p.m. in the Wriston Art Center auditorium as the penultimate speaker in Lawrence University's Liberal Arts in the Century of the Brain series. A question-and-answer session will immediately follow the presentation, which is free and open to the public.
Music perception and production is a key tool for understanding complex brain processes, including those that may underlie language. A common theme running through Iversen's research is the perception of rhythm, including how a listener's native language influences that perception, how listeners synchronize with the beat in complex rhythms and the differences in performance when a rhythm is presented aurally versus visually.
He currently directs the SIMPHONY project at UCSD, a longitudinal study of the effect of music training on children's brain and cognitive development. Other research endeavors include a study of Japanese and English-learning infants, showing that language learning shapes basic rhythm perception. He earned  national attention for a study demonstrating that Snowball, a sulphur-crested cockatoo, can synchronize with a musical beat, an ability that was previously thought to be uniquely human.
Iverson earned a  bachelor's degree in physics from Harvard University, graduate degrees in philosophy of science and in speech at Cambridge University and a Ph.D in speech and hearing science from MIT.
The Liberal Arts in the Century of the Brain series incorporates the interdisciplinary areas of neuroscience and cognitive science to create connections with other disciplines at Lawrence.
The closing speaker in the series will be:
• Walter Sinnott-Armstrong, Chauncey Stillman Professor of Practical Ethics in the department of philosophy and the Kenan Institute for Ethics at Duke University. April 12. The author of five books and more than 100 published articles, Sinnott-Armstrong is a scholar of moral psychology and brain science, which his presentation will focus on, as well as uses of neuroscience in the legal system.
About Lawrence University
Founded in 1847, Lawrence University uniquely integrates a college of liberal arts and sciences with a nationally recognized conservatory of music, both devoted exclusively to undergraduate education. It was selected for inclusion in the book "Colleges That Change Lives: 40 Schools That Will Change the Way You Think About College" and Fiske's Guide to Colleges 2016. Engaged learning, the development of multiple interests and community outreach are central to the Lawrence experience. Lawrence draws its 1,500 students from nearly every state and more than 50 countries.