An Appleton education center that helps establish the foundation for young children to reach their full potential was honored Sept. 21 by Lawrence University during the college's eighth annual Report to the Community.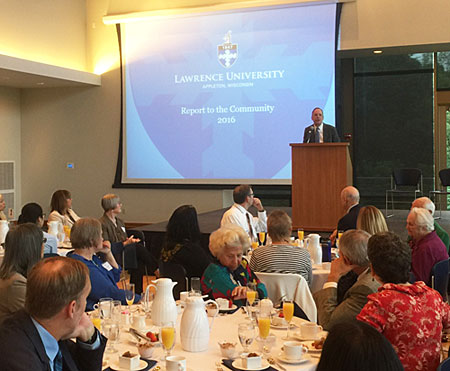 Recognized for being "a catalyst for positive change in our community," the Community Early Learning Center (CELC) received the seventh annual Lawrence University Collaboration in Action Award. The award recognizes an individual or organization, who, in partnership with Lawrence, has provided exemplary service to the Fox Cities community through strategic vision, leadership influence, long-standing commitment and enthusiasm, financial contributions and/or volunteerism.
Lawrence faculty members Beth Haines, associate professor of psychology, and Adam Loy, assistant professor of statistics, along Kathy Phillippi-Immel, associate professor of psychology at UW-Fox Valley, presented the award. Accepting the award on behalf of the CELC were Jon Stellmacher, board president of the CELC, Lee Allinger, superintendent of the Appleton Area School District, Dr. John Mielke of the Mielke Family Foundation and Nicole Desten, director of the Bridges Child Enrichment Center.
Launched in 2014 in the former Catholic Central
 Elementary School in downtown Appleton, the CELC brought five nonprofit and public organizations together under one roof: Bridges Child Enrichment Center (formerly Project Bridges), Appleton Area School District Birth–5 Programs, Even Start Family Literacy, Outagamie County Early Intervention and the UW–Oshkosh Head Start program.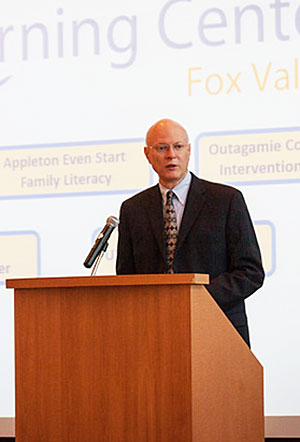 The one-time independently operating organizations now share space, data and resources to serve children from birth to age five. Each focuses on different aspects of early childhood development and intervention to ensure that all children — especially those from low-income backgrounds — have the opportunity to reach their full potential.
According to Burstein, this kind of collaborative investment in early childhood education "keeps our community on the cutting edge of education research and best practices."
"Collaboration with Appleton and the greater Fox Cities has never been more important to Lawrence," Burstein added. "The Report to the Community allows us to deepen the conversation among all partners and provide a moment to celebrate recent accomplishments.  Lawrence is thrilled to award the Collaboration In Action prize to the Community Early Learning Center this year.  The Center's impact on the educational environment in the Fox Cities is powerful and our work together has provided wonderful learning experiences for our students and faculty as well as hopefully an opportunity to enhance what the CELC has to offer."
Lawrence faculty and staff have been involved with the CELC since its founding. Haines and David Burrows, provost and dean of the Lawrence faculty, served on the planning and implementation team during the CELC's early stages. Haines, who chairs the center's research committee, led efforts to create an ongoing assessment plan. Haines, Loy and Phillippi-Immel also helped develop a shared database for the five agencies.
Under Haines' guidance, Lawrence students have conducted screenings and data analysis each summer since the CELC opened. They also have gained real-world experience working in CELC classrooms.
"It's really nice for them to be able to not just read about why these programs are in place, but to actually help out," says Haines. "When they do fieldwork, they volunteer. They're not just observing."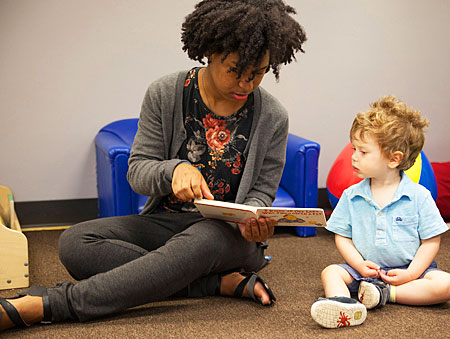 Through the integration of applied research and collaborative program planning, Lawrence enables the CELC to make the most of limited staff time and money, allowing  the CELC to maximize the benefits to area young children and families.
"Numerous studies have demonstrated the benefits of quality early care and education in improving social and emotional development and school readiness, helping reduce the costs of remediation and increasing the benefits of a productive citizenry," said CELC Board President Jon Stellmacher. "As we elevate attention to the importance of the early years and their long-term impact on school and life success, we add one more excellent reason why this is a wonderful community in which to live and work."
The CELC joins Mile of Music (2015), Riverview Gardens (2014), Boys & Girls Club of the Fox Cities (2013), the Appleton Area School District (2012), the YMCA of the Fox Cities (2011) and the Mielke Family Foundation  (2010) as previous winners of Lawrence's Collaboration in Action Award.
About Lawrence University
Founded in 1847, Lawrence University uniquely integrates a college of liberal arts and sciences with a nationally recognized conservatory of music, both devoted exclusively to undergraduate education. It was selected for inclusion in the book "Colleges That Change Lives: 40 Schools That Will Change the Way You Think About College."  Engaged learning, the development of multiple interests and community outreach are central to the Lawrence experience. Lawrence draws its 1,500 students from nearly every state and more than 50 countries.