For the ninth year in a row, Lawrence University has been named to the annual President's Higher Education Community Service Honor Roll.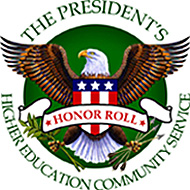 Lawrence is one of only two Wisconsin institutions to be cited every year by the Washington, D.C.-based Corporation for National and Community Service (CNCS) since the honor roll program was launched in 2006 in response to the relief efforts of thousands of college students who traveled to the Gulf Coast following Hurricane Katrina.
The President's Higher Education Community Service Honor Roll is the highest federal recognition a college or university can receive for its commitment to volunteering, service-learning and civic engagement. It recognizes the nation's leading higher education institutions and their students, faculty and staff for their commitment to improving their communities through service.
Among the initiatives for which Lawrence was cited:
The President's Honor Roll program recognizes higher education institutions that reflect the values of exemplary community service and achieve meaningful outcomes in their communities on a broad range of issues. Honorees are chosen on the scope and innovation of service projects, the extent to which service-learning is embedded in the curriculum, the school's commitment to long-term campus-community partnerships and measurable community outcomes as a result of the service.
"Lawrence's many organizational partnerships in Appleton and the surrounding communities have long been an important ingredient in the transformative education that we provide for our students," said Mark Jenike, Pieper Family Professor of Servant Leadership and director of the college's Office of Community-Based Learning and Research. "We also strive to support opportunities for volunteering, internships, community-based research and coursework, and community-oriented performances that have positive impacts on our neighbors and on the city and region in which we live. We are grateful to the President's Higher Education Community Service Honor Roll for recognizing our accomplishments in these areas."
Among the initiatives for which Lawrence was cited:
• Self-Agency in Youth (SAY) Program. Created in the fall of 2012, the SAY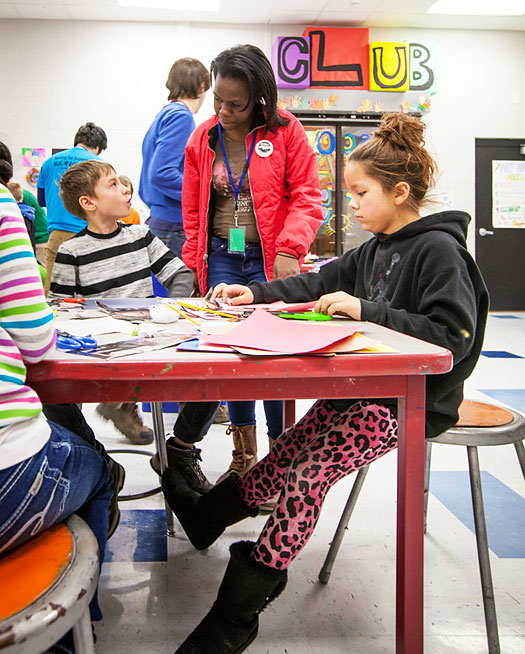 Program partnered with the Boys & Girls Clubs of the Fox Valley to run two empowerment groups for local teens:  the Beautiful You African American Girls' group and Hmong Youth Pride and Empowerment (HYPE) group. Using the support groups and a tutoring/mentoring initiative, the SAY Program helps teens gain ownership over their post-high school futures. More than 60 volunteers — students, staff members, faculty, community members — were involved with the program that served more than 65 teenagers. By helping connect and build on the strengths of local youth from low-income backgrounds, the SAY program has helped these young people build their own communities where they find the support they need to thrive. The program now consists of Hmong Youth Pride and Empowerment (HYPE), Black Youth Empowerment (BYE) and the Organization of Latin@American Student (OLAS).
Music for All. Led by Lawrence conservatory faculty members Michael Mizrahi and Erin Lesser, the Music for All initiative strives to increase access to, and inclusion in, classical chamber music performances for children and populations who ordinarily do not participate. Performances have been conducted at Riverview Gardens, the Fox Valley Warming Shelter and Jefferson Elementary School. The program was founded on the belief that communities are strengthened through positive interaction and shared experiences and music has the power to connect people, transcend social barriers and provide meaningful emotional experiences.
Riverview Gardens Partnership: Lawrence students contributed more than 1200 hours of service at Riverview Gardens in support of its mission of combating root causes of hunger, homelessness, and unemployment. Lawrence has been closely connected to Riverview Gardens since the start of its operations in 2012. The first garden manager and other members of the garden staff have been Lawrence students or alumni; the fruit and vegetable gardens were designed and created by graduates of Lawrence's own sustainable garden; students and faculty have applied their expertise in geology, terrestrial ecology and botany to plan and implement conservation and habitat restoration on the 72-acre property.
For the 2015 President's Honor Roll, 785 members of the Lawrence community provided more than 12,000 hours of volunteer service to 144 local agencies. Many of Lawrence's service initiatives are targeted towards addressing areas of need, including arts opportunities for youth, academic help for low-income kids, transitional housing and adult literacy and life/work skills identified in a report by The Fox Cities Community Foundation.
The Corporation for National and Community Service compiles the President's Community Service Honor Roll in collaboration with the Department of Education, Department of Housing and Urban Development, Campus Compact and the American Council on Education.
About Lawrence University
Founded in 1847, Lawrence University uniquely integrates a college of liberal arts and sciences with a nationally recognized conservatory of music, both devoted exclusively to undergraduate education. It was selected for inclusion in the book "Colleges That Change Lives: 40 Schools That Will Change the Way You Think About College."  Engaged learning, the development of multiple interests and community outreach are central to the Lawrence experience. Lawrence draws its 1,500 students from nearly every state and more than 50 countries.