Historian Paul Cohen examines the role gender, particularly masculinity, plays in American's vision of a president in Lawrence University's annual Honors Convocation.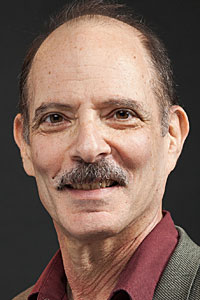 Cohen presents "Presidential Manhood: Masculinity and American Politics in the Age of Mass Media" Tuesday, May 23 at 11:10 a.m. in the Lawrence Memorial Chapel. The event is free and open to the public and also will be available via  live webcast.
The Honors Convocation publicly recognizes students and faculty recipients of awards and prizes for excellence in the arts, humanities, sciences, social sciences, languages and music as well as demonstrated excellence in athletics and service to others.
Cohen was chosen as the 2017 speaker as the recipient of Lawrence's annual Faculty Convocation Award, which honors a faculty member for distinguished professional work. He is the eighth faculty member so honored.
According to sociologist Michael Kimmel, over the past 170 years, a president's manhood has always been a question, "his manly resolve, firmness, courage and power equated with the capacity for violence, military virtues and a plain-living style that avoided cultivated refinement and civility."
Cohen will explore that historical perspective and how mass media imagery has framed American presidential contests since 9/11. While issues of age, race and sex are typical elements of any discussion of presidential qualifications and character, Cohen argues gender, and especially masculinity, has remained a critical, but less-noted factor, in American's vision of a president. His talk will focus on the media portrayals of George W. Bush, Barack Obama, Hillary Clinton and Donald Trump.
A specialist in modern European and European intellectual history, Cohen joined the Lawrence history department in 1985 and was appointed the Patricia Hamar Boldt Professor of Liberal Studies and professor of history in 2003.
Cohen's research interests have grown to encompass cinema, including the portrayal of masculinity in American films post-World War II, particularly representations of manhood that deviate from the Hollywood stereotypes.
He developed two new courses, 'Film as History, History as Film" and "Reel Men: Masculinity in Postwar American Film," which were added to the curriculum in 1999 and 2006, respectively. The courses explore how specific moments in history have been depicted in film as well as how film itself can serve as a source of historical interpretation.
A native of Bethesda, Md., Cohen is the author of the books "Freedom's Moment: An Essay on the French Idea of Liberty from Rousseau to Foucault," of which a Korean translation has since been published, and "Piety and Politics: Catholic Revival and the Generation of 1905-1914 in France."
A former director (1996-98) of Lawrence's signature Freshman Studies program, he was honored with the university's Freshman Studies Teaching Award in 1999 and was recognized with Lawrence's Award for Excellence in Teaching in 2008.
He earned a bachelor's degree in history from Clark University, where he graduated Phi Beta Kappa, and a master's degree and Ph.D. in history from the University of Chicago. Prior to joining the Lawrence history department, Cohen spent a year teaching history at the American College in Paris.
About Lawrence University
Founded in 1847, Lawrence University uniquely integrates a college of liberal arts and sciences with a nationally recognized conservatory of music, both devoted exclusively to undergraduate education. It was selected for inclusion in the book "Colleges That Change Lives: 40 Schools That Will Change the Way You Think About College."  Engaged learning, the development of multiple interests and community outreach are central to the Lawrence experience. Lawrence draws its 1,500 students from nearly every state and more than 50 countries.