For J.R. Vanko, it was "the chance of a lifetime to be a part of something incredible."
The "it" was a genuine feature-length, professional film shot on the Lawrence University campus where he was a student.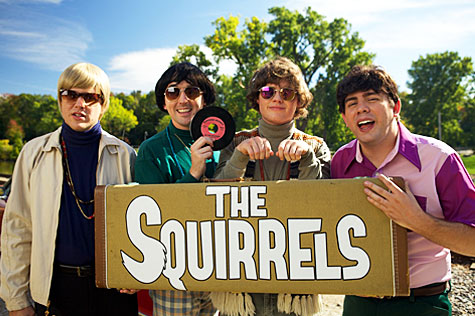 Vanko was one of numerous Lawrence students who seized the opportunity to get involved with the filming of the movie "Bucky and the Squirrels" when the production team brought its cameras and actors to campus.
Written and directed by award-winning Hollywood veteran Allan Katz, "Bucky and the Squirrels" is a mockumentary about a one-hit wonder rock band from Appleton that vanished in a plane crash in the Swiss Alps. Fifty years later, the aircraft is discovered with the Squirrels still inside — frozen alive. The film includes cameo appearances by Jason Alexander ("Seinfeld"), Mike Farrell ("M*A*S*H"), Richard Lewis ("Curb Your Enthusiasm) and Raquel Castro ("Empire").
Bucky" (Rated PG, 83 minutes) begins a 45-screen theatrical run Friday, Jan. 26 beginning in the Midwest and spreading west. A national digital/DVD release will follow later in the spring. It will be shown in Appleton at both the Valley Grand Cinema and Hollywood Cinema. Beyond Appleton, the film will be shown at Wisconsin theatres in Delafield, Green Bay, Madison, Menomonee Falls, Milwaukee, Oshkosh and Sheboygan.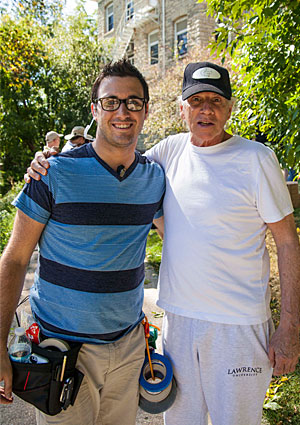 Katz and Jill Lover, a 1993 Lawrence graduate and professional actor who plays therapist Dr. Adams in the film, will be in Appleton for the Saturday (1/27) evening screening at the Valley Grand Cinema as part of a Lawrence special event.
A theatre major at Lawrence, Vanko served as the production designer for the film, overseeing set design and all of the artistic design elements of the film.
Documentary filmmaker and 1972 Lawrence graduate Catherine Tatge, who was serving as an artist-in-residence at the time helping to get Lawrence's new film studies program established, had seen Vanko's theatre work and thought his skills could translate perfectly for the film industry. She encouraged him to consider applying for the production designer position.
"I jumped at the opportunity to try something new," said Vanko, a 2013 Lawrence graduate. "The opportunity allowed me the experience of working with professionals in the film industry and challenging myself as an artist. The chance to design for a film that had the potential to be distributed nationally was the chance of a lifetime to be a part of something incredible."
Vanko was working as an apprentice at the American Theater Company in Chicago when Katz called him in June 2013. He recalls the conversation fondly.
"Allan said, 'Hi Jonathan, I want you to be the production designer for my new film. Do you have a team?' I will always remember that call as one that changed my life. This film allowed me to challenge myself as a designer in a professional setting, taking what I had learned in my theatre program and apply it to a film setting."
The film was produced by Lawrence graduates Tom Hurvis '60 and his late wife, Julie Esch Hurvis '61, long-time associates of Katz. The decision to shoot much of the film on the Lawrence campus and around Appleton was to enable Lawrence students to get involved in the production.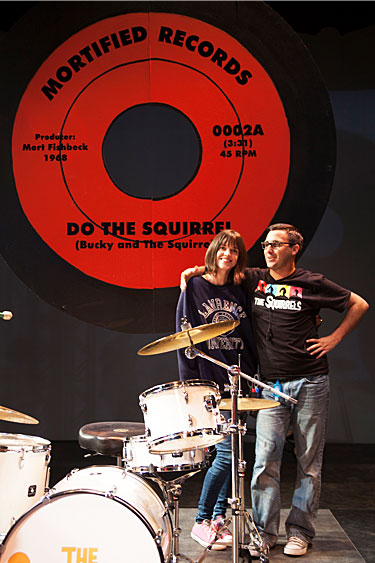 "Bucky and the Squirrels" provided Lawrence students with the unique opportunity to work hands-on with a large-scale Hollywood film production," said Amy Ongiri, Jill Beck Director of Film Studies and associate professor of film studies at Lawrence. "Our film studies students already participate in a wide variety of film-related internships off campus while they are in the program, but to have a Hollywood film produced right here in the Fox Valley enabled them to see every aspect of film production up close. This was an invaluable experience for everyone involved."
Vanko credits his experience with the "Bucky" production for paying dividends in his post-Lawrence life and he remains grateful for the opportunity.
"Many of the skills I learned as a production designer for the film have come into play when building community relationships in my current position," said Vanko, the director of community engagement at Lifezone 360, a sports/fitness/events programming facility in West Dundee, Ill.
"This film provided an opportunity for so many Lawrence students and alumni and truly set the stage for the tone of our film studies department," Vanko added. "There are so many higher educational institutions out there today but there are none quite like Lawrence. When I look back on my experiences there and my time on this film, all I can think of is how thankful I am I had four years of transformative opportunities and experiences that changed the way I not only saw the world but the way I saw myself as a professional."
About Lawrence University
Founded in 1847, Lawrence University uniquely integrates a college of liberal arts and sciences with a nationally recognized conservatory of music, both devoted exclusively to undergraduate education. It was selected for inclusion in the book "Colleges That Change Lives: 40 Schools That Will Change the Way You Think About College." Engaged learning, the development of multiple interests and community outreach are central to the Lawrence experience. Lawrence draws its 1,500 students from nearly every state and more than 50 countries.