TMI, a popular expression for more information than one might want to know, might apply to issues related to school choice options according to recent research.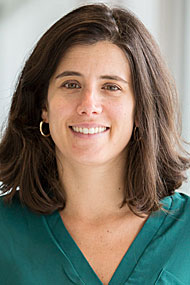 Carolyn Sattin-Bajaj, an associate professor in the College of Education and Human Services at Seton Hall University, shares the results of her study she co-authored involving New York City students who were making decisions on which high school to attend and how the results of those decisions could help guide other school districts with school choice programs around the country in a Lawrence University presentation.
Sattin-Bajaj presents "Reducing Overload to Improve School Choices: How Targeted Information Shapes Students' High School Choice in New York City" Thursday, Feb. 22 at 7 p.m. in Thomas Steitz Hall of Science 101. The event is free and open to the public.
The study was designed to help low-income middle-school students in New York City navigate their choice to attend one of the city's 400-plus high schools. Some students from the 165 schools involved in the study received customized, user-friendly information as opposed to the exhaustive amounts provided by the city's Department of Education.
It found that the students who received simplified information were more likely to choose schools with higher graduation rates and schools where they were more likely to get in, raising a cautionary tale of the importance of avoiding information overload.
Sattin-Bajaj's research focuses on Latino immigrant-origin families' experiences negotiating education systems with an emphasis on school choice and points of educational transition. She is the author of the 2013 book on high school choice in New York City "Unaccompanied Minors: Immigrant Youth, School Choice and the Pursuit of Equity."
About Lawrence University
Founded in 1847, Lawrence University uniquely integrates a college of liberal arts and sciences with a nationally recognized conservatory of music, both devoted exclusively to undergraduate education. It was selected for inclusion in the book "Colleges That Change Lives: 40 Schools That Will Change the Way You Think About College." Engaged learning, the development of multiple interests and community outreach are central to the Lawrence experience. Lawrence draws its 1,500 students from nearly every state and more than 50 countries.