A William Shakespeare classic gets a gender and time period twist in Lawrence University's production of "The Tempest."
Four performances will be staged in Stansbury Theatre Feb. 15-17 with an 8 p.m. show each night and an additional 3 p.m. matinee on Saturday, Feb. 17. Tickets, at $15 for adults, $8 for students/seniors, are available through the Lawrence Box Office, 920-832-6749.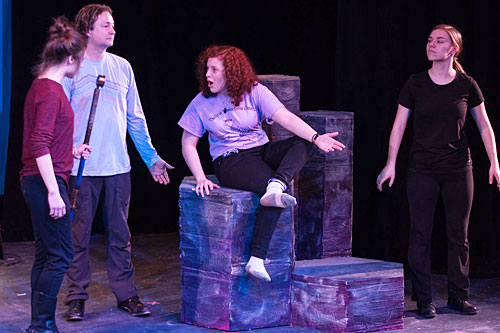 Written in 1610-11 and widely believed to be Shakespeare's final play, "The Tempest" is filled with trickery and magic, romance and revenge.
In this production, director Aram Monisoff, lecturer of theatre arts at Lawrence, set the play in the late 19th-century "Steampunk" era to fully contrast the heavily industrialized noblemen who crash onto the island with the more naturalistic natives. The sorcerer Prospero, the deposed ruler of Milan, is cast as a female sorceress, but with the same name.
"By changing the role of Prospero to a woman, it allows us the opportunity to present 'The Tempest' as an exploration of a mother-daughter relationship," explained Monisoff, a 2008 Lawrence graduate.
The basic storyline of "The Tempest" remains.  Set on a remote island, Prospero uses magic to conjure up a storm, for which the play is named. A ship containing her enemies, Alonso, the king of Naples, and his entourage, struggles to stay afloat during the storm. Prospero's goal is restore her daughter Miranda to her rightful place by using trickery and manipulation, resulting in the marriage of Miranda and King Alonso's son, Ferdinand.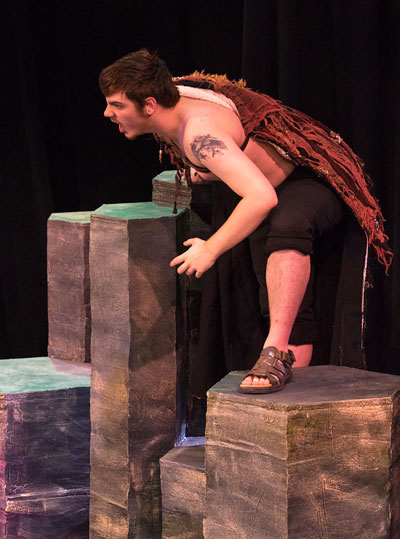 "The character of Prospero, the enigmatic and all-powerful magician, is believed by some to be a representation of Shakespeare himself — as playwright, actor, and producer all rolled into one all-powerful magus," said Monisoff. "Whether true or not, 'The Tempest' dives into the mysteries of life in a timeless and profound way."
The play, according to Monisoff, "celebrates the awesome curiosity and capacity of the human mind and exposes the fears, anxieties and self-serving impulses that threaten to overwhelm it."
"Prospero, who has devoted her life to knowing all there is to know about the universe, must fully confront how much she knows about herself and others," said Monisoff. "Knowledge alone is not enough to heal the wounds caused by her insular thinking and selfishness in her past as ruler of Milan. Prospero's journey is one of returning to the fold, to society itself and to her own humanity. That which makes us human, as Shakespeare shows us time and time again, is our struggle to reconcile the enormity of our dreams with the exquisite vulnerability of our brief lives."
Sophomore Caro Granner from Evanston, Ill., plays Prospero, while New York City sophomore Samantha Torres portrays Miranda. Senior Jenny Hanrahan, Johnsburg, Ill., is cast as King Alonso while Appleton native Oscar Brautigam plays the king's son, Ferdinand.
About Lawrence University
Founded in 1847, Lawrence University uniquely integrates a college of liberal arts and sciences with a nationally recognized conservatory of music, both devoted exclusively to undergraduate education. It was selected for inclusion in the book "Colleges That Change Lives: 40 Schools That Will Change the Way You Think About College." Engaged learning, the development of multiple interests and community outreach are central to the Lawrence experience. Lawrence draws its 1,500 students from nearly every state and more than 50 countries.