Bonds between students and faculty members that last well beyond commencement and graduation congratulations have long been a hallmark of a Lawrence University education.
One such example recently played out in Sierra Leone, where theatre arts professor Timothy X. Troy reunited with former student Momodu Maligi for two weeks on the campaign trail of the country's upcoming national presidential election.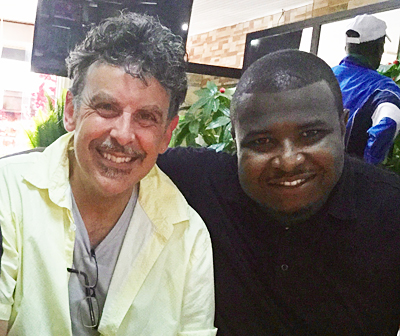 Troy traveled to the west African nation at the invitation of Maligi, a Sierra Leonean native who graduated from Lawrence in 2004. He returned to his homeland, where he now serves as the country's Minister of Water Resources. He serves in the cabinet for the All People's Congress (APC) party currently in power.
"I went purposefully to accompany Momodu during campaign activities leading up to the (March 7) election," said Troy, Hurvis Professor of Theatre and Drama at Lawrence. "I was able to be with him for a variety of campaign activities as well as some of his ministerial activities."
Taking a step outside of his normal role, Troy created a podcast reflecting on his first-hand experiences in Sierra Leone on the eve of the country's historic presidential election.
Troy hopes listeners of his podcast come away with a clear view of his world into Maligi's world.
"I want them to know why it's important and to know that the stakes are high," Troy explained. "Although I don't get at it directly, if you listen carefully, you'll see that there is civil discord underneath the surface. There is the possibility for violence and the hope that this next transition can happen peacefully is dearly felt by everyone I talked to.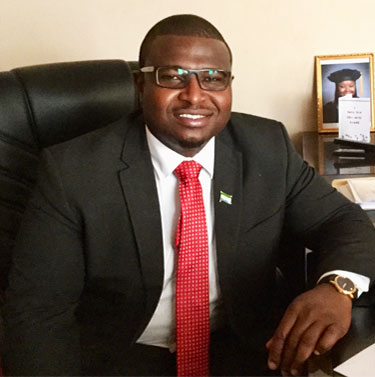 "They all want their guy to win, but ultimately the specter of the civil war is still in living memory. Momodu was at Lawrence because of the Civil War. We're honored that he's bringing the perspectives of the kind of education we offer to his work there. Not everyone there shares that kind of perspective. It's a country that's rebuilding. It's not stable. What they're hoping for is stability. That's certainly Momodou's point of view. His candidate (Samura Kamara) is the continuity candidate. We'll see if that point of view, that hope, prevails."
While it might seem strange that a government major who took one class — voice and diction — with a theatre professor would develop such a bond, Troy says "that's part of the beauty of this thing."
"I never lost track of Momodu and our relationship has continued since he was a student," said Troy, who traveled to Sierra Leone in December 2016 with Lawrence students to lead a series of Shakespeare workshops at various schools. "I have so much respect for Momodu's efforts in helping rebuild his country and he feels so warmly about his Lawrence experience that my presence there was just a continuation of that ongoing relationship."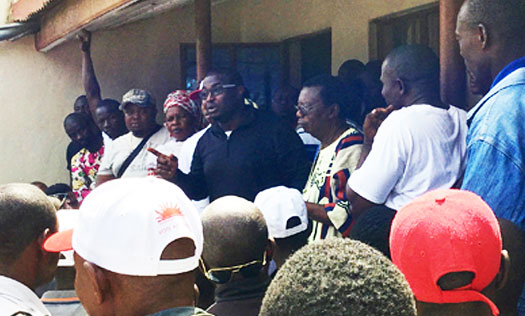 In traveling with Maligi on the campaign trail, Troy says he could see the lessons Maligi learned from having lived in America for a time. There are core values about fair governance and the public good he brought back to his homeland.
"Momodu learned what it's like to have good social services, what it means to have clean running water in every household. He experienced that firsthand and it's very clear that's the goal. I was able to witness, through him and his ministerial and party colleagues, the fact they have a clear vision of where they would like to go. The water main that brings water into my house was laid 100 years ago. That kind of infrastructure is still waiting to be built in Sierra Leone. It's a big task, but it's clear goal for someone like Momodu and his colleagues."
"I have so much respect for Momodu's efforts in helping rebuild his country and he feels so warmly about his Lawrence experience that my presence there was just a continuation of that ongoing relationship."
— Professor Timothy X. Troy
The major issues in the presidential campaign, according to Troy, are tied to the history of the Sierra Leone Civil War that lasted nearly 11 years (1991-2002), the Ebola crisis in 2014 and the attempts of a poor nation trying to establish a middle class.
"That's really the national agenda," says Troy, who spent four days at West Point prior to leaving for Sierra Leone, visiting with members of the academy's geography department and talking to Africa-area experts there. "They haven't had a stable raise of a middle class through the 20th century, so they have a very different starting point."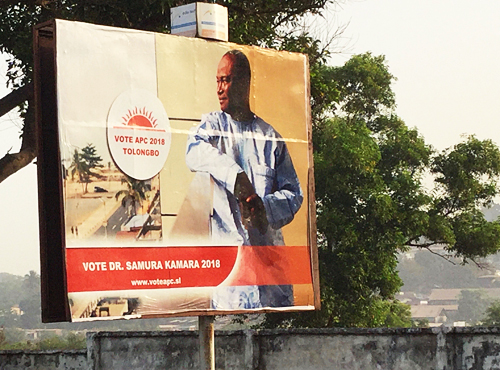 As the country's current foreign minister and someone who has served under three very different regimes, Kamara is seen as many as the favorite to win the election. But Troy calls the outcome "a huge unknown."
"That's one of the compelling things here. We look at Kamara and think 'okay, in so far is how Sierra Leone stands in the world internationally, he is the best candidate. It's so clear,'" said Troy, who met Kamara several times during his trip.
"But no one really knows," Troy added. "There is no reliable international polling. There's no credible equivalent of the BBC or of NPR that is recognized as a neutral observer that can help sort the various points of view. This is such a poor country you couldn't even establish a credible telephone polling sample. Literally nobody knows who will win."
Lawrence's connections to Sierra Leone and Momodu Maligi include a visit he made to campus last spring to deliver a talk for the Povolny Lecture Series.
Government professor Claudena Skran has been extensively engaged with Sierra Leone for more than a decade. After spending time there conducting research on the role of NGOs in refugee resettlement, she founded KidsGive, a Lawrence-based nonprofit organization that provides scholarships for students in Sierra Leone and works to educate U.S. students about Sierra Leonean life and culture.
About Lawrence University
Founded in 1847, Lawrence University uniquely integrates a college of liberal arts and sciences with a nationally recognized conservatory of music, both devoted exclusively to undergraduate education. It was selected for inclusion in the book "Colleges That Change Lives: 40 Schools That Will Change the Way You Think About College."  Engaged learning, the development of multiple interests and community outreach are central to the Lawrence experience. Lawrence draws its 1,500 students from nearly every state and more than 50 countries.