Listening to great original music by a wide variety of artists is, of course, what Appleton's Mile of Music is all about.
But the opportunity to personally engage in music, a unique feature of the four-day festival, aah, that's what red lines Leila Ramagopal Pertl's excitement meter.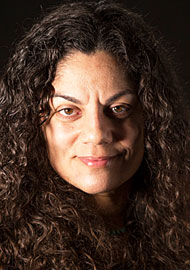 As the music education curator for the Mile of Music, Ramagopal Pertl will oversee a 28-person team of music educators, most with Lawrence ties, that will conduct 40 hands-on music-focused workshops during the festival, which runs Aug. 2-5.
This year's festival — Mile 6— will feature 900 live performances by 208 artists/bands from 29 states as well as Washington, D.C., and Canada at 70 venues along College Avenue and the Fox River.
The interactive, education workshops designed for both the young and the young at heart range from Balinese gamelan and Ghanaian drumming and dance to didjeridu and ukulele.
"I'm so excited to see the growing number of people who schedule their Mile of Music education events ahead of time," said Ramagopal Pertl, a 1987 Lawrence graduate and music education instructor in Lawrence's conservatory of music
who has led the music education team since the festival's inception along with her husband, Brian Pertl, dean of the Lawrence conservatory.
"Lawrence music education is not only providing hands on, music-making events to our public, but, in fact, is helping to change a mindset about who is musical and who is not," she added. "We are all musical beings whose life experience must often be perceived and expressed in musical ways. When our Lawrence community, and especially our Lawrence music education students, contribute to this awareness and active process, their influence goes far beyond this campus, and, indeed, far beyond our own Fox Valley."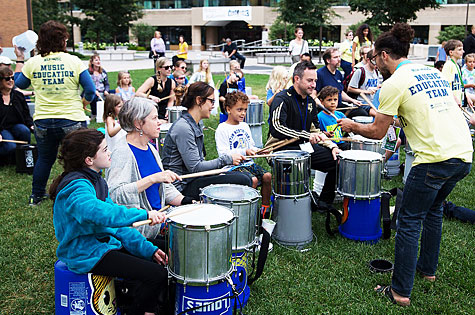 At last year's festival, the music education team engaged 5,000 participants in the workshops. Ramagopal Pertl hopes to increase that number by at least 500 this year.
New for Mile 6 will be a reinvention of a festival staple, the Great Mile of Music Sing-a-Long. This year's sing-a-long will celebrate rich music diversity with culture leaders from all corners of the Fox Cities teaching songs from their traditions, including Oneida, Congalese and Latino cultures.
Jaclyn Kottman, a 2012 Lawrence graduate and a choral music educator in the Appleton School District who serves as the director of operations for the music education team, calls the annual sing-a-long "a touchstone of the festival weekend."
"We felt this year's sing-a-long was an important opportunity to shine a spotlight on the rich musical and cultural diversity of the Fox Cities," said Kottman, who also teaches voice and conducts one of the girl choirs at the Lawrence Academy of Music. "By lifting up these songs alongside the more traditional sing-a-long tunes, we're broadening the concept of what 'the music of our community' sounds like on the Mile and beyond."
José Encarnación, director of jazz studies at Lawrence and one of the country's top jazz saxophonists, will trade his instrument for his dancing shoes. He and his wife, Marisol, will showcase their superb salsa dancing skills in a pair of workshops.
Singer B. Lilly, who graduated from Lawrence this past June, will both perform during the festival and lead a pair of workshops on songwriting. He describes his musical style as "soulful, coming from a pure place.,,influenced by the transparency of the Motown era. It is intentional and raw."
"His artistry has a depth of thought and honesty that I find stunning," said Ramagopal Pertl.  "I'm looking forward to how he brings these qualities out in others."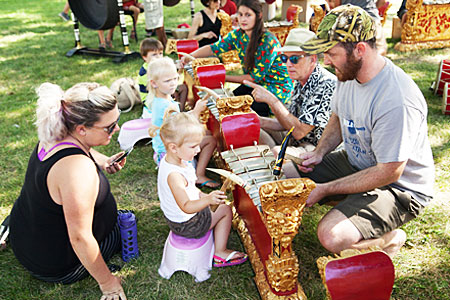 Another performer/education team member are the members of Porky's Groove Machine, a seven-member band of all Lawrence graduates who call themselves "(unofficially) licensed providers of environmentally sustainable nerd-funk." In addition to seven (7!!) performances during the festival, Porky's will help groovers of all ages get their funk on in a pair of workshops.
"Being Lawrentians, the members of the band are not only top-notch performers, they are also first-rate music educators," said Ramagopal Pertl.
New to the music education team this year will be an eight-person contingent of aspiring music educators from local high schools known as the MET Ambassadors, who Ramagopal Pertl described as "on fire about the positive effects of music education and excited about making music with their community."
About Lawrence University
Founded in 1847, Lawrence University uniquely integrates a college of liberal arts and sciences with a nationally recognized conservatory of music, both devoted exclusively to undergraduate education. It was selected for inclusion in the book "Colleges That Change Lives: 40 Schools That Will Change the Way You Think About College."  Engaged learning, the development of multiple interests and community outreach are central to the Lawrence experience. Lawrence draws its 1,500 students from nearly every state and more than 50 countries.