Three members of the Lawrence University faculty were recognized for teaching and scholarship excellence Sunday, June 11 at the college's 168th commencement.
Anthony Padilla, associate professor of music who teaches piano, received the Award for Excellence in Teaching, which recognizes outstanding performance in the teaching process, including the quest to ensure students reach their full development as individuals, human beings and future leaders of society.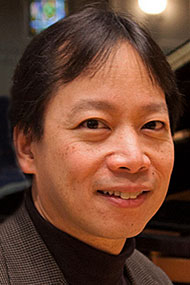 The top prize winner of the 2000 Concert Artists Guild International Competition, one of numerous awards he has won in his performance career, Padilla joined the Lawrence conservatory faculty in 1997.
A native of Richland, Wash., he made his debut at the age of 17 with the Seattle Symphony Orchestra and has since become a popular performer with orchestras and music festivals throughout the world.
A review following his New York City debut at Merkin Concert Hall hailed Padilla as "a strong-willed, steel-fingered tornado; he plays the piano with absolute authority and gives new meaning to the idea of 'interpretation' to the extent that the U.S. Patent Office might well grant him a number. Nobody could copy him."
In presenting the award, David Burrows, Provost and Dean of the Faculty, credited Padilla for his many hours in one-one instruction and "a nurturing approach both in and out of the studio."
"Your success comes from focusing on both solid technique, founded on rich traditions of technical musical skill, and on encouragement for each student to develop an individual style and artistic voice," said Burrows. "You work individually to develop in each of them a unique style and personality that enables them to create a strong musical message."
A founding member of the Arcos Piano Trio, which has been a recipient of an Artistic Excellence grant from the National Endowment for the Arts, Padilla created the "Notable Firsts" program, which features the first published works of such composers as Brahms and Schumann, to promote music that is not often performed.
He earned a bachelor of music degree from North Illinois University and a master of music degree from the Eastman School of Music.
Jake Frederick, associate professor of history, received the award for Excellence in Scholarship. Established in 2006, the award recognizes a faculty member who has demonstrated sustained scholarly excellence for a number of years and whose work exemplifies the ideals of the teacher-scholar.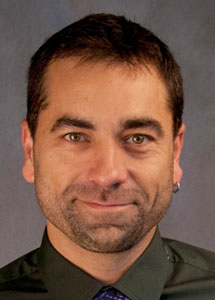 A member of the faculty for the past 11 years, Frederick is a scholar of colonial Latin America, with a specialty in Mexico. His research interests focus on ethnicity issues, including native uprisings in 18th-century Mexico and municipal infrastructure in colonial Mexican cities. He has conducted extensive research in Mexico and spent a year at the country's National Archive as the recipient of a Fulbright Fellowship.
Frederick is the author of two recently published books: "Riot! Tobacco, Reform and Violence in Eighteenth-Century Papantla, Mexico" last fall and just this spring, "Spanish Dollars and Sister Republics: The Money That Made Mexico and the United States," which he co-wrote with Tatiana Seijas, and examines the shared history of Mexico and the United States as told through the vehicle of money.
Burrows cited Fredericks' books as "a wonderful example of how knowing history can help us understand the present and overcome significant biases in our beliefs" in recognizing him with his honor. "You are truly a skilled, prolific and engaged scholar whose work helps make Lawrence an outstanding institution."
Fredrick, the son of award-winning novelist K.C. Frederick, spent five years as a fire fighter with the National Park Service before embarking on an academic career. He earned a bachelor's degree in English at the University of Massachusetts-Amherst and his Ph.D. in history at Penn State University.
Alison Guenther-Pal, assistant professor of German and film studies who also teaches courses for the gender studies major, received the Young Teacher Award in recognition of demonstrated excellence in the classroom and the promise of continued growth.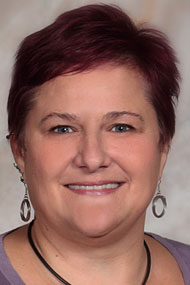 She initially joined the faculty in 2007 as part of Lawrence's postdoctoral fellowship program and was appointed assistant professor in 2012. Her research interests include German cinema, 20th-century German culture and feminist film theory. She was the 2015-16 recipient of the university's Mortar Board Award for Faculty Excellence.
Calling it one of her "distinctive strengths," Burrows cited Guenther-Pal's ability "to create the quality of self-direction in your students. You not only teach them, you give them the power to teach themselves. This is the highest achievement we could ask for in a faculty member, and is greatly admired by colleagues and students."
"Your drive to make students think critically is combined with great support and compassion. You insist on setting high expectations, but you are also supportive and kind," said Burrows.
Guenther-Pal has served on the President's Committee on Diversity Affairs and the Sexual Harassment and Assault Resource Board and serves as faculty advisor to the Lawrence Film Club, Downer Feminist Council and GLOW (Gay Lesbian or Whatever).
She earned a bachelor's degree at the University of California, Santa Cruz and a master's and doctorate degree in Germanic studies at the University of Minnesota.
About Lawrence University
Founded in 1847, Lawrence University uniquely integrates a college of liberal arts and sciences with a nationally recognized conservatory of music, both devoted exclusively to undergraduate education. It was selected for inclusion in the book "Colleges That Change Lives: 40 Schools That Will Change the Way You Think About College."  Engaged learning, the development of multiple interests and community outreach are central to the Lawrence experience. Lawrence draws its 1,500 students from nearly every state and more than 50 countries.