The hits just keep on coming for Lawrence University's opera studies program.
For the second straight year, Lawrence has garnered national recognition. Its 2016 production of "The Beggar's Opera," which was performed last February at the Fox Cities Performing Arts Center, was awarded first-place honors in the 2015-16 National Opera Association's (NOA) Division 6 Best Opera Production competition.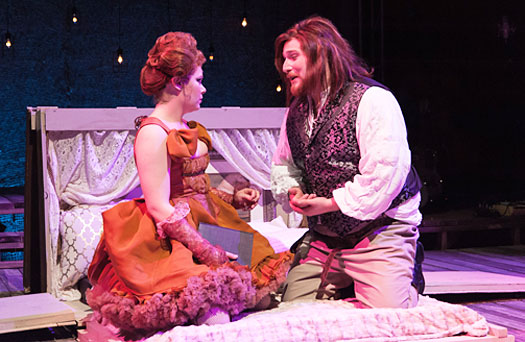 Lawrence earned top honors against competitors with graduate student programs, some of which are previous winners in the category.
The college's first micro-opera production, "Expressions of Acceptance," which was performed at the PAC in November 2015, tied for third place in the 2015-16 NOA's Division 1 Best Opera Production competition.
"This is a win for all of Lawrence because opera is a huge, intricate event," said Copeland Woodruff, who joined the college in the fall of 2014 as director of opera studies. "Opera incorporates all of the disciplines — singing, instrumental solo and ensemble, collaborative piano, theatre design and technical craft, acting, choreography, stage combat, research in history, literature, art, sociology, psychology and of course administrative assistance to make it all happen. We are so lucky to have such a supportive, collaborative environment at Lawrence that fosters this type of exploration."
"Expressions of Acceptance" was a collaborative effort between Woodruff, Margaret Paek, director of Lawrence's dance program and Matt Turner, director of the ensemble Improvisation Group of Lawrence University (IGLU) in conjunction with Lawrence's student organization GLOW and Celebrate Diversity Fox Cities, Riverview Gardens and COTS. Through , 5-8 minute micro-operas, it examined issues and experiences that both bind people together as well as differentiate us. The pieces were perrformed in non-traditional places in the PAC, including stairwells, bathrooms and even an elevator.
"I am thrilled that our students' talent is recognized and revered by our peers across the nation."
      — Copeland Woodruff, director of opera studies
This was the second year in a row Lawrence was recognized nationally for its opera program. In 2015, Lawrence earned first-place honors in the undergraduate division of the Collegiate Opera Scenes competition at the joint national conventions of NOA and the National Association of Teachers of Singing (NATS). Lawrence's 2015 production of "The Tender Land" earned second-place honors the NOA's Best Opera Production competition.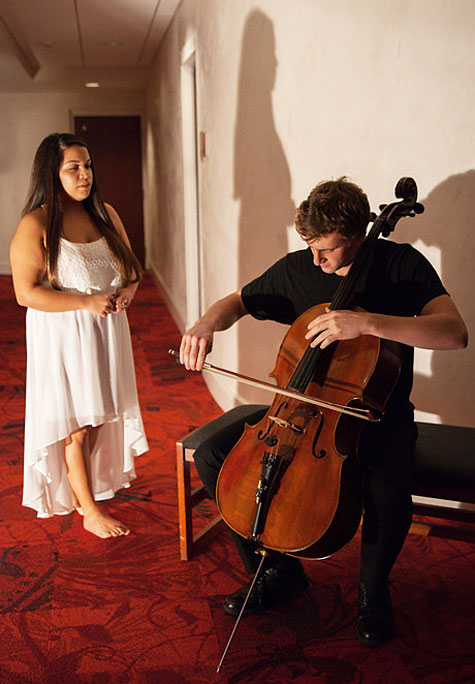 "These awards allow our students to garner a idea of where they stand among their peers," said Woodruff, who will accept the awards in person in January at the 2017 NOA national convention in Santa Barbara, Calif.  "I'm so proud of the dedication, hard work and long hours everyone devoted to crafting these memorable, landmark experiences. I am thrilled that our students' talent is recognized and revered by our peers across the nation.
"Being remote from other opera companies and schools with opera programs, it is important for our students to participate in these competitions so that they can compare themselves with the pool of artists who will be their competitors for and colleagues in graduate schools, summer opera training programs and their eventual career," Woodruff added.
The production competitions are based on an anonymously submitted video of the production. Judges, who are industry and academic professionals, base their decisions on criteria that includes musicianship of both singers and instrumentalists; dramatic credibility and characterization; production concept, staging and execution; and overall quality of the production. The scenes competition is based upon live performance at the national conference.
The divisions are based upon the size and scope of an institution's music and opera program, level of vocal training of the singers and production budget.
About Lawrence University
Founded in 1847, Lawrence University uniquely integrates a college of liberal arts and sciences with a nationally recognized conservatory of music, both devoted exclusively to undergraduate education. It was selected for inclusion in the book "Colleges That Change Lives: 40 Schools That Will Change the Way You Think About College."  Engaged learning, the development of multiple interests and community outreach are central to the Lawrence experience. Lawrence draws its 1,500 students from nearly every state and more than 50 countries.