Incident and mortality rates for several forms of cancer among Alaska Native people have seen dramatic declines in the past several decades thanks in large part to the work and research of Dr. Anne Lanier.
The 1962 Lawrence University graduate will be among Lawrence graduates who will be honored Saturday, June 17 as part of the university's annual alumni reunion celebration. Each will be recognized at the Reunion Convocation at 10:30 a.m. in the Lawrence Memorial Chapel. The event is free and open to the public.
The campus will welcome nearly 900 alumni and guests— including 2009 Nobel Prize winner in chemistry Thomas Steitz, Class of 1962 —  from 43 states and Canada, representing classes as early as 1947 for four days of activities.
Members of the Lawrence 50-Year Connection, a cohort of alumni who graduated at least 50 years ago, get reunion activities started Thursday, June 15 with small group discussions and a presentation examining efforts to create a more inclusive campus and community. A complete schedule of all Reunion activities can be found here.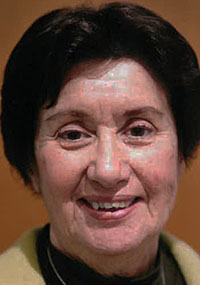 Lanier will be presented posthumously the George B. Walter Service to Society Award, which recognize Lawrence or Milwaukee-Downer College alumni who exemplify the ideals of a liberal education through socially useful service. The award honors Walter, a 1936 Lawrence graduate, faculty member and dean of men, whose work at the college and beyond promoted his conviction that every individual can and should make a positive difference in the world.
Lanier, a 1962 Lawrence graduate, passed away May 26.
A family practice physician, medical epidemiologist and researcher, Lanier spent most of her professional life in Alaska, working to improve health disparities particularly among the Alaska Native population.
A pioneer throughout her 45-year public health career, Lanier was the first female director of the Centers for Disease Control and Prevention's Arctic Investigations Program. She established he Alaska Native Tumor Registry, collecting data on Alaska Native people diagnosed with cancer. Her registry became one of 18 registries used by the National Cancer Institute to determine cancer rates and patterns throughout the U.S. Lanier's data-driven research led to significant reductions in incidence and mortality rates in colorectal, pediatric liver and cervical cancer among Alaska Native people.
The other 2017 awards and recipients are: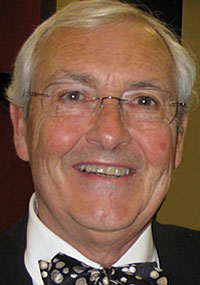 • Lucia Russell Briggs Distinguished Achievement Award — Richard Price, Class of 1962, Ann Arbor, Mich. The award recognizes Lawrence or Milwaukee-Downer graduates of more than 15 years for outstanding career achievement. The award honors the second president of Milwaukee-Downer College.
Price is the Stanley E. Seashore Collegiate Professor of Psychology and Organizational Studies Emeritus and a research professor at the Institute for Social Research at the University of Michigan, where his scholarship focuses on improving worker health and productivity.
He cofounded the Interdisciplinary Committee on Organizational Studies, is the founding  director of the Organizational Studies Program and the Barger Leadership Institute at the University of Michigan.
A Fellow of the American Psychological Association, Price has been recognized with numerous professional organization awards, including the American Psychological Foundation's Gold Medal Award for Lifetime Achievement in 2010 for the application of psychological knowledge and the Distinguished Contribution Award from the Society for Research and Action.
He holds an honorary appointment as professor of psychology at the Institute of Psychology in the Chinese National Academy of Sciences.
"Lawrence," says, Price, "Lawrence has given me two precious gifts. The first is a passion for ideas. The second is my inspiration, Mary Beecher Price (also a 1962 graduate)."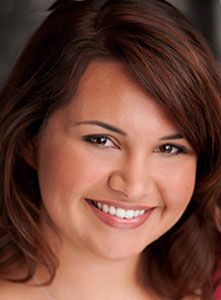 • Nathan M. Pusey Young Alumni Distinguished Achievement Award — Alexandra Kunath, Class of 2012, Chicago, Ill. The award recognizes Lawrence alumni of 15 years or less for significant contributions to, and achievements in, a career field. The award honors Lawrence's 10th and youngest president and an exemplary figure in higher education in the 20th century.
Kunath, a double degree graduate with a B.M. in vocal performance and a B.A in theatre arts, began making her mark in her hometown soon after graduation. She has worn several hats in the arts field, ranging from arts administration to stage direction to professional choral singing. She began her theatre career at Metropolis Performing Arts Centre in Arlington Heights, serving as assistant production manager of their season and directing the company's production of Wendy Kesselman's adaptation of "The Diary of Anne Frank."
She recently worked as an assistant stage director in the education and outreach department of Chicago's famed Lyric Opera, where credits include the world premiere of "Jason and the Argonauts," a new production that toured schools throughout Illinois.
"As a freshman at Lawrence, I had a great sense of urgency to earn my degree so I could get out into the world and 'do,'" said Kunath. "Now, as an alumna, I see that my college years were the start of a life-long journey rather than merely an end to an academic one. Lawrence provided a place to take artistic risks and still feel supported, no matter what the outcome. I'm grateful every day that I started my artistic journey at Lawrence."
Kunath is currently the artistic assistant at Writers Theatre in Glencoe, Ill., which the Wall Street Journal named its 2016 Theatre Company of the Year. A former member of Lawrence's Cantala women's choir and Concert Choir, she sings with the choir at St. James Episcopal Cathedral in Chicago.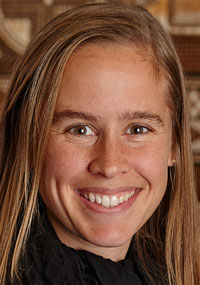 • The Marshall B. Hulbert '26 Young alumni outstanding service award. Stephanie Kliethermes, Class of 2007, Madison. This award recognizes a Lawrence graduate celebrating his or her 15th cluster reunion or younger who has provided significant service to the college. It honors Marshall Brandt Hulbert, known as "Mr. Lawrence," who made contributions to thousands of Lawrentian lives and served the college in various capacities for 54 years.
 Kliethermes has been a loyal volunteer and advocate on behalf of Lawrence in numerous roles, among them alumni ambassador which includes conducting alumni admissions interviews and representing the university at local college fairs.
She has maintained close times with Lawrence, even while establishing her medical career, returning to campus for alumni volleyball and basketball weekends and interacting with current student-athletes.
Kliethermes is the research director for the American Medical Society for Sports Medicine and an assistant professor in the department of orthopedics and rehabilitation at the University of Wisconsin-Madison, where she works with works with clinician investigators on methodological and statistical aspects of ongoing and future research studies. As AMSSM's research director, she works with primary care sports medicine physicians across the country for the Collaborative Research Network to improve the practice of sports medicine through research.
"Lawrence connects me to some of my most treasured friendships and relationships, fondest memories and experiences, and valued academic, societal and life lessons," said Kliethermes. "It holds a special and vital place in my heart."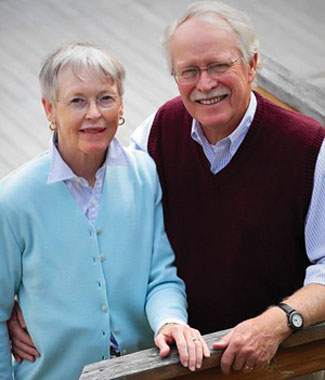 • Presidential Award, Bob and Bonnie Buchanan, Class of 1962 (both), Appleton. Presented to a Lawrence or Milwaukee-Downer College alumnus or alumna whose exemplary leadership and notable actions have contributed to the betterment of the entire Lawrence University community.
The Buchanans have been actively engaged with their alma mater and the local community for more than 50 years. Bob, who retired as chairman of Fox River Paper Company and Fox Valley Corporation in 2005 after nearly four decades with the company, has been a member of Lawrence's Board of Trustees since 1978, including serving as board chair from 1984-86. He also has been a director of the Green Bay Packers since 1987 and is active in civic affairs throughout the community.
Bonnie is a former director of the Lawrence Alumni Association (1968-71) and has served on the boards of directors for the Appleton YMCA and the Community Foundation for the Fox Valley Region. She also has been involved with the League of Women Voters and reading programs for area youth at the Appleton Public Library.
Together they established the Bonnie Glidden Buchanan Professorship of English Literature in 2003 and have supported the campus Tree Fund with their landscaping expertise and financial generosity.
Bonnie is a former director of the Lawrence University Alumni Association who has also served on the boards of directors for the Appleton YMCA and the Community Foundation for the Fox Valley Region.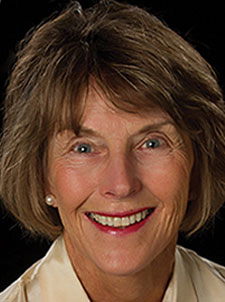 • Gertrude Breithaupt Jupp Outstanding Service Award — Charlot Nelson Singleton, Class of 1967, Atherton, Calif. Presented to an alumnus or alumna of Lawrence or Milwaukee-Downer after his/her 15th Cluster Reunion who has provided outstanding service to Lawrence. It honors Gertrude Breithaupt Jupp, voted Milwaukee-Downer alumna of the year in 1964 for her long-standing service to the college as president of the alumnae association board, class secretary and public relations officer.
Education has been at the center of much of Singleton's life. She has been a member of Lawrence's Board of Trustees for the past eight years and is the current chair of the development committee. She also has served on the Lawrence Alumni Association Board of Directors, has been a class secretary for more than 35 years, has worked with various Reunion committees and served the university in numerous other volunteer capacities.
Since graduating from Lawrence, she has taught high school biology in Massachusetts and science courses in the Palo Alto (Calif.) school district, where she created a Family Life Program for middle school students.
A long-time mentor for area Boys and Girls Clubs in California, Singleton has served as president of the Menlo Park-Atherton Education Foundation, helping to raise more than $3.5 million for professional development for teachers. She served 10 years as a member of the school board at Menlo School, an independent college preparatory school, where as development chair, she oversaw the completion of a $20 million capital campaign.
"My four years at Lawrence acted as a catalyst for my lifetime work in service to the community," said Singleton. "I was encouraged to think forward about being a citizen of the world. These lessons of stretching for improvements, hard work and perserverance, all have been fundamental to my work in my local community. Each venue is an opportunity for me to look back on my Lawrence years and continue to implement the habits of nurturing and encouraging young people."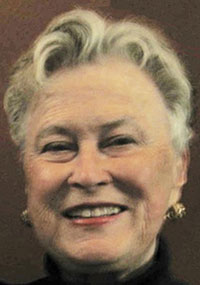 • Gertrude Breithaupt Jupp Outstanding Service Award — Carolyn King Stephens, Milwaukee-Downer Class of 1962, Milwaukee.
 Stephens has been influential in preserving Milwaukee-Downer history at Lawrence since the consolidation of the two institutions in 1964. She has served on both the Lawrence Board of Trustees and the Lawrence Alumni Association Board of Directors.
She is the author of the book, "Downer Women, 1851–2001," a copy of which has been given to incoming Lawrence freshman females. Stephens played a leadership role on the committee that celebrated the 50th anniversary of the Lawrence-Milwaukee-Downer consolidation in 2014. She is served as a former class secretary and regional club programming director.
A former high school teacher, Stephens ended her career at the director of liberal arts in Concordia University's School of Adult and Continuing Education.
"The four years I spent at Milwaukee- Downer, changing majors and trying out every activity, allowed me to develop my most genuine self," said Stephens. Adult life took me far afield, but eventually, it centered on English, dramatic arts and teaching, the core subjects of my Downer days. When that happened, I felt fulfilled, my inside and outside finally integrated."
About Lawrence University
Founded in 1847, Lawrence University uniquely integrates a college of liberal arts and sciences with a nationally recognized conservatory of music, both devoted exclusively to undergraduate education. It was selected for inclusion in the book "Colleges That Change Lives: 40 Schools That Will Change the Way You Think About College."  Engaged learning, the development of multiple interests and community outreach are central to the Lawrence experience. Lawrence draws its 1,500 students from nearly every state and more than 50 countries.