Marwa Adam was four years old the night the Janjaweed came to El Fasher, her hometown in the Darfur region of Sudan.
Members of the horse-riding militia were on a mission to purge the Arab country of dark-skinned Sudanese whom they didn't consider true Arabs.
"I was awakened in the middle of the night by gunshots and people screaming," recalled Adam, who saw her father for the last time the previous day. "There were lots of people shouting, people crying. I had no idea what was going on. I thought it might be the TV. It took me a while to understand that a war was happening and these loud noises were my new reality."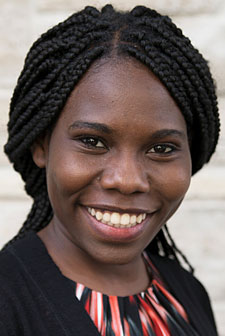 Measured in life experiences, not miles, Adam, 18, likely has traveled farther than any of her fellow Lawrence University freshmen, who arrive on campus Sept. 5 for the start of new student orientation activities. Classes for Lawrence's 169th academic year begin Sept. 11.
The evening before the Janjaweed arrived, Adam's father led the family's livestock out to pasture. He never returned.
"My mom doesn't talk about what happened to my father, or what she thinks happened to my father. So, he just disappeared," said Adam, who wasn't allowed to leave the house for a week after that initial frightful night. "We had animals, cows, donkeys and he would walk them out to get the really natural food and grass. Sometimes my sister Bahja and I would go with him, but we didn't that night."
The attack in El Fasher set in motion a largely nomadic life for Adam that would span much of the next decade.
"We realized we had to move to stay alive. My mom, sister, grandmother, aunt and cousins began walking countless miles for what seemed like countless days. That was the first time I saw the horror of it all."
Despite her mother's directive to close her eyes and just keep walking, Adam could not help but look.
"The things that were happening were so surreal," said Adam of her exodus from town. "There were people lying in the street with no arms, or feet or heads. Mothers were screaming for their lost husbands and children. The streets were covered in blood. I was too scared to close my eyes and see the same scene again as a vision. I kept my eyes open all night for a couple of nights."
Adam and her family began traveling from village to village, often to those the Janjaweed had already attacked and destroyed, knowing the militants likely would not return to those.
"They were moving forward, so, we started moving backwards," said Adam.
Along the way, Adam and her sister became separated from their mother, who mysteriously disappeared following a bomb explosion at a farmer's market where she was selling tea. Adam was seven at the time and had no idea what had happened to her mother. She wouldn't see her again for six years, later learning she had somehow been granted asylum and was living in the United States.
Over the course of some eight years and numerous stays in refugee camps, Adam, her sister and several cousins, the oldest of whom was 20, were on their own.
"We didn't have a father, we didn't have a mother or an aunt or uncle, we were just children," said Adam.
They eventually made their way to the capital city, Khartoum, where Adam was able to attend an actual school for the first time in her life, completing eighth and ninth grades.
"Before Khartoum, I did all of my education in refugee camps with people who weren't really licensed teachers. They were just people who thought we deserved to learn how to read and write," said Adam. "In Khartoum, I took a high school test and people were really surprised I got a score that was the highest in the family. But in the eye of the government, I never went to school until eighth grade."
While her mother attempted to reconnect with Adam and her sister from afar, she didn't know where they were. An uncle returned to Sudan from Saudi Arabia to help locate them. When he did, he led them to Cairo, Egypt, where Adam lived for five months. She arrived just as the Arab Spring was unfolding.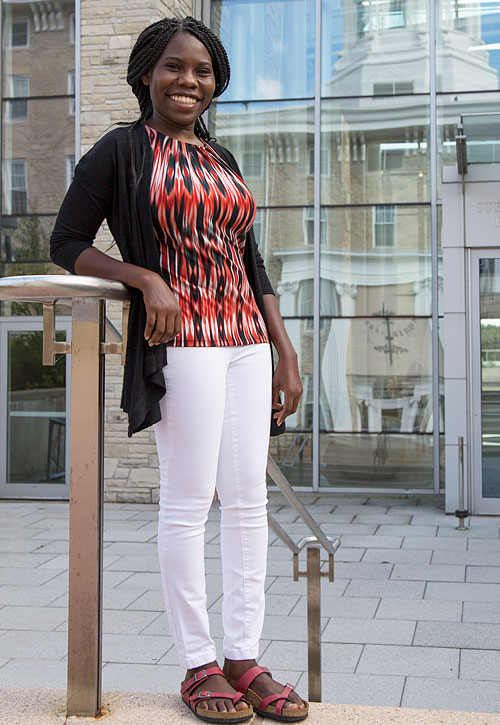 "We lived a couple blocks away from the American embassy and there was military everywhere protecting the place," said Adam. "There were helicopters going off all night. We worried that we might get bombed if the American embassy got bombed. There were lots of gunshots again and it brought back some painful memories."
Finally learning where her children were, Adam's mother traveled to Cairo to reunite with her two daughters. After navigating countless bureaucratic hoops — including a DNA test in lieu of a birth certificate — Adam, her sister and mother were plane bound to the United States, destination Chicago.
December 4, 2013, 7 p.m.
The day and time is indelibly burned in Adam's mind and rolls quickly off her tongue. It marks the exact moment she arrived in Chicago following a harrowing 10-year journey punctuated with fear, uncertainty, separation, resiliency, determination and self-preservation.
While she was going to be safe for the first time in years, her mind was filled with doubts during the long flight.
"I was thinking, 'I'm going to the United States and starting a new life,'" said Adam, who arrived without knowing a word of English. Sudanese/Arabic is her first language. She also speaks Spanish, can "speak and read" sign language and is teaching herself Korean "When we got to the airport, it hit me: I don't speak the language. I don't know anyone but my mom. People don't look like me. I was thinking about my dream of becoming a doctor. I didn't see it happening because I have so much to learn and get adjusted to."
"To me it wasn't as dramatic as other people would think because I didn't know any better…I had done this my whole life basically. If someone told me to go through half of that now, I would be like 'no, that's impossible for me to do,' because I finally got to know how people actually live, how people function and what's actually fair."
— Marwa Adam
Adam settled in the north-side Chicago suburb of Evanston and soon after began attending 3,000-student Evanston Township High School.
"It was huge," said Adam of her high school, which required her to start as a freshman since she didn't have any paperwork from her schooling in Khartoum. "Compared to the schools that I went to, it was just so different. My very first month, I just went to school, came home and cried. But also there was something pushing me to go the next day. I would still wake up and go to school although it was almost hopeless. I thought 'I don't know if I can do this.'"
Enrolled initially in English as a Second Language classes, Adam proved it was far from hopeless. She progressed through the four-year program so quickly, by the end of her junior year she was not only excused from ESL 4, but was serving as a teacher's assistant. She eventually ended up in the highly selective "Evanston Scholars" program which assists students getting into college.
Lawrence was one of 15 colleges Adam applied to and researched each one that accepted her in-depth, looking not only at academic programs, but the number of international students at each as well. A solid financial aid package from Lawrence encouraged Adam to make a second campus visit.
"I didn't want to make my decision solely on the money part, so I visited again," explained Adam. "I stayed overnight and attended the annual international student cabaret. I was like 'yup, this is the place. I want to be in that cabaret next year.'"
A five-foot-tall bundle of unbridled enthusiasm with a 500-watt smile, Adam can't wait for school to start.
"I'm really excited," said Adam, Lawrence's first freshman of Sudanese heritage since 2008. "I'm trying to find the balance. I know I can be super social and just do every single club and there's lots of them. But I also know I can be an absolute nerd and stay in my dorm or the library 100 percent of the time."
One thing is certain, her childhood dream of becoming a doctor is back in play.
"When I was four, I wanted to be a superwoman with all of the superpowers to save the world," said Adam, who is planning on pursuing a double major in chemistry and mathematics with a minor in either English or Spanish. "I knew that was only a fantasy, so I had to think of something more realistic. I decided I wanted to be a doctor, and after learning heart disease is the number one killer in the world, I decided I want to be a cardiac surgeon. I want to make a career of helping those who are suffering in any part of the world. I'm willing to go anywhere, even if it's a battlefield."
Adam already has faced a lifetime of battlefields, literally and metaphorically. When she takes time to reflect on her journey from there to here, she can't always believe it actually happened.
"To me it wasn't as dramatic as other people would think because I didn't know any better. When I came to the United States, I didn't know anyone and it was hard. But then I had done this my whole life basically. When I think about it, I don't know how I did it. If someone told me to go through half of that now, I would be like 'no, that's impossible for me to do,' because I finally got to know how people actually live, how people function and what's actually fair."
About Lawrence University
Founded in 1847, Lawrence University uniquely integrates a college of liberal arts and sciences with a nationally recognized conservatory of music, both devoted exclusively to undergraduate education. It was selected for inclusion in the book "Colleges That Change Lives: 40 Schools That Will Change the Way You Think About College." Engaged learning, the development of multiple interests and community outreach are central to the Lawrence experience. Lawrence draws its 1,500 students from nearly every state and more than 50 countries.