For more than 30 years, Fred Sturm has devoted his life to enthusiastically sharing his love of jazz with aspiring musicians.
That dedication was not lost on the editors of DownBeat magazine, who have named Sturm a recipient of its 2010 Jazz Education Achievement Award as part of its annual Student Music Awards.
And for the second straight year, the magazine also recognized the Lawrence student band Fatbook with its blues/pop/rock category as the nation's best college band, sharing the honor with Compendium from Western Michigan University.
The awards were announced in DownBeat's June edition, which hit newsstands April 27. Known as "DBs" and presented in 15 categories in four separate divisions (junior high, high school, performing high school and college) the DownBeat awards are considered among the highest music honors in the field of jazz education.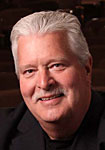 As a 19-year-old student at Lawrence in the early 1970s, Sturm formed the conservatory's first-ever jazz ensemble, which in turn became a catalyst for the creation of the jazz studies department at Lawrence. Four years after earning his degree from Lawrence, Sturm returned to Lawrence to direct the college's jazz program, which he has done for 22 years (1977-91, 2002-10).
"The award certainly means a great deal to me," said Sturm. "DownBeat is the jazz world's bible and the mere fact that its editorial staff even knows who I am, let alone selected me for the award, is humbling."
The Jazz Education Achievement Award honors jazz instructors who have made significant contributions toward the development of future jazz artists and positively impacted their school's jazz programs through their commitment to jazz education. Winners are chosen by a panel of educators/artists.
Sturm shares the 2010 award with Bob Lark of DePaul University and Bob Sinicrope of the Milton Academy in Massachusetts.
DownBeat editor Ed Enright said Sturm was recognized as "the perfect example of a teacher who goes the extra mile" for his students and ensembles.
"Fred's influence can be seen and heard throughout the jazz education community," said Enright. "We recognize him for the many DownBeat Student Music Awards his students and ensembles have brought home over the years, the high quality of his compositions and arrangements, the effectiveness and popularity of his own published texts and teaching methods, his high-profile gigs as guest conductor for major jazz orchestras in Europe, and his tireless work as a clinician and ensemble coach at educational festivals throughout the United States.
"DownBeat is very proud of its long association with Fred and we encourage him to continue his tireless efforts," Enright added. "The very future of jazz itself depends on the work of top educators like him."
Sturm's student jazz ensembles at Lawrence and the Eastman School of Music in Rochester, N.Y., where he spent 11 years, have won nine Downbeat awards during his career.
"DownBeat has applauded our jazz efforts at Lawrence over the years with numerous awards for LUJE (jazz ensemble), Jazz Singers, combos, composers, arrangers and recording" said Sturm. "Receiving recognition as a teacher in DownBeat's awards process has special significance for me."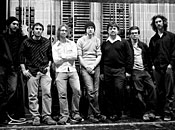 Last year, Fatbook became a footnote in Lawrence history as the college's first non-curricular ensemble to be recognized by DownBeat. This year they add to that footnote by becoming Lawrence's first-ever back-to-back DB recipient.
"The musicians in Fatbook deserve major kudos," said Sturm, a mentor to the band. "Consecutive DownBeat awards is not only unprecedented for Lawrence ensembles and individual students, but it's a rarity for any university in the Student Music Awards.  The Fatbook performers and composers have demonstrated a uniquely creative collective voice as an ensemble. I'm extremely proud of them."
Formed in 2007, the seven-member band was recognized for its CD "No Time to Lose," an all-original 10-track disc of songs written by members of the band.
Senior Harjinder Bedi, the "instigator" behind the creation of Fatbook, said there was a moment of "slight disbelief" in hearing the news the band had won for the second year in a row.
"But then I felt a sense of validation," said Bedi, who plays guitar and sings lead vocals. "The award tells me that what we have going on with this project is worth investing our efforts in."
Bedi is one of three Appleton students in the band along with founding members senior saxophonist Jake Crowe and trumpet player Ted Toussaint, a 2009 Lawrence graduate. Other original band members include bassist Nick Anderson, drummer Kyle Traska and trombonist Evan Jacobson, all 2009 graduates, along with keyboardist Dario LaPoma, a senior from Eugene, Ore.
With several members no longer on campus, Bedi said the band has been able to experiment with other talented musicians.
"In having some time with a fluid line-up, we've had the opportunity to grow and play with a number of different musicians from Lawrence and the Chicago area."
Last year's DownBeat award was a springboard to club dates throughout the Fox Cities and Wisconsin, with future concerts in Madison, Milwaukee, Minneapolis and Chicago in the works. Fatbook also has applied for the 2010 Jazz Aspen Snowmass Academy Summer Sessions June 23-July 4.
"If we got accepted, it would be a great, if not humbling, experience for us," said Bedi, a music education and anthropology major at Lawrence. "We'd be doing workshops with some of the greatest jazz musicians in the United States."
With graduation on the horizon and a student-teaching position in Chicago scheduled this fall, Bedi is hoping to establish a base for the band in the Windy City.
"When we started this group, I had no expectations of how well things would go, but I said as long as we're doing it, I'm going to push it as hard as I can and learn as much as I can," said Bedi. "Ideally it would be great to be able to make music full time, but we're all still kids and I'm trying to keep things in perspective."
Sturm's and Fatbook's awards push Lawrence's DB total to 17 since the competition was launched in 1978, and the college's seventh DB since 2005.
This year's DownBeat competition drew a total of 856 ensemble and individual entries for all categories in all four divisions.