It hasn't taken Lawrence University officials long to find a use for the long-vacant former bank building the college recently purchased.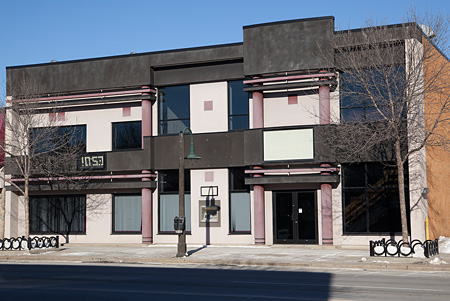 Lawrence has entered into a partnership with World Relief Fox Valley, the Fox Cities Kiwanis and the city of Appleton to use the former North Shore Bank building, 320 E. College Ave., as a donation collection point for an expected 75 refugees who will be relocating to Appleton in the coming year.
Under terms of an agreement signed Monday (2/10) afternoon, Lawrence will loan the 10,800-square-foot, two-story office building to World Relief Fox Valley free-of-charge for six months or until the first week of August 2014.
"Partnering with these three organizations on this important initiative is a wonderful opportunity to put our newest addition to campus to good use," said Jacob Woodford, assistant to Lawrence President Mark Burstein. "We were fortunate that the timing was right. Lawrence University is proud to have a hand in welcoming new residents to the Fox Cities."
The Fox Cities Kiwanis, who directed a community-wide collection 10 years ago for the Hmong refugee resettlement, will again lead a furniture drive. Fox Valley residents will be able to donate a variety of "apartment type" furnishings, ranging from couches, lamps and chairs to night stands, dressers and kitchen tables. The community collection will assist a contingent of 135 refugees from Congo, Iraq and Myanmar who are expected to arrive in the Fox Valley over the course of the next eight to nine months. In addition to those refugees resettling in Appleton, others are resettling in Neenah and Menasha.
Three collection times have been established for anyone wishing to make a donation: Saturday, Feb. 22 and Saturday March 1 from 9 a.m. – 1 p.m. both days; and Tuesday, March 4 from 4 p.m.- 7 p.m. Donations can be dropped off at the back door facing the alley.
"We are really excited that Lawrence has given us the opportunity to make this happen." said Jean Long Manteufel, a long-time Kiwanis member who is coordinating the organization's refugee collection efforts. "What better way to welcome our new neighbors, than to provide them with all the furniture that they need to start life in their new country? The added benefit is that the donations come from the community itself. That really says 'Welcome.'"
Kathy Flores, diversity coordinator for the city of Appleton, saluted Lawrence and Kiwanis for their cooperation in providing space for the refugee donation drive.
"This spirit of generosity and collaboration really highlights what makes Appleton and the Fox Cities a great place to live," said Flores. "It is because of efforts like this that I feel confident Appleton will be a very welcome home for our new community members who have already started arriving. We look forward to working with this compassionate community as they respond to the need for donations."
The Oshkosh-based World Relief Fox Valley is coordinating the refugees' resettlement to the area. According to its website, the organization assists refugees with a thorough orientation to life in America as well as a host of vital services, including providing furniture and basic household items, arranging medical visits, helping with the acquisition of refugee benefits, enrolling in ESL classes and assisting with job skill and employment services.
"We are very grateful to Lawrence University for opening up doors for us to be able to use the building," said Myriam Mwizerwa, World Relief Fox Valley director. "We collect donation items in order to be able to furnish apartments for refugees and to be able to provide all the necessities that they will need when they first arrive. Storage space is vital to our work and to those in the community who want to help the vulnerable by providing goods that are necessary."
Lawrence purchased the building in late December 2013. It has been unoccupied for nearly three years since North Shore Bank ceased operations in it.
About Lawrence University
Founded in 1847, Lawrence University uniquely integrates a college of liberal arts and sciences with a nationally recognized conservatory of music, both devoted exclusively to undergraduate education. It was selected for inclusion in the Fiske Guide to Colleges 2014 and the book "Colleges That Change Lives: 40 Schools That Will Change the Way You Think About College." Individualized learning, the development of multiple interests and community engagement are central to the Lawrence experience. Lawrence draws its 1,500 students from nearly every state and more than 50 countries.