The creator and co-host of "Radiolab," one of the country's most popular radio programs, explores what it means to innovate and how it feels to create something new in a Lawrence University convocation
Jad Abumrad presents "Gut Churn" Thursday, Feb. 1 at 11:10 a.m. in the Lawrence Memorial Chapel. The address, the third in Lawrence's 2017-18 convocation series, is free and open to the public. A question-and-answer session will immediately follow the address.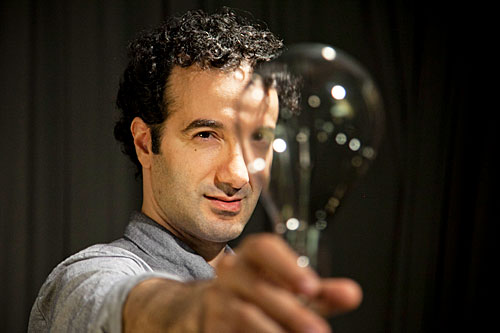 In Abumrad's world, "gut churn" is that radical uncertainty that is a key component of any creative process that pushes the envelope. He applied that philosophy in launching "Radiolab" on New York radio station WNYC in 2002. What began largely as a science program has evolved into an exploration of broader issues — sport, the death penalty, counter-terrorism and most recently the U.S. Supreme Court — examined from less conventional angles.
The show, which combines cutting edge sound-design, cinematic storytelling and a personal approach to explaining complex topics, is nationally syndicated to more than 500 stations and its podcasts attract nearly two million listeners.
Skeptical of today's mainstream media, Abumrad prefers "journalism that forces you to experience what someone else is going through" to articles that focus on telling you whether what someone said is right or wrong.
In an interview with The Guardian, Abumrad explained his approach to "Radiolab."
"There is an ocean of difference between explanation and experience and I feel what I'm always trying to do is cross the ocean. I'm trying to get to the experience."
"Radiolab" show has been recognized twice—2010 and 2015—with the prestigious George Foster Peabody Award, which honors "the most powerful, enlightening and invigorating stories in television, radio and online media."
Abumrad himself was honored in 2011 as MacArthur Fellow, commonly known as "the genius grant." In recognizing him, the MacArthur Foundation hailed Abumrad for "inspiring boundless curiosity within a new generation of listeners and experimenting with sound to find ever more effective and entertaining ways to explain ideas and tell a story."
In 2016, Abumrad created a spinoff program he called "More Perfect" which is based on  cases from the docket of the U.S. Supreme Court and how they affect people's everyday lives.
A native of Tennessee, Abumrad earned a bachelor's degree from Oberlin College, where he studied creative writing and music composition. Prior to launching "Radiolab," he composed music for films and reported on and produced documentaries for a various local and national public radio programs, including NPR's "Morning Edition" and "All Things Considered."
About Lawrence University
Founded in 1847, Lawrence University uniquely integrates a college of liberal arts and sciences with a nationally recognized conservatory of music, both devoted exclusively to undergraduate education. It was selected for inclusion in the book "Colleges That Change Lives: 40 Schools That Will Change the Way You Think About College." Engaged learning, the development of multiple interests and community outreach are central to the Lawrence experience. Lawrence draws its 1,500 students from nearly every state and more than 50 countries.