Ralph Nader, America's most renowned consumer rights crusader, closes Lawrence University's celebration of Earth Week Sunday, April 25 with the address "The Great Conversion: Environmentalism over Corporatism." Nader's presentation, at 7:30 p.m. in the Lawrence Memorial Chapel, 510 E. College Ave., Appleton, is free and open to the public.
A question-and-answer session follows his address and he will be available to sign books before and after the presentation.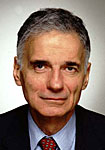 Honored by The Atlantic magazine as "One of the 100 Most Influential Figures in American History," Nader has devoted his life to giving ordinary people the tools they need to defend themselves against corporate negligence and government indifference.
A three-time presidential candidate ( 2000, 2004, 2008), Nader first rose to national prominence following the 1965 publication of his book "Unsafe at Any Speed," an indictment of the American automobile industry for what he saw as unsafe car designs. Considered a catalyst in the consumer' rights movement, the book led to the passage of significant safety laws designed to prevent motor vehicle-related deaths and injuries.
Nader was an influential figure in the organization of numerous citizen groups, among them Congress Watch, the Disability Rights Center and the Public Interest Research Groups, all of which played roles in the creation of the Occupational Safety and Health Administration (OSHA), the Environmental Protection Agency (EPA) and the Consumer Product Safety Commission.
Nader has written several best-selling books in addition to "Unsafe at Any Speed," including "Crashing the Party: How to Tell the Truth and Still Run for President," "Children First: A Parents Guide to Fighting Corporate Predators" and most recently "The Good Fight: Declare Your Independence and Close the Democracy Gap."
He also writes a weekly column, "In the Public Interest," which runs in newspapers throughout the country and was the subject of the documentary "An Unreasonable Man."
Nader's appearance is sponsored by the student environmental organization Greenfire and supported by The Class of 1965 Grant.