Hiking boots may seem a bit nontraditional as a college graduation present, but Elizabeth Perry can't imagine anything she'd appreciate more.
The Lawrence University senior voice performance major from Portage, Mich., will spend the coming year in the midst of the hike-friendly Austrian Alps as the recipient of a United States Teaching Assistantship through the Fulbright Commission in Austria.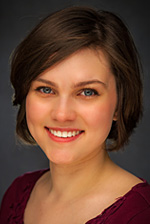 Beginning in October, Perry will begin an eight-month appointment as an English teaching assistant at two secondary schools in Reutte, a small town in the Tirol region of western Austria.
"I plan to spend plenty of time outdoors in the most beautiful place I've ever lived," said Perry. "My parents have already told me they bought me a pair of hiking boots for graduation. I'll be completely surrounded by mountains and I'm from the flatlands of the United States, so I plan to put those boots to good use."
Perry's teaching appointment will send her back to Austria. She spent the fall term of 2012 in Vienna on an off-campus study program there.
"I went specifically because Vienna's such a fantastic city for music, art, culture and especially opera, which is what I study," said Perry, who performed in Lawrence's 2012 production of Henry Purcell's "The Fairy Queen."  "I sort of came back with German. I went in for music and I came back and changed my whole degree to fit German in somehow."
Although a bit late in her college career, Perry decided to add a minor in German, the official language of Austria, in her fourth year at Lawrence.
"It was the last addition to my degree and the first of it that I completed," she says proudly.
Perry is no stranger to traveling abroad. She went to Italy for a summer voice program, participated in the Edinburgh Fringe Festival in Scotland and spent time before her off-campus study program in Vienna began as an au pair in Switzerland.
With no prior formal teaching experience, she sees her appointment as an ideal launching pad to what she hopes will be a career in music education.
"I've done a lot of one-on-one teaching and am currently working with three Lawrence students. They don't study voice, they are just interested in singing. But this will actually be my first official classroom teaching experience," said Perry, who has sung with one of Lawrence's three different choirs — concert choir, Cantala women's choir and Viking Chorale — each of the past five years.
"I definitely model my pedagogy on what I've learned from my professors here, and I'd love to teach within a liberal arts environment."
— Elizabeth Perry
Joanne Bozeman, Perry's vocal teacher and academic advisor, calls her "a remarkably well-rounded singer."
"She is truly immersed in the liberal arts with two minors (German and English) in addition to her voice performance degree and interest in singing pedagogy," said Bozeman.
"With her previous sojourns in Vienna, Italy and Switzerland, she is primed to be an effective English teacher through the Fulbright program."
The news of her acceptance in the program did put on Perry's original post-graduation plans on hold. She had been admitted to the vocal pedagogy program at Ohio State University.
"I've worked it out and have deferred my admission so that when I return to the United States I'll study at OSU in the fall of 2015," said Perry, who will receive her bachelor of music degree Sunday, June 15 at Lawrence's 165th commencement.
"Someday I would love to teach at Lawrence or a school like Lawrence. I definitely model my pedagogy on what I've learned from my professors here. I'd love to teach within a liberal arts environment. I have a feeling I won't be able to help myself but to bring a little bit of my liberal arts experience into the classroom next year. It's a tradition I hope to continue throughout my teaching."
Perry is one of approximately 140 college graduates from the United States selected to  teach in Austria under the auspices of the Austrian Federal Ministry of Education and Women's Affairs Foreign Language Teaching Assistantship Program, which brings talented young people from abroad into the classrooms of secondary schools in communities large and small throughout Austria.
About Lawrence University
Founded in 1847, Lawrence University uniquely integrates a college of liberal arts and sciences with a nationally recognized conservatory of music, both devoted exclusively to undergraduate education. It was selected for inclusion in the Fiske Guide to Colleges 2014 and the book "Colleges That Change Lives: 40 Schools That Will Change the Way You Think About College." Individualized learning, the development of multiple interests and community engagement are central to the Lawrence experience. Lawrence draws its 1,500 students from nearly every state and more than 50 countries.