The classical/jazz fusion trendsetting Turtle Island Quartet celebrates the music of Jimi Hendrix Friday, Oct. 14 at 8 p.m. in the Lawrence Memorial Chapel. The quartet opens Lawrence University's 2011-12 Artist Series with their dynamic "Have You Ever Been…?" program.
Tickets, at $22-20 for adults, $19-17 for seniors and $17-15 for students, are available through the Lawrence Box Office in the Music-Drama Center, 420 E. College Ave., Appleton or by calling 920-832-6749.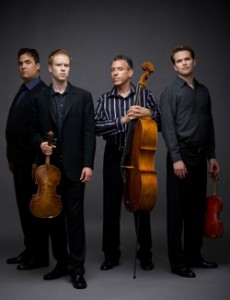 Through their exploration of jazz, classical and world music styles, the Turtle Island Quartet has taken audiences on journeys through many musical genres, eras and places, including the American landscape, Latin America, Europe and India.
The two-time Grammy Award-winning quartet latest trip ventures into Electric Ladyland, tackling works by legendary guitarist, songwriter and performer Jimi Hendrix. "Have You Ever Been…?" also explores compositions reflective of, and inspired by, Hendrix's music, including TIQ founder David Balakrishnan's new composition "Tree of Life."
"These are not simple transcriptions of rock tunes for string quartet," said Mark Urness, associate professor of music who teaches string bass at Lawrence.  "Turtle Island re-imagines the music of Jimi Hendrix: adding to the excitement and energy of the original the beautiful acoustic sonorities and precise ensemble performance of great string chamber music. The result is so natural on string instruments, you wonder if it was the sound of a violin that Hendrix was after with his sustaining overdrive and whammy-bar glissandos."
Released in 2010, "Have You Ever Been …?" was the brainchild of violinist Balakrishnan, who credits the inspiration for the disc to a pair of Hendrix concerts he attended as a teenager at the Los Angeles Forum in 1969 and '70. Shortly thereafter, he began playing Hendrix tunes on his violin.
At his creative peak in the late 1960s, Hendrix redefined the potential of the guitar as well as the entire rock genre, creating a blueprint that still is challenging guitarists in particular and musicians of all stripes more than four decades later.
Led by Balakrishnan, TIQ, which includes co-founder cellist Mark Summer, violinist Mads Tolling and newcomer violist Jeremy Kittel, has taken Hendrix's cue in the course of its 25-year history by reexamining and reconstructing conventional genres of music and seeking new permutations of style, technique and composition. That mission was exemplified in its Grammy-winning 2007 recording "A Love Supreme: The Legacy of John Coltrane," in which the quartet reinterpreted the music of one of jazz's most pivotal figures by injecting it with their own signature rhythmic innovations and multicultural influences.
Founded in 1847, Lawrence University uniquely integrates a college of liberal arts and sciences with a world-class conservatory of music, both devoted exclusively to undergraduate education. Ranked among America's best colleges, it was selected for inclusion in the book "Colleges That Change Lives: 40 Schools That Will Change the Way You Think About College." Individualized learning, the development of multiple interests and community engagement are central to the Lawrence experience. Lawrence draws its 1,520 students from 44 states and 56 countries.