Zechariah Meunier is itching to fight the "continuing crusade" of conservation education.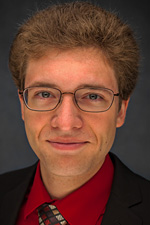 The Lawrence University junior from Marshall, Wis., will work toward those efforts after being named one of only 50 national recipients of a $5,000 Udall Scholarship. Meunier was selected from among 489 candidates throughout the country.
Awarded by the Arizona-based Morris K. Udall and Stewart L. Udall Foundation, the scholarships are awarded to students committed to careers related to the environment, Native American health care or tribal policy.
Stewart Udall, the former Secretary of the Interior, urged biologists to speak directly and frankly on what they know about evolving controversies that concern environmental problems. It is a message that resonates deeply with Meunier, a biology and environmental studies major.
An Advocate for Biodiversity and Habitat Conservation
"As an ecologist, I will strive throughout my professional career to blur the boundaries between research, education, and advocacy," said Meunier, whose career plans include a Ph.D. and a teaching position at the collegiate level. "In our technoscientific age, it is crucial that scientists engage meaningfully in society.
"I plan to use my professorship as a platform to conduct research about community dynamics and human impact on ecosystems," he added. "I want to educate students, the scientific community and the public through lectures, books, articles and field trips. I hope to be a prominent advocate for biodiversity and habitat conservation."
Meunier has already begun spreading the environmental gospel as vice president and cofounder of Lawrence's Bird and Nature Club and current co-president of the Ecology and Conservation Organization.
Last year, Meunier was awarded a $4,500 Gilman Scholarship through the U.S. Department of State's Bureau of Educational and Cultural Affairs. He spent 11 weeks in Madagascar on a study-abroad program based at Centre ValBio, a research station in Ranomafana National Park where he observed and studied environmental issues related to rainforest degradation and conservation.
As a Udall Scholar, Meunier will travel to Tucson, Ariz., in early August to participate in a five-day Scholar Orientation, where he will meet with environmental policymakers and community leaders as well as other scholarship winners and program alumni.
"I'm looking forward to collaborating and networking with environmentally-minded students from all disciplines as we endeavor to find sustainable solutions," Meunier said of his upcoming scholar orientation.
Meunier is Lawrence's third Udall Scholarship recipient in as many years and the sixth in the program's 17-year history. He joins Chelsea Johnson (2013), Hava Blair (2012), Stephen Rogness (2003), Gustavo Setrini (2001) and Jacob Brenner (1999) as Lawrence Udall Scholars.
Founded in 1992, the Morris K. Udall and Stewart L. Udall Foundation is one of five federal foundations established by Congress. Among the missions of the foundation is to increase awareness of the importance of the nation's natural resources, foster a greater recognition and understanding of the role of the environment, public lands and resources in the development of the United States and identify critical environmental issues.
About Lawrence University
Founded in 1847, Lawrence University uniquely integrates a college of liberal arts and sciences with a nationally recognized conservatory of music, both devoted exclusively to undergraduate education. It was selected for inclusion in the Fiske Guide to Colleges 2014 and the book "Colleges That Change Lives: 40 Schools That Will Change the Way You Think About College." Individualized learning, the development of multiple interests and community engagement are central to the Lawrence experience. Lawrence draws its 1,500 students from nearly every state and more than 50 countries.