"We've got a target on our back."
That's how Gary Vaughan, coordinator of Lawrence University's Innovation and Entrepreneurship Program and lecturer of economics, handicapped the second annual The Pitch competition, which begins at 1 p.m. Wednesday April 11 at Fox Cities Stadium. That's because the Lawrence team of 2017 graduates Ryan Eardley, Felix Henriksson and Mattias Soederqvist won the inaugural competition with their idea for Tracr, a forensic accounting software product. They claimed the first-place prize of $10,000 in cash and an additional $15,000 in professional services.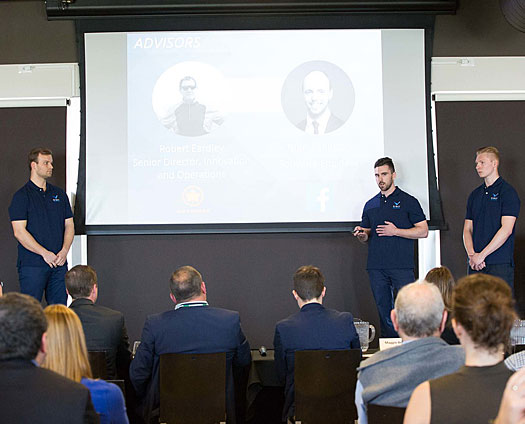 The stakes are even higher this year, with a total of $50,000 in prize money and professional startup assistance on the line, up from $40,000 last year.
Budding entrepreneurs from Lawrence, Ripon College, St. Norbert, UW-Green Bay and UW-Oshkosh will present their ideas Wednesday, April 11 to a panel of judges in front of an audience of area students, community members, business leaders, entrepreneurs and investors at the Fox Cities Stadium beginning at 1 p.m.
Representing Lawrence will be Brian Mirone, a junior from Edina, Minn., and Alejandra Alarcon, a junior from Quito, Ecuador, Nikki Payne, a junior from Bangkok, Thailand and Alfiza Urmanova, a junior from Arsk, Russia.
Mirone was the first-place winner of Lawrence's own on-campus pitch contest held April 7 and received the winning prize of $3,000 cash and in-kind services from Lawrence alumni for "Guido," his innovative way to teach music using a specialized glove and innovative curriculum. The three-member, all-female team of Alarcon, Payne and Alfiza Urmanova, earned second-place honors for their creation "WellBell," an innovative wristband device used for emergencies and wellness alerts.
"It's different pitching on campus than it is pitching at the Timber Rattlers Stadium," said Vaughan, who noted both teams will be working with Lawrence alumni mentors Greg Linnemanstons and Irene Strohbeen as well as community volunteers David Calle and Brad Cebulski to fine-tune their pitch before the big event.
"On campus, we have three judges and maybe 20 or 30 people in the room. For The Pitch competition, you have the Timber Rattlers stadium as the backdrop, you've got five or more judges and you have maybe 200 people sitting in front of you. It's a whole different experience pitching in front of that number of people. That's part of the variable our students have to overcome if they want to be the champs this year."
Many of the comments Vaughan heard at last year's The Pitch competition were complimentary on how "professional" the Lawrence students were and how they really knew how to pitch the judges in their presentations, which Vaughan credits to the entire I & E program.
"In almost every course in Innovation and Entrepreneurship, the students are getting up in front of their peers, in front of other people and they're pitching," said Vaughan. "We've got a good program here and everybody knows it outside of the university. Our students know they're going to have to up their game.
"We were probably the best kept secret up until last year," Vaughan added. "Now, the secret is out and the pressure is on us because everyone will be gunning for us. That's okay, I'm good with that. Our students will step up to the challenge and see what happens."
Judging this year's The Pitch competition will be Mike Daniels, representatives from Nicolet National Bank, gBETA Northeast Wisconsin, Winnebago Seed Fund, Gulf Stream Aerospace and Baker-Tilly.