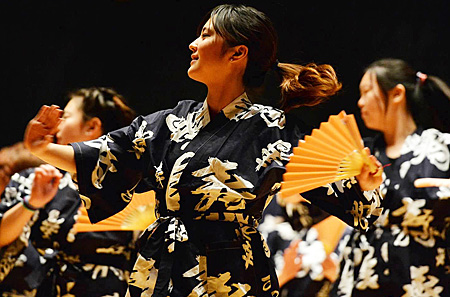 Nearly 100 Lawrence University students representing more than 20 countries will provide a cross-cultural trip around the world in a pair of weekend shows for the college's 39th annual International Cabaret.
With the theme "All the World's a Stage," students will showcase their native culture in performances Saturday, April 11 at 6:30 p.m. and Sunday, April 12 at 3 p.m. in Stansbury Theatre of the Music-Drama Center. A free reception in the Warch Campus Center will follow Sunday's performance.
Tickets, at $10 for adults, $5 for students/children (under age four are free), are available through the Lawrence Box Office, 920-832-6749 or online at www.lawrence.edu/conservatory/box_office/tickets. The box office will be open one hour prior to Sunday's performance.
This year's Cabaret features singing and dancing performances as well as two fashion shows with students modeling traditional clothing from their native countries. For the first time, Cabaret will include Duo Acro Balance, a performance that incorporates circus arts to illustrate the complex relationship with oneself.  It features stylistic movements that showcase the blending of the artists' training in traditional Mongolian contortion with modern Western theatrical movement.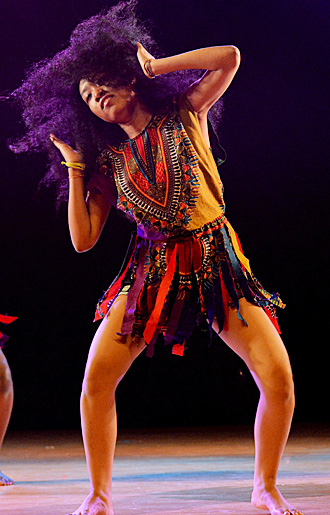 This year's  scheduled entertainment includes:
• a Vietnamese dance originating from the Central Highlands of Vietnam. The dance's name translates to "Calling for the Rain," and was used to communicate with God during a drought.
•  an Indian classical song from Northern India. Hindustani music dates back nearly 3,000 years.
• Viva Santa Cruz Dance, a dance from East Bolivia. Called Taquirari, this dance is typically performed for Carnival.
• a Korean history dance, an example of the dancing history of popular Korean culture, dating back to the 14th century.
• a traditional Hawaiian song and dance.
• a Japanese dance
• a Russian song
•  a Chinese dance
• A traditional Bengali song from Bangladesh.
•  a Ghanian Denkyem dance.
• fashion shows featuring clothing from Bangladesh, China, Ethiopia, India, Indonesia, Jamaica, Japan, Mexico, Pakistan, Russia, South Korea, Thailand and Vietnam.
About Lawrence University
Founded in 1847, Lawrence University uniquely integrates a college of liberal arts and sciences with a nationally recognized conservatory of music, both devoted exclusively to undergraduate education. It was selected for inclusion in the Fiske Guide to Colleges 2015 and the book "Colleges That Change Lives: 40 Schools That Will Change the Way You Think About College." Engaged learning, the development of multiple interests and community outreach are central to the Lawrence experience. Lawrence draws its 1,500 students from nearly every state and more than 50 countries.