When you think of Librarians, an image of an old woman who barks orders at children and hates fun might come to mind. Actually, it is quite the opposite, as librarians can be anyone of any age with a drive of, as US News puts it, "intellectual exploration". If you have a lifelong love of learning and want to make a living off of that, the position of librarian is definitely up your alley.
It is important to know that becoming a librarian is not easy. In addition to an undergraduate degree, librarians are required to get an MLS (or Master in Library Sciences) from an American Library Association-accredited program. Most MLS programs are two years in length.
On the job, librarians do much more than just stock bookshelves and order books. Librarians connect people to information and technology, they are knowledgeable in website creation, social media management, and they digitally archive works such as art and literature. As mentioned earlier, being a librarian also involves a lifelong love of learning, and there is a lot of learning on the job involved. Librarians should also enjoy working with people, as in the end, being a librarian is a service job.
Being a librarian also comes with a lot of flexibility and freedom, where you can choose what projects you want to start. Laura Robinson, the librarian at Clark University, told US News that "As a librarian for over 20 years my day-to-day work changes on a regular basis," and the job refuses to get old.
There are many places to work as a librarian. There are libraries everywhere, from public and academic institutions, to hospitals, businesses, and museums. There are also many different requirements to work as a librarian. In Idaho, Librarians don't need state certification, while in Connecticut, you need an MLS to work in any city with more than five-thousand people, and in communities with less than five-thousand people, as long as you have some "demonstrable training in library science", you are able to become a librarian. EveryLibraryInstitute.org has a great article featuring states with different stipulations to become and stay a librarian.
Being a librarian is a position with plenty of rules to follow, but once you follow them, you can turn the role entirely into your own. It's a job that twists and turns so often, it's hard to be bored and to lose interest, and you yourself control those twists and turns. If you have interest in becoming a librarian, the best way to get involved is to work right here at the Lawrence library, either as a shelver or at the circulation desk. That way, you can network and get some good library experience that might be useful towards your certification!
https://www.ala.org/educationcareers/libcareers/become
https://www.indeed.com/career-advice/career-development/how-to-become-a-librarian
https://www.everylibraryinstitute.org/requirements_to_become_a_librarian_by_state
https://www.usnews.com/education/best-graduate-schools/articles/what-library-science-is-and-how-to-become-a-librarian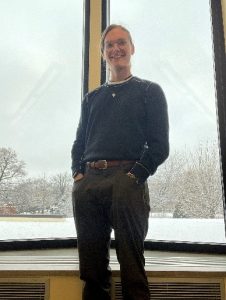 Spencer R. Brown is a sophomore experiencing their first year at Lawrence University, with a major in Government. They work as a Marketing and Media Assistant in the Career Center and creates content for students in both Communication, Journalism & Written Arts (#CJW) and Government, Law & International Relations (#GLI) career communities. A writer and animator by trade, Spencer is fascinated in finding ways to make digesting information entertaining. Feel free to connect with them on LinkedIn here!