After spending a year in Vienna, Austria on a study-abroad program, Lawrence University senior Christina Blomberg returned home with more than just a love of Viennese culture. She also discovered a desire to explore other cultures she experienced in the city, especially that of Turkey, which has a large immigrant presence in the Austrian capital.
Blomberg, a psychology major from Fleetwood, Pa., soon will immerse herself in Turkish culture after being awarded a Fulbright U.S. Student Program scholarship to Turkey. Beginning in September, she will spend 10 months as an English teaching assistant, with her specific destination still to be determined by the U.S. Department of State and the J. William Fulbright Foreign Scholarship Board.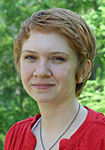 Blomberg is the second Lawrence student awarded a Fulbright scholarship this spring, joining Sara Wallsworth who earlier was awarded a scholarship to teach in Germany. She is among more than 1,500 U.S. citizens who will travel abroad for the 2010-2011 academic year through the Fulbright U.S. Student Program.
Since 2001, 15 Lawrence students have been awarded Fulbright Scholarships.
"I applied for my scholarship in Turkey in part because it's very different from the Western, Germanic background that I'm most familiar with," said Blomberg, who will graduate June 13 with a minor in German and music. "I'm looking forward to personally challenging myself by living in a culture way outside my comfort zone."
Blomberg will arrive in Turkey with considerable teaching experience. She spent four summers (2005-08) teaching German to 8-18 year olds at the Concordia College Language Villages program in Minnesota, taught English to elementary students during her year in Vienna and held a nine-hour-a-week internship last fall at Appleton's Johnston Montessori School, where she taught botany classes for 4th-6th graders. In Turkey, Blomberg will be teaching in a university setting.
While awaiting word of her ultimate destination, she is keeping an open mind.
"I'd love to wind up in a bigger city, but I'm confident I'll have a wonderful experience in a smaller town with a slower lifestyle, too. I'm open to embracing whatever this fellowship offers," said Blomberg, a member of the campus organization Greenfire who hopes to investigate some of the environmental challenges facing Turkish citizens on a daily basis during her time abroad.
"And as a lover of improvised music, I'm also excited about exploring Turkey's rich music culture," added Blomberg, who plays the tenor saxophone in an eight-member student jazz combo and the Improvisational Group at Lawrence University (IGLU).
The Fulbright Program is the flagship international educational exchange program sponsored by the U.S. government and is designed to increase mutual understanding between the people of the United States and the people of other countries. Recipients of Fulbright grants are selected on the basis of academic or professional achievement, as well as demonstrated leadership potential in their fields. The Program operates in over 155 countries worldwide.
Since its establishment in 1946, the Fulbright Program has provided approximately 300,000 students, scholars, teachers, artists and scientists the opportunity to study, teach and conduct research, exchange ideas and contribute to finding solutions to shared international concerns. Forty Fulbright alumni have been awarded the Nobel Prize and 75 alumni have received Pulitzer Prizes.