A senior honors thesis has helped Katherine Uram earn a Fulbright U.S. Student Program award to China for anthropology research.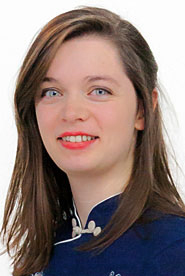 She is the 16th Lawrence student since 2010 to receive a Fulbright Student Program award, which is administered by the U.S. Department of State and the J. William Fulbright Foreign Scholarship Board.
Beginning later this year, Uram, a 2016 Lawrence University graduate, will spend 10 months at China's Guizhou Normal University, continuing research she started as a student that became her Senior Experience, "Evolving Patterns: Conflicting Perceptions of Cultural Preservation and the State of Batik's Cultural Inheritance Among Women Artisans in Guizhou, China."
Her Fulbright project will focus on Miao women and the preservation of their batik handicrafts in a rapidly changing cultural climate of modern China. Batik is a Chinese traditional folk handicraft for fabric printing and dyeing.
"Throughout my Fulbright project, I will be talking to these artisans about how they view their cultural identity, how their perceptions intertwine with their craft-making and how they see the future of their craft," said Uram, a native of Naperville, Ill.
With a long-standing interest in different cultures, Uram began studying Chinese in high school. Her senior year, her family hosted an exchange student from Shanghai.
"Katie was a one-of-a-kind Lawrence student and I have no doubt she will be a one-on-a-kind Fulbright scholar."
Carla Daughtry, associate professor of anthropology
"It was awesome when I went to China after high school for the first time to see her, visit her family and share the Chinese culture with the people," said Uram. She has since made three more trips to China, one on a study-abroad program as a Lawrence junior and two more in 2015, one for summer research and a second as part of Lawrence's Sustainable China Program trip in December.
Carla Daughtry, associate professor of anthropology, who served as advisor on her Senior Experience project, said Uram's "interdisciplinary knowledge of China, stellar language skills and in-country experience and connections" made Uram a natural for a Fulbright proposal.
"Katie was a one-of-a-kind Lawrence student and I have no doubt she will be a one-on-a-kind Fulbright scholar, forging strong bi-national relations between the United States and China, and making valuable contributions to Chinese and East Asian Studies and anthropological understandings of the complex effects of globalization on ethnic Chinese handicrafts," said Daughtry.
While Daughtry may not have had any doubts about Uram's Fulbright prospects, the news caught Uram a bit off-guard.
"I was sitting in the car with my brother when I got an email notification on my phone," said Uram, who is still hoping to receive a Critical Language Enhancement Award she applied for through the Fulbright U.S. Student Program for additional language study in China. "I was, of course, overjoyed and then terrified and super excited all at the same time."
Uram is among more than 1,900 Fulbright program recipients who will conduct research, teach English or provide expertise abroad during the 2017-2018 academic year. Fulbright awards are based on academic and professional achievement as well as record of service and leadership potential in their respective fields.
The Fulbright Program is the flagship international educational exchange program sponsored by the U.S. government and is designed to build lasting connections between the people of the United States and the people of other countries. The program operates in more than 160 countries worldwide.
About Lawrence University
Founded in 1847, Lawrence University uniquely integrates a college of liberal arts and sciences with a nationally recognized conservatory of music, both devoted exclusively to undergraduate education. It was selected for inclusion in the book "Colleges That Change Lives: 40 Schools That Will Change the Way You Think About College."  Engaged learning, the development of multiple interests and community outreach are central to the Lawrence experience. Lawrence draws its 1,500 students from nearly every state and more than 50 countries.