Having already completed all of her necessary credits to graduate, Nalee Douangvilay spent spring term working with Opera Theatre of St. Louis. While driving back to campus in early June for commencement exercises, thoughts turned to what she would do with her life. That's when a special email arrived on her phone.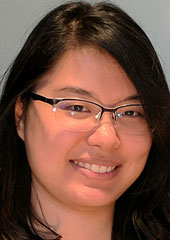 The message informed Douangvilay she had been awarded a Fulbright Fellowship, getting promoted from alternate status to recipient.
"It was really unexpected, very exciting, very weird, but good kind of timing," said Douangvilay, who graduated with honors in June with a bachelor's degree in English.
Douangvilay, along with fellow 2018 graduate Augusta Finzel and 2017 Lawrence graduate Emilio Salvia, are the three latest recipients of Fulbright awards. They join William Gill and Elena Hudacek who were awarded Fulbright grants earlier this year. The five Fulbright winners matches 2014 for the most in a single year in Lawrence history.
Beginning later this summer, Douangvilay, Salvia and Finzel will spend the following 10 months abroad as English language teaching assistants and cultural ambassadors, courtesy of the United States Department of State and the J. William Fulbright Foreign Scholarship Board.
Douangvilay's Fulbright will take her to South Korea. Leaving in July, she will spend six weeks in orientation before beginning her teaching assignment.
"Korea is one of those places that really has a lot of duality to it," said Douangvilay, whose only previous time abroad was in the fall of 2016 at Lawrence's London Center. "It's very modern in some ways. At the same time, there is a lot of really traditional aspects to Korea that are still practiced. I'm looking forward to seeing what it's like to be in that kind of world."
After some independent study — which included watching Korean reality shows online — Douangvilay thinks she'll arrive with just enough Korean language skills "to sort of get by."
"It's going to be challenging living in a country where I'm not fluent in the language," said Douangvilay, who will live with a host family. "When I was in London, that was a safety net because I could communicate with everyone. This will be a really great learning experience and even if it's hard, I think it's good to challenge yourself in that way."
A cultural outreach aspect is part of the Fulbright grant, and Douangvilay, who was very active in the theatre department at Lawrence, is looking forward to continuing those interests in Korea.
"I would really like to be involved in theatre in some way while I'm there," said Douangvilay, who was working in costume construction at Opera Theatre of St. Louis. "I know a lot of schools have theatre programs and would definitely like to be a part of that."
Associate Professor of English Karen Hoffmann and Douangvilay's academic advisor, hailed her as "an exceptionally creative and intellectually curious individual."
"Given the breadth of her interests and talents, ranging from physics, current events,and literary studies to costume design and playwrighting, Nalee stands out as an ideal student of the liberal arts," said Hoffmann. "With her commitment to international collaboration, she will make a superb Fulbright Scholar."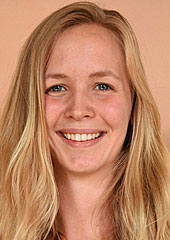 Like Douangvilay, Finzel was originally named a Fulbright alternate. Her initial country of choice, Russia, was put on hold, but when her application was considered for Greenland, she was approved.
"I was shocked, honestly," said Finzel, who graduated with honors in June with majors in biology and Russian studies. "It felt like they were just stringing me along for a really long time as an alternate. Then they told me they sent my application to Greenland. I thought, well that'd be cool, but I wasn't expecting anything. It was such a fast turn-around that I barely got to process what being in Greenland would be like before I heard news I was going there."
Although Greenland was not her first choice, Finzel is still thrilled to be heading somewhere central to one of her primary interests – climate change. She has been assigned to the capital city of Nuuk.
"I'm really excited. Greenland has never really been on my radar," said Finzel. "I'm interested in melting permafrost in the Arctic and other climate change problems. Greenland works really well with those interests because so much of it is inside the Arctic Circle. It's right at the heart of many of these problems.
"I'm looking forward to seeing something very different from what I'm used to," she added. "I think I'll learn a lot and gain a lot of insight into a culture I've never really thought about before. I've always liked learning different languages and I have no issue with the idea of learning either Danish or Greenlandic just for fun. I think that would be really interesting."
Finzel also hopes to explore the connection between climate change and its effects on the local population.
"I'm hoping I can interact with the community, maybe join one of their environmental groups. I'll want to figure out a way to interact."
One of Finzel's academic advisors, Professor of Biology Bart De Stasio, said her Fulbright grant will provide a unique and valuable experience for her.
"Augusta has a deep interest in examining how climate change might affect ecosystems in northern locations and her time in Greenland will allow her to see first-hand how conditions are changing," said De Stasio. "She also has a love of studying language and culture, as evidenced by her double majors in biology and Russian Studies. She is an excellent observer and has keen listening skills, both of which will allow her to excel as she assists English language learners during her Fulbright Fellowship."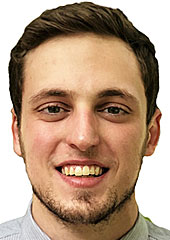 Salvia, the 2017 Lawrence graduate, will be heading to Harsewinkel, Germany, a town of 25,000 in the northwest part of the country, where he will teach at a 'gesamtschule" — a comprehensive school.
A 2015 study abroad program in Germany he participated persuaded Salvia to pursue the Fulbright grant originally.
"I knew of the Fulbright program, but it was my experience in Berlin that truly motivated me to apply for the fellowship," said Salvia, who graduated last year with a major in both German and biology. "I enjoyed the opportunity to learn about and connect with German culture firsthand and was very interested in Germany's dynamic role in both European and global politics. Given my interest in international affairs and German culture, I knew that Fulbright was a good fit."
A native of Elmhurst, Ill., Salvia has career aspirations of working in public service or higher education and sees the Fulbright as a springboard toward those goals.
"I'm confident my Fulbright experience will enhance my worldview and will provide both unique challenges and opportunities while allowing me to explore my interests," said Salvia, who leaves for Harsewinkel in early September. "During my stay in Germany, I hope to continue my studies at a university, conduct research and gain insights into another culture's work environment. My Fulbright year will help prime me for a career in government, international affairs or academia, all of which are major interests of mine."
As a Lawrence student, Salvia worked as a tutor with exchange students from Japan and served on several university committees with faculty. He sees the Fulbright as an extension of those experiences.
"The opportunity to work on the various committees offered me unique insights into how teachers make decisions that best suit students, insights I hope to apply in Germany."
As for his cultural outreach, Salvia hopes to pursue his interests in environmental education, sustainable agriculture or volunteer with refugees.
Professor of German Brent Peterson, one of Salvia's advisors, called him "both an exceptional and typical multi-interested Lawrence student."
"Emilio's story is the kind that could never be planned, but his is exactly the growth experience that only a liberal arts education can provide," said Peterson. "German was his third major, but he revealed himself to be a careful reader and insightful interpreter of German texts. He wrote an excellent paper that provided a significant insight on the topic of integration by looking at the issue of shame in migrant narratives. It's not what we normally expect from STEM majors, but Emilio is both an exceptional biology student and multi-interested, with a real gift in German. There is no telling where the Fulbright year in Germany might lead him, but I am certain it will be a life experience that could open up undreamed of possibilities in the sciences or in something else entirely."
About Lawrence University
Founded in 1847, Lawrence University uniquely integrates a college of liberal arts and sciences with a nationally recognized conservatory of music, both devoted exclusively to undergraduate education. It was selected for inclusion in the book "Colleges That Change Lives: 40 Schools That Will Change the Way You Think About College."  Engaged learning, the development of multiple interests and community outreach are central to the Lawrence experience. Lawrence draws its 1,500 students from nearly every state and more than 50 countries.