Eric Anderson, band director at Verona Area High School, and Lynette Schultz, an English teacher at Williams Bay Jr./Sr. High School, will be honored Sunday, May 4 with Lawrence University's 2014 Outstanding Teaching in Wisconsin Award.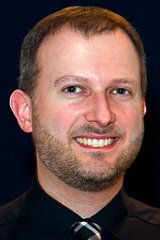 They each will receive a certificate, a citation and a monetary award from Lawrence President Mark Burstein in ceremonies at the president's house. Their respective schools also will receive $250 for library acquisitions.
The recipients are nominated by Lawrence seniors and selected on their abilities to communicate effectively, create a sense of excitement in the classroom, motivate their students to pursue academic excellence while showing a genuine concern for them in and outside the classroom. Since launching the award program in 1985, Lawrence has recognized 62 high school teachers.
Anderson has directed the concert band, wind ensemble and symphonic band while also teaching AP music theory at Verona High School since 2006. Additionally, he directs pep band, oversees rehearsals for school musicals and organizes tours around the country for all of the band students.
Infectiously Enthusiastic
Lawrence senior Catie DeMets called Anderson "one of my most influential mentors" in nominating him for the award.
"He brings an incredible amount of energy to each of these activities, devoting such sincere attention and enthusiasm to each student that they can't help but feel excited, inspired, and valued," wrote DeMets, a 2010 Verona High School graduate and environmental studies and geology major at Lawrence. "His communication skills in teaching and directing never failed to be engaging, clear, and stimulating. He constantly challenged us to pour all of our energy into the task at hand. But he didn't force this with practice records or required lessons. We were simply motivated to do so because he was infectiously enthusiastic about music."
A member of the National Association for Music Educators, Anderson serves as conductor/music director as well as board member of the Verona Area Concert Band and also sits on the board of directors of the UW-Madison School of Music Alumni Association.
He has been the recipient of a Will Schmid Scholarship through the Comprehensive Musicianship through Performance Workshop, which recognizes a person who has exhibited "special interest in teaching and an enthusiasm for helping other music educators."
The University of Wisconsin honored Anderson in 2009 with a Cooperating Personnel Award for "outstanding contributions to the school of education."
Anderson, who began his teaching career in 1999 as band director at Stoughton's River Bluff Middle School, earned a bachelor's degree in instrumental music education from UW– Madison and a master's degree in education media design and technology from Full Sail University.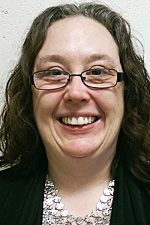 Schultz joined the Williams Bay English department in 2011, where she teaches English 10 and 11, AP English, college prep reading & writing and is the faculty advisor for the school's Forensics team, creative writing club, and drama club.
She previously spent three years at Kenosha's St. Joseph High School, two years at her alma mater, Webster High School, and two years as a Title VII/home school coordinator for the Saint Croix Ojibwe Tribe in Hertel.
In addition to her classes at St. Joseph's, Schultz coached the Forensics team (speech and debate) and oversaw the school newspaper and yearbook.
Engaged, Challenging, Sensitive
Senior Lindsay Browne, a three-year student of Schultz's at St. Joseph's and a 2010 graduate of the school, said "nothing could have better prepared me more for my future life at Lawrence than Ms. Schultz's mentorship" in her nomination letter.
"There is no doubt in my mind that Ms. Schultz is an excellent teacher," wrote Brown, a biology and history major at Lawrence. "Engaged in the material and with the students she's teaching…her classes are challenging because she expects her students to work hard and think deeply.  She is sensitive to her students' learning needs as individuals; seamlessly supplementing analytical discussion and writing assignments by incorporating additional digital, creative or theatrical material into her lesson plans in order to interest and engage her students."
Schultz earned a bachelor's degree in English from UW-River Falls.
About Lawrence University
Founded in 1847, Lawrence University uniquely integrates a college of liberal arts and sciences with a nationally recognized conservatory of music, both devoted exclusively to undergraduate education. It was selected for inclusion in the Fiske Guide to Colleges 2014 and the book "Colleges That Change Lives: 40 Schools That Will Change the Way You Think About College." Individualized learning, the development of multiple interests and community engagement are central to the Lawrence experience. Lawrence draws its 1,500 students from nearly every state and more than 50 countries.