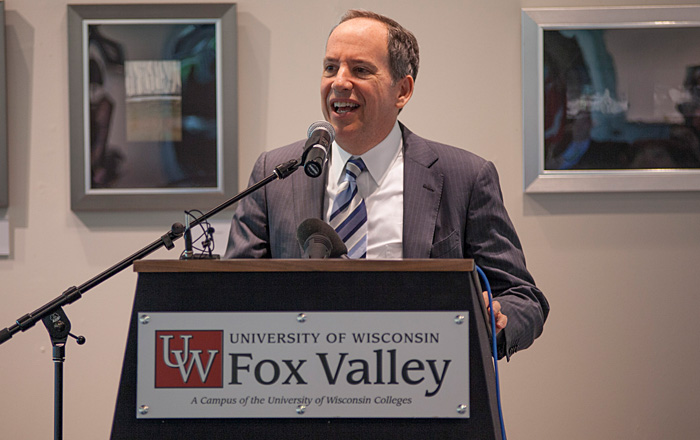 An historic partnership between the University of Wisconsin Colleges  and Lawrence University will soon help students transfer more efficiently from the two-year institutions and earn a bachelor's degree from Lawrence. The partnership agreement was formally signed Wednesday (9/24) in ceremonies at the University of Wisconsin-Fox Valley.
Lawrence President Mark Burstein, Provost and Dean of the Faculty David Burrows and Lawrence Special Assistant to the President and Professor of French and Milwaukee-Downer College and College Endowment Association Professor of Liberal Studies Eilene Hoft-March joined UW Colleges/UW-Extension Interim Chancellor Aaron Brower, UWFox CEO and Campus Dean Martin Rudd and UW Colleges Provost and Vice Chancellor Greg Lampe in the signing ceremony.
The agreement is designed to minimize barriers faced by independent transfers from UW Colleges, including UWFox, and ease the transition process so students can reach their academic and career goals.
Under terms of the agreement, Lawrence will provide specialized advising, registration, financial information and orientation opportunities for UW Colleges transfer students. Academic credits will still be transferred on a case-by-case basis. All UW College transfer students will be eligible for a merit-based scholarship up to $20,000 per year.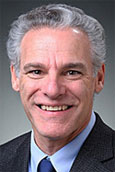 "Through small classes and engaging hands-on learning experiences, UW Colleges students from our campuses around the state are well prepared to succeed when they transfer to four-year institutions, including private schools such as Lawrence University," said Aaron Brower, interim chancellor of UW Colleges and UW-Extension. "This partnership serves our students, both institutions and our state well as we all strive to increase the number of Wisconsin residents earning high quality bachelor's degrees."
Chuck Erickson, associate director of admissions at Lawrence, will serve as a transfer advisor and hold office hours every other week at UWFox during the academic year to meet with students interested in transferring.
"This agreement is another step in our effort to increase access to
a rigorous Lawrence education and help make it affordable
to more residents of Wisconsin."

— President Mark Burs
tein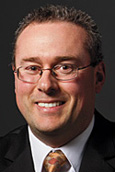 "Some of our very best students have transferred to Lawrence, but there have been struggles with that process that detract from students' focus on their studies," said Rudd.  "Lawrence and UWFox want our students to succeed at the highest level wherever they may go once they leave us, and we feel that this partnership presents guidelines as to how we can do that."
Lawrence currently has 10 students who have transferred from UW Colleges among its 1,500-member student body, including eight from UWFox. The majority of the transfers enroll at Lawrence after one year at one of the UW Colleges campuses. With the partnership agreement in place, Lawrence hopes to increase that number of transfer to between 10 and 15 per year.
"We are very excited to formalize our relationship with the UW Colleges and specifically UWFox," said Burstein. "This agreement is another step in our effort to increase access to a rigorous Lawrence education and help make it affordable to more residents of Wisconsin."
In addition to Menasha, UW Colleges have two-year campuses in Baraboo, Fond du Lac, Janesville, Manitowoc, Marinette, Marshfield, Rice Lake, Richland Center, Sheboygan, Waukesha, Wausau and West Bend.
About Lawrence University
Founded in 1847, Lawrence University uniquely integrates a college of liberal arts and sciences with a nationally recognized conservatory of music, both devoted exclusively to undergraduate education. It was selected for inclusion in the Fiske Guide to Colleges 2015 and the book "Colleges That Change Lives: 40 Schools That Will Change the Way You Think About College." Engaged learning, the development of multiple interests and community outreach are central to the Lawrence experience. Lawrence draws its 1,500 students from nearly every state and more than 50 countries.