Lawrence University's popular 75-minute whirlwind concert known as Kaleidoscope isn't just a hit with the audience, the student performers enjoy its rapid-fire approach as well.
"How the program is run, with its quick and condensed snapshots from different groups positioned at various areas throughout the hall, the traveling spotlight, the intensely focused energy and collective bated breath to hold applause until the end of the 75 minutes all make for a very special event," says Sofie Yang, a senior violinist from Whitefish Bay who will serve as concertmaster of the Lawrence Symphony Orchestra for this year's Kaleidoscope concert.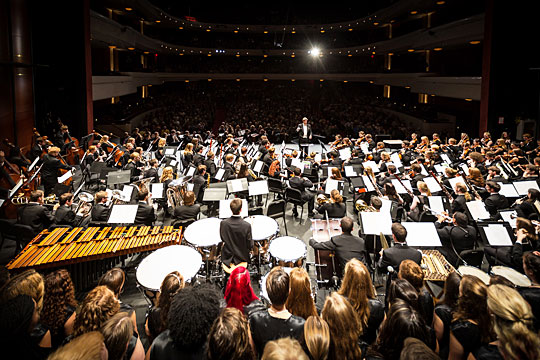 That frenetic approach also quickens the pulse of Appleton senior saxophonist Joe Connor.
"There is a special atmosphere between the audience and the performers, full of tension and excitement, that is unique to Kaleidoscope," said Connor, who will perform this year with the Lawrence Wind Ensemble and his new chamber ensemble Slipstream.
The concert's fifth iteration — Kaleidoscope5 — will again showcase the multiple musical talents of more than 200 Lawrence students Saturday, Oct. 10 at 8 p.m. at the Fox Cities Performing Arts Center, 400 W. College Ave., Appleton.
Tickets, at $15 for adults, $10 for senior citizens and $7 for students, are available at both the Lawrence University Box Office, 920-832-6749, and the Fox Cities Performing Arts Center Box Office, 920-730-3760.
"Kaleidoscope is an explosion of exceptional music-making," said Stephen Sieck, assistant professor and co-director of choral studies who is coordinating this year's concert. "When I first came to Lawrence, I thought it would be madness to put together such a complicated production as Kaleidoscope in the first few weeks of the year but I now know that Lawrentians always rise to the mightiest of challenges."
Beyond the concert's unique format, performing in an off-campus venue like the Performing Arts Center's 2,072-seat auditorium provides added excitement.
"Playing at the PAC really is special opportunity that I think inspires all of the performers to do their best," said Connor, who will make his second appearance at Kaleidoscope. "It's always a thrill to play in such a beautiful space."
As with its four predecessors, Kaleidoscope5 is sure to offer something that will appeal to even the most discerning music aficionado.
"Kaleidoscope is an explosion of exceptional music-making."



           — Stephen Sieck
This year's concert will feature 14 ensembles, running the gamut from the 60-member symphony orchestra and the Concert Choir to the more intimate clarinet ensemble and Yang's Quartet Masque, with which she performed at 2013's concert.
The program will feature a pair of tributes to the late Fred Sturm, who lost a battle with cancer in August 2014. It was Lawrence's former jazz studies director who envisioned a concert that incorporated all aspects of the conservatory.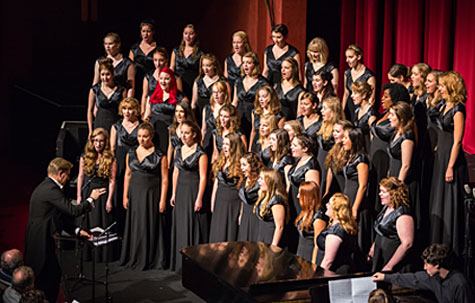 The Viking Bassoon Ensemble will perform an arrangement by Instructor of Music Carl Rath of Sturm's "Spring." The Lawrence University Jazz Ensemble will perform Sturm's "Capoeristas" from "Migrations: One World, Many Musics," which he was commissioned to write for Bobby McFerrin.
Highlighting the concert will be the world premiere of "The Music Makers", a massive seven-minute work written on commission by Emmy Award-winning composer and 2010 Lawrence graduate Garth Neustadter, who will return to Appleton from his current home in Pasadena, Calif., to conduct the piece.
At the end of the performance, Yang hopes the audience leaves with an appreciation of the diversity of music and musical experiences, not just at Lawrence but globally.
"What dictates our concert-going experience and what makes it compelling? How can we create concerts from that awareness?," asks Yang. "The relationship of people and music is a kaleidoscope, always shifting. Everyone should take part in that change."
About Lawrence University
Founded in 1847, Lawrence University uniquely integrates a college of liberal arts and sciences with a nationally recognized conservatory of music, both devoted exclusively to undergraduate education. It was selected for inclusion in the book "Colleges That Change Lives: 40 Schools That Will Change the Way You Think About College" and Fiske's Guide to Colleges 2016. Engaged learning, the development of multiple interests and community outreach are central to the Lawrence experience. Lawrence draws its 1,500 students from nearly every state and more than 50 countries.