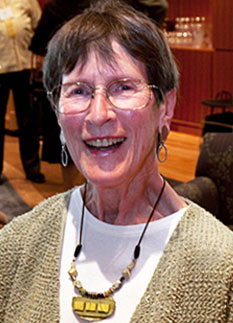 A born mentor, making a difference in people's lives has been part of Mary Poulson's modus operandi for most of her 85 years of life.
The long-time Lawrence University faculty member and barrier-breaking coach will be recognized Tuesday, April 19 as the 2016 recipient of the Paul and Elaine Groth Mentoring Award. The award is sponsored by the Mielke Family Foundation.
Poulson will be one of eight community award winners honored for their outstanding efforts at the annual "Celebrating Our Volunteers" dinner at the Radisson Paper Valley Hotel in downtown Appleton. The event, sponsored by The Community Foundation for the Fox Valley Region, Inc. and Post-Crescent Media, has saluted deserving area individuals for their volunteerism since 1998.
The Paul and Elaine Groth Mentoring Award recognizes an individual or group that has served as a mentor in the community over time and has, by example, made meaningful contributions to the quality of life in the Fox Cities.
Poulson was among 21 Milwaukee-Downer College faculty members who joined the Lawrence community in 1964 following the consolidation of the two institutions. During her 29-year career at Lawrence, she mentored thousands of students as a professor of physical education and coach of three sports, helping them discover themselves and find their niche in life.
When she first moved to Appleton, Poulson planned to stay just a year while exploring other options.
"Within weeks of settling in I realized what a special place Appleton was," said Poulson. "During my 52 years here, friends, teachers and colleagues have provided me with many opportunities to share the fullness of life with others."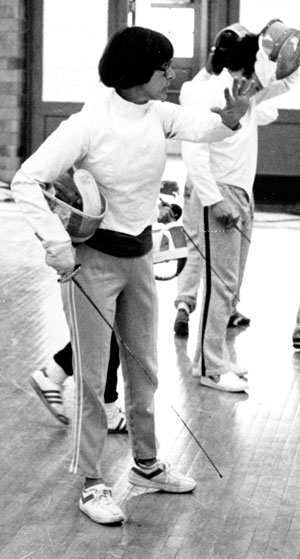 At Lawrence, Poulson became the first woman coach of any sport in the Midwest Conference. A consummate multitasker, she coached women's tennis —  Lawrence's first varsity sport for women — men's tennis and was the driving force behind the move from club status to varsity status of the men's and women's fencing teams, which she coached until her retirement in 1993.
In retirement, Poulson's, and her late husband, John's, own personal curiosities led to the creation of the Noonhour Philosophers, a free community speaker's program held weekly at Trinity Lutheran Church in downtown Appleton. For more than 20 years, Poulson has organized and coordinated the program, arranging presenters spanning the spectrum to share their experiences and explore interesting and topical issues.
Patricia Boldt, a 1948 Lawrence graduate who nominated Poulson for the mentoring award, described the Noonhour Philosophers as "a welcoming institution that has made the Fox Cities a more interesting place to live."
"She is a genius in finding both obscure and obvious presenters," wrote Boldt.
In addition to running the Noonhour Philosophers program, Poulson has been active in the area's annual Crop Walk for Hunger and with Leaven, a community based non-profit organization that works with volunteers to assist people in crisis who have basic needs that cannot be met elsewhere.
"All of these opportunities have helped me realize how blessed I've been and how generously Appleton residents share their blessings in all areas of life," said Poulson. "I'm a behind-the-scenes sort of person, so it's quite humbling to be recognized with the Paul and Elaine Groth Mentoring Award. I am extremely grateful to the Mielke Family Foundation and all those who make these awards possible."
Poulson is the third Lawrentian to be honored with one of the community volunteer awards. Lynn Hagee, director of special projects at Lawrence, and Rick Bjella, former choral director at Lawrence and artistic director of the White Heron Chorale (now newVoices), received the Hanns Kretzschmar Award for Excellence in the Arts in 2014 and 2006, respectively.
About Lawrence University
Founded in 1847, Lawrence University uniquely integrates a college of liberal arts and sciences with a nationally recognized conservatory of music, both devoted exclusively to undergraduate education. It was selected for inclusion in the book "Colleges That Change Lives: 40 Schools That Will Change the Way You Think About College" and Fiske's Guide to Colleges 2016. Engaged learning, the development of multiple interests and community outreach are central to the Lawrence experience. Lawrence draws its 1,500 students from nearly every state and more than 50 countries.