Three members of the Lawrence University faculty were recognized for teaching and scholarship excellence Sunday, June 12 at the college's 167th commencement.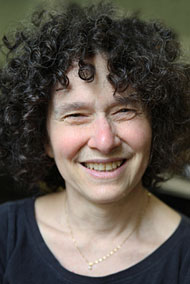 Professor of Music Catherine Kautsky received the Award for Excellence in Teaching, which recognizes outstanding performance in the teaching process, including the quest to ensure students reach their full development as individuals, human beings and future leaders of society.
Since first joining the faculty in 1987 — she spent six years at UW-Madison (2002-08) — Kautsky has used music to connect with other disciplines, particularly literature. She has presented lecture-recitals on topics ranging from the music of the Holocaust to French music and World War I. She also has organized performances for her students at numerous non-traditional venues, among them the Boys and Girls Club, a local soup kitchen, senior citizen centers and most recently the Oshkosh Correctional Institution.
In presenting the award, Provost and Dean of the Faculty David Burrows cited Kautsky for a "combination of insistence on excellence and your energetic, supportive nature [that] has led your students to high levels of success."
"You let your students know they have the power to create beauty but must work vigorously to achieve that beauty," said Burrows. "Your insistence on excellence as the gateway to beauty and enjoyment is highly distinctive."
Kautsky's repertoire includes Bach, Rzewski and Crumb, with a special emphasis on French music and the music of the first Viennese school. As a recitalist, soloist with orchestra or chamber musician, she has performed in venues around the world, including Alice Tully Hall and Carnegie Hall, as well as extensively in England and France. She also has presented classes in Brazil, China, Korea and South Africa.
She earned her bachelor's degree from the New England Conservatory, a master's degree from the Julliard School and a doctoral degree in performance from the State University of New York at Stony Brook.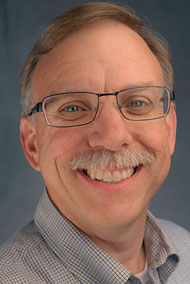 Bart De Stasio, Dennis and Charlot Nelson Singleton Professor of Biological Sciences and professor of biology, received the award for Excellence in Scholarship.
Established in 2006, the award recognizes a faculty member who has demonstrated sustained scholarly excellence for a number of years and whose work exemplifies the ideals of the teacher-scholar.
A specialist in predator-prey interactions, De Stasio has earned international recognition for his research on topics ranging from dormancy in aquatic organisms and its impact on ecology of lake communities to phytoplankton communities in Green Bay and Lake Michigan after the arrival of invasive species, including zebra mussels, spiny water fleas and round gobies. He has had more than 35 scientific papers and book chapters published, 19 of which were co-authored with Lawrence students.
Burrows praised De Stasio for his research on the effects of invasive species on food webs and on coral reefs in presenting him his award.
"It represents the very best qualities of the teacher-scholar model that we cherish at Lawrence," said Burrows. "Much of your research is done in collaboration with students. These students are generating important research results while also learning to understand the world from the perspective of scientific inquiry."
A member of the faculty since 1992, De Stasio has led Lawrence's every-other-year marine biology trip to the Cayman Islands to study coral reefs for many years. Last summer, he spent a month in Russia collaborating with scientists on a study of Lake Baikal, examining how the lake is responding to climate change and other anthropogenic stresses.
A 1982 summa cum laude graduate of Lawrence, De Stastio earned his Ph.D. in ecology and evolutionary biology from Cornell University.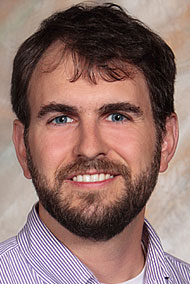 Ben Tilghman, assistant professor of art history, received the Young Teacher Award in recognition of demonstrated excellence in the classroom and the promise of continued growth.
A specialist in illuminated manuscripts of the Medieval and Renaissance periods, Tilghman has developed several courses designed to connect themes of the past with concerns of the present such as "Art of the Islamic World."
Burrows hailed Tilghman for "a combination of great passion, concern for student success and an ability to encourage discussion and argument while making students feel calm and comfortable."
"Your devotion to the ideals of liberal learning, which you like to point out were first articulated in the Middle Ages, has led you to stress the importance of opening one's mind to multiple perspectives on the world and to model for students the process of trying to make sense of complex materials," said Burrows. "The ability to connect knowledge and creativity is the hallmark of a Lawrence education and is a distinctive characteristic of your success as a teacher."
Before joining the Lawrence faculty in 2012, Tilghman taught in the art history department at George Washington University for two years. He also spent three years in the department of manuscripts and rare books at Baltimore's Walters Art Museum.
He earned a bachelor's degree from Lawrence in 1999, a master's degree from Williams College and his Ph.D. at Johns Hopkins University.
About Lawrence University
Founded in 1847, Lawrence University uniquely integrates a college of liberal arts and sciences with a nationally recognized conservatory of music, both devoted exclusively to undergraduate education. It was selected for inclusion in the book "Colleges That Change Lives: 40 Schools That Will Change the Way You Think About College" and Fiske's Guide to Colleges 2016. Engaged learning, the development of multiple interests and community outreach are central to the Lawrence experience. Lawrence draws its 1,500 students from nearly every state and more than 50 countries.