Lan Samantha Chang knew she wanted to be a writer since she was four years old.
The Appleton native who followed her dream and became an award-winning novelist returns to her hometown to be recognized for her literary achievements as the recipient of an honorary Doctor of Humane Letters degree from Lawrence University Sunday, June 12 at the college's 167th commencement.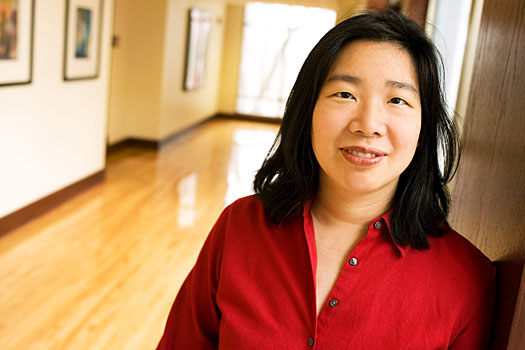 Chang, 51, who has directed the prestigious Iowa Writers' Workshop at the University of Iowa for the past 10 years, also will be the featured commencement speaker.
Lawrence is expected to award 364 bachelor degrees to 350 students from 32 states, the District of Columbia and 19 countries. A live webcast of the commencement ceremony will be available at http://go.lawrence.edu/lugrad16.
A baccalaureate service will be conducted Saturday, June 11 at 11 a.m. in the Lawrence Memorial Chapel. Benjamin Tilghman '99, assistant professor of art history, presents "What Makes Us Unique Also Binds Us Together: Empathy, Curiosity and the Liberal Arts." The baccalaureate service and commencement exercise are both free and open to the public.
Four retiring faculty members — John Dreher, Merton Finkler, Nicholas Maravolo and Patricia Vilches — will each be recognized with an honorary master of arts degree, ad eundem, as part of the ceremonies. Vilches will be honored in absentia.
In addition to Chang, Lawrence President Mark Burstein, Board of Trustees Chair Susan Stillman Kane '72 and senior Kevin Marin of Queens, N.Y., also will address the graduates.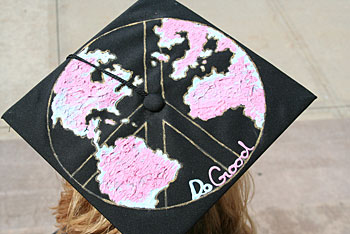 While Chang was burying herself in books as a child, dreaming about some kind of artistic future, her parents, who emigrated from China more than 65 years ago and had witnessed the horrors of a world war, had their hearts set on her pursuing a career in medicine, which they viewed as something stable.
"When I applied to Yale, I wrote in my application that I wanted to be a dermatologist mostly because it's the only kind of doctor I had ever been to," said Chang of her initial efforts to mollify her parents. "I started taking science classes and instantly realized that I did not want to pursue that path. It was very stressful because I was too chicken to talk to my parents about the decision. It was a year or two before I was able to tell them I didn't want to be a doctor and I had to come up with a backup plan. So I told them I wanted to be a lawyer."
After earning a degree in East Asian Studies at Yale, Chang attended the Kennedy School of Government at Harvard University, where she earned a master's degree in public administration.
"I realized that I didn't want to pursue that direction either," said Chang. "It was really just a question of coming to face the fact that I had never wanted to do anything else except write fiction and it would be pointless to keep trying to do other things."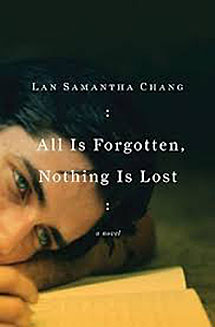 Applying to, and getting accepted to, the Iowa's Writers' Workshop was the launching pad for her long-dreamt-about career as a writer.
After earning a master of fine arts degree at the University of Iowa, she taught creative writing at Stanford University as Jones Lecturer in Fiction, in Warren Wilson College's MFA program for writers and at Harvard University as Briggs-Copland Lecturer in Creative Writing.
She returned to the Writers' Workshop in 2006 as its director while also teaching English as the May Brodbeck Professor of Liberal Arts and Sciences.
"I feel honored to be leading the workshop and proud that the program is still very strong."
Chang's connection to the Iowa Writers' Workshop goes back to when she was in the eighth grade at Appleton's Einstein Middle School. A grant enabled the Appleton Area School District to have a young poet, Monroe Lerner, who was a graduate of the Writers' Workshop, spend a year working with students in the district on creative writing.
"It seems to me our society would be strongest if as many people as possible were given the time to read widely, think broadly and try to understand the human experience before they went out into the world. It can always benefit our society if as many people as possible study liberal arts."
         — Lan Samantha Chang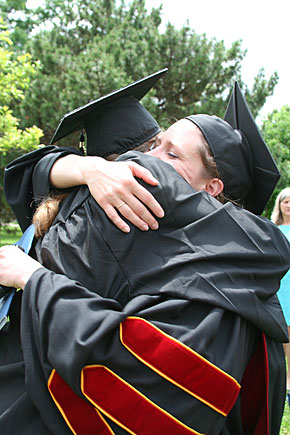 "I was deeply interested in reading and writing and didn't have an outlet for it, so every week for a year I got to meet with Monroe Lerner," said Chang, a 1983 graduate of Appleton West High School. "It was a phenomenal experience for me…probably the most important writing experience I had until after college because he took me seriously and he introduced me to a lot of good books. He put the idea of going to Iowa in my head when I was in eighth grade."
One of only three Chinese families living in Appleton while Chang was growing up, she was inspired by her experiences as an Asian American to write two novels and a collection of short stories about the merging of Chinese and American culture and the dynamics of family and wealth in times of hardship. Her works include 1998's "Hunger: A Novella and Stories," 2004's "Inheritance" and "All is Forgotten, Nothing is Lost" in 2010.
"Inheritance" received the 2005 PEN Open Book Award while "Hunger" was the winner of the Southern Review Fiction Prize and named a finalist for a Los Angeles Times Book Award. Her work has been selected twice (1994, 1996) for inclusion in the yearly anthology "The Best American Short Stories."
In addition to her accomplishments, her deep connections to Lawrence made Chang a natural for an honorary degree and invitation to deliver the commencement address. Her mother earned a bachelor of music degree in piano pedagogy from Lawrence, while her father was an associate professor of engineering at the former Institute of Paper Chemistry, which had a long affiliation with Lawrence
"Receiving an honorary degree from Lawrence means a great deal to me," said Chang, "because when I was growing up, Lawrence was the center of intellectual life in Appleton. It is a greatly respected university. I have vivid memories of being at the conservatory during my mother's recitals and meeting her professors."
In part because of her exposure to Lawrence as a youth, Chang holds liberal arts education in high regard.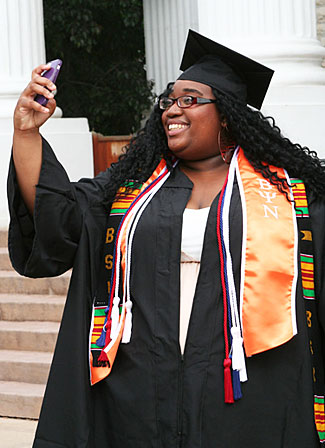 "It seems to me our society would be strongest if as many people as possible were given the time to read widely, think broadly and try to understand the human experience before they went out into the world," said Chang, who admits she wanted "to stretch my wings and leave Appleton" and didn't consider attending Lawrence when the time came. "I think that the liberal arts education always has benefits to any person, regardless of what they eventually do to make a living. It can always benefit our society if as many people as possible study liberal arts."
Chang's 93-year-old father still lives in Appleton. He is looking forward to seeing his daughter deliver her first commencement address.
"I think he's probably more excited about this than anybody in my family. One of the reasons I'm so excited about it is because my dad is so excited about it. Of course, it makes me nervous because I know that he'll be there. I want to do a good job."
About Lawrence University
Founded in 1847, Lawrence University uniquely integrates a college of liberal arts and sciences with a nationally recognized conservatory of music, both devoted exclusively to undergraduate education. It was selected for inclusion in the book "Colleges That Change Lives: 40 Schools That Will Change the Way You Think About College" and Fiske's Guide to Colleges 2016. Engaged learning, the development of multiple interests and community outreach are central to the Lawrence experience. Lawrence draws its 1,500 students from nearly every state and more than 50 countries.