Records, the adage goes, are meant to be broken. But this particular milestone was not one Lawrence University philosophy professor John Dreher had any particular interest in setting.
"I wasn't trying to beat anybody," Dreher says almost apologetically.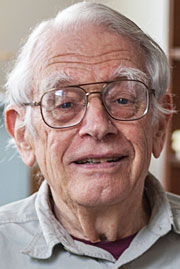 As the 2015-16 academic year comes to a close, Dreher becomes the college's longest-serving, full-time faculty member with 53 years in the classroom. He and three teaching colleagues — Merton Finkler, Nicholas Maravolo and Patricia Vilches — will be honored Sunday, June 12 at the college's 167th commencement as retiring faculty members. Collectively they have given the college an incredible 156 combined years of service. Each will be recognized with an honorary master of arts degree, ad eundem, as part of the graduation ceremonies. Vilches will be honored in absentia.
Dreher, Lawrence's Lee Claflin-Robert S. Ingraham Professor of Philosophy, joined the faculty in 1963 after beginning his teaching career at the University of North Carolina. His full-time teaching tenure surpasses the late Bertrand Goldgar, who taught in the Lawrence English department for 52 years.
"It doesn't matter that much to me. Sorry," Dreher, 81, said of his place in Lawrence annals. "I just did it year-by-year. I wasn't saying 'oh I'll just hold on one more year.'"
Despite weather challenges and the occasional malady, he points with pride to having missed only two teaching days in his 53-year Lawrence career — and none in the past 48 — and credits the quality of Lawrence students for keeping his five-plus decades of teaching interesting.
"I've enjoyed working with some damn good students," said Dreher, who thinks of himself as more coach than professor, "and some who didn't know they were good. I was able to get them to dig down a little deeper. I'm proud of the good ones who got even better when I got pushy in class. They responded to the coaching. They had talent that they then developed.
"I'm getting emails, phone calls, letters from folks who graduated 40, 30, 20, 10 years ago saying 'you know what, you made a big difference.' That's called psychic income. I love it."
— John Dreher
"Lawrence has students who don't specialize in some one thing. When I teach a philosophy class I'm not doing narrow philosophy. I'm not teaching future philosophy professors, although some turn out to be. I like working with people who are going to be bankers, lawyers, CEOs, fourth-grade teachers. I like helping people get broad backgrounds," added Dreher, whose own undergraduate degree was in English, not philosophy. "In some of my courses I read stuff by economists and short story writers. I like to do the broad stuff, which is why I like teaching at a liberal arts college."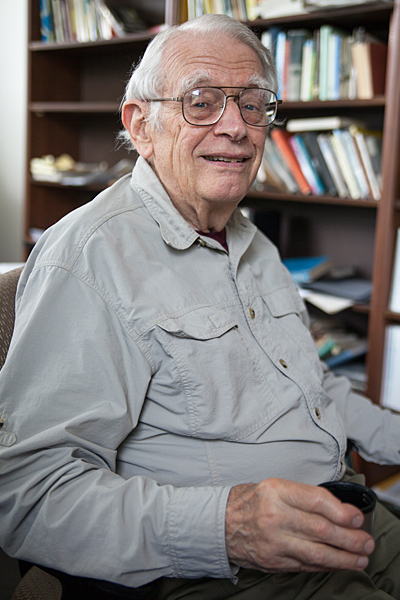 A native of Jersey City, N. J., Dreher has twice been awarded the college's Babcock Award, which recognizes "outstanding service to students." He received the University Award for Excellence in Teaching 1989 and the Freshman Studies Teaching award in 2002. On three different occasions (1982–83; 1986–87; 1993–95) he directed the college's signature Freshman Studies program.
He looks back fondly on the freedom he received from the administration over the years.
"I had the feeling I could use my own judgment to do what I think was best for my students and my classes and nobody was looking over my shoulder," said Dreher, whose scholarship interests include environmental ethics, applied ethics and the history of philosophy. "They trusted me to do my job and to do it right. I really appreciated that."
While retiring from full-time teaching, Dreher won't be leaving the classroom entirely. He's scheduled to teach one of his favorite courses, environmental ethics, Winter Term each of the next three years.
"I cannot go cold turkey on something I've been throwing myself into this whole time," said Dreher, whose daily workout regimen has been slowed a bit by recent double knee replacement surgery.
With his reduced teaching load, Dreher is looking forward to having more time to tend to the two large gardens at his rural Black Creek home, attend more Lawrence concerts, travel to Europe and volunteer with local environmental groups.
In the meantime, he's enjoying hearing from former students.
"I'm getting emails, phone calls, letters from folks who graduated 40, 30, 20, 10 years ago saying 'you know what, you made a big difference.' That's called psychic income. I love it."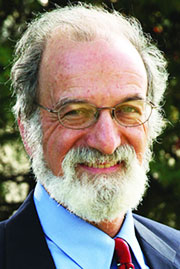 Since joining the faculty in 1979, Finkler, the John R. Kimberly Distinguished Professor in the American Economic System and Professor of Economics, has left his mark on the college through new courses as well as new programs.
He was instrumental in launching Lawrence's thriving innovation and entrepreneurship program and was among the leaders in developing the university's popular interdisciplinary Sustainable China Program, which has evolved from other initiatives that began in 2003.
"I've been to China nine times and I haven't paid for one of them," Finkler, 68, says with a smile. He admits his Chinese is "still not good enough to cause trouble. I know a number of words, but I really can't hold a conversation with anybody."
The Innovation and Entrepreneurship Program began in 2008 and Finkler was among the faculty members who helped write its initial curriculum.
"The I & E program has received university-wide interest, which I think is critical to its success," said Finkler, who spent three years on the faculty at the University of Minnesota before coming to Lawrence.
"Lawrence gave me not just every opportunity, but every encouragement… I'm not sure what other venue I could have had with that kind of opportunity."
     –– Merton Finkler
During his tenure, Finkler established himself as an expert in the field of healthcare. He has taught courses on health policy and economics and co-chaired two statewide conferences that generated healthcare policy directives for the Wisconsin legislature. He has served on the Wisconsin Governor's Task Force on Funding of Academic Medical Centers as well as on the state's Data Expert Advisory Group on Public Health. He also conducted a pair of research projects on the costliness of healthcare in Wisconsin for the Greater Milwaukee Business Group on Health.
"It's been a nice way to apply a variety of different skills to a substantive topic that people care about," Finkler said of his healthcare interests. "The challenges are not going to go away, the demographics ensure that we have to figure out a better way to use our healthcare resources or we're going to get eaten alive financially."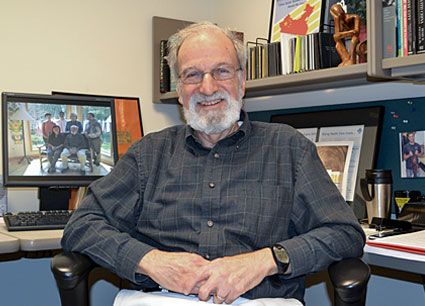 He was awarded a Robert Wood Johnson faculty fellowship in healthcare finance that enabled him to spend extended time at Johns Hopkins University as well as a year in-residence at the Kaiser Permanente Medical Care Program in California. And for eight years, he was a partner in a local healthcare-focused consulting firm.
"That experience enabled me to make contacts with various stakeholders in the healthcare industry," Finkler said of his side business venture. "It was valuable in that I saw the various perspectives people provided in delivery of healthcare services. That certainly enriched my background, my experience and my understanding of the character of financing and delivery system problems and what has to be addressed if anything is to change."
Following Dreher's lead, Finkler won't completely abandon the classroom. He is slated to teach a hybrid class on financial investing this fall.
"I'd like to continue to teach one or two courses each year and fill in the gaps where need be, but that depends on departmental needs and the God of budgets," said Finkler, who grew up in San Bernadino, Calif.
He does plan to keep his hand in the healthcare field in retirement. He's in the embryonic stage of a joint project in Marathon County to help develop a community health business partnership focused on improving the public's health while containing costs.
In reflecting on his 37 years at Lawrence, Finkler sys he is grateful for the support he received to do what he wanted within the realm of the university's mission.
"I had the opportunity to essentially learn how to teach and take that particular skill set and use it in my consulting work. Then I could bring examples and experts from the real world to class to talk seriously about health policy. The synergies are huge and Lawrence gave me not just every opportunity, but every encouragement to go ahead and do that. I'm not sure what other venue I could have had with that kind of opportunity."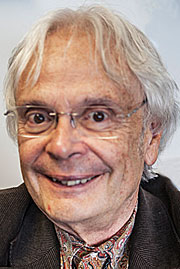 Maravolo, professor of biology, is a member of Lawrence's elite 50-year club. Since joining the Lawrence faculty in 1966, his half century of teaching does not surprise him.
"I knew when I got here it was exactly the kind of place I wanted to be at," Maravolo, 75, says without hesitation.
Mentoring has been at the heart of Maravolo's career. He was the founder of Lawrence's pre-medical advisory committee and its guiding force for decades.
"Over the years I've worked with hundreds of students who have successfully made it into medical school and dental school and they still keep in touch with me. That's certainly something I'm proud of," said Maravolo, who grew up on the south side of Chicago and earned his bachelor's, master's and doctorate degrees from the nearby University of Chicago.
Not only do those former students stay in touch, they take care of him. When Maravolo found himself in the hospital for an extended stay several months ago, four of the doctors treating him were his former students.
"My greatest satisfaction is from mentoring hundreds of students, getting them into their professional track and just keeping them on track when they got disillusioned."




     — Nicholas Maravolo
In 2010, Maravolo oversaw the launch of the LU-R1 program, which paired current students with Lawrence alumni scientists working at major institutions and organizations around the country for summer research opportunities.
"I looked at LUR1 not as a job, but as an honor that was offered to our best science students," said Maravolo. "What I tried to do was match the student's personality and interests with the interests and personality of the alumni that I know. It's the same philosophy I had in structuring advice I gave to the pre-medical students. It wasn't cookie cutter advice, it was more about who are you and what's going to make you shine in the light of your professional interest?"
Maravolo is known affectionately to generations of students simply as "Doc," an informal version of doctor, which his students didn't like calling him early in his career. His title eventually morphed into the shortened salutation.
"I kind of liked it and felt comfortable with it," said Maravolo. "It takes that frightening dimension away from the more formal 'doctor.'"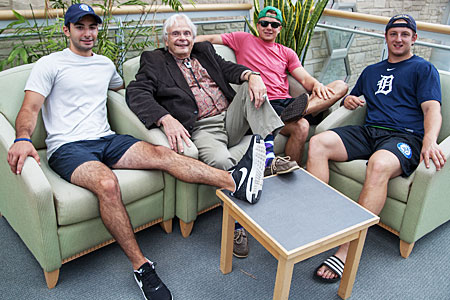 Tutorials have been one of the hallmarks of Maravolo's tenure and he has taught so many of them students often refer to him as "the tutorial king."
"Tutorials are more about teaching the student to have a proprietary interest in their education, something they're going to carry with them for the rest of their life," said Maravolo, who points with pride that three quarters of the students who do a tutorial with him are from disciplines other than biology. "I learn as well from most of the tutorials I teach. I'm going to miss doing those."
As the college's resident botany expert, Maravolo has established himself as Lawrence's s wine guru. One of his most popular classes over the years — "The Science of Wine" — grew out of a conversation one evening over dinner at a restaurant with students who were working in his laboratory. One suggested he teach a class on beer. The suds idea was nixed, but a course examining the microbiology, the horticulture and the health benefits of wine did emerge.
Beyond the campus, numerous organizations have been the beneficiaries of Maravolo's expertise. He has served on the board of the Mosquito Hill Nature Center, where he helped drive in the stakes for the original building. He served on the organizing board for the Memorial Park Arboretum and Gardens and has been a consultant to the Gordon Bubolz Nature Preserve and the Wisconsin Department of Natural Resources. He traveled the state as a member of the State of Wisconsin Scientific Areas Preservation Committee and served as chairman of the education committee for the Botanical Society of America.
Among all his professional accomplishments though, it always comes back to the students.
"My greatest satisfaction is from mentoring hundreds of students, getting them into their professional track and just keeping them on track when they got disillusioned."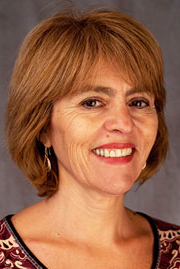 Vilches, professor of Spanish and Italian, was the beneficiary of good timing.
A year after she joined the faculty in 2000 as a visiting professor to replace a departing member of the Spanish department, Lawrence approved a program in Italian language. Having completed her Ph.D. in romance languages and literatures from the University of Chicago a few years earlier, Vilches was the perfect fit to help launch the new program. She spent a second year teaching both languages before being appointed to a tenure track appointment in 2002.
"Lawrence provided a unique opportunity for me to teach Spanish and Italian," said Vilches, whose Spanish phonetics course famously became a rite of passage for many students. "I was ready and eager to teach both languages when given the chance."
Born in Viña del Mar, Chile, Vilches came to the United States as a 17-year old exchange student with the Youth for Understanding program. She lived in La Grange, Ill., for a year with a host American family while attending Lyons Township High School.
"I have met a few graduates from Lyons Township since I began teaching at Lawrence," she said proudly.
She spent eight years teaching Spanish and Italian at the University of Evansville before winding up at Lawrence, in part because her husband, Gerald Seaman, was hired as associate dean of the faculty.
"I will miss my wonderful students, my wonderful colleagues, the theatre productions and those fabulous student senior recitals."




     — Patricia Vilches
At Lawrence, she became known for her rigorous courses, her long exams and her lengthy comments on student papers.
"I'm proud to have helped students perfect their abilities in Spanish and Italian," said Vilches. "Students knew they would be challenged and would sometimes face frustrations, but I think they also realized that my courses rewarded them in subtle and concrete ways. My goal was for the students to immerse themselves in the subject and dedicate time and effort to what I presented in the classroom. I like to think students appreciated what I did for them as their teacher."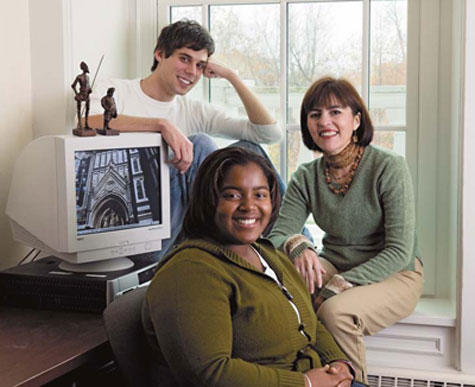 For the past two years, Vilches has been on leave from Lawrence, living in England, where her husband is principal and CEO of Harlaxton College. Her time in the UK largely has been spent finishing a book about Chilean novelist Alberto Blest Gana.
While teaching is not in her immediate future plans, she is looking forward to editing a scholarly volume on singer, songwriter, poet and artist Violeta Parra, one of the most important public figures in 20th-century Chile, in time for the 100th anniversary celebration of Parra's birth in 2017.
"I will miss my wonderful students, my wonderful colleagues, the theatre productions and those fabulous student senior recitals," Vilches says of her 16 years at Lawrence. "I've built some enduring friendships and because of those friends, part of me will always be there."
About Lawrence University
Founded in 1847, Lawrence University uniquely integrates a college of liberal arts and sciences with a nationally recognized conservatory of music, both devoted exclusively to undergraduate education. It was selected for inclusion in the book "Colleges That Change Lives: 40 Schools That Will Change the Way You Think About College" and Fiske's Guide to Colleges 2016. Engaged learning, the development of multiple interests and community outreach are central to the Lawrence experience. Lawrence draws its 1,500 students from nearly every state and more than 50 countries.