Former Lawrence University chemistry and computer science professor James S. Evans died Monday, April 23 at ThedaCare Regional Medical Center-Neenah. He was 77 years old.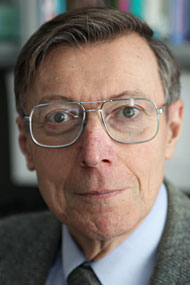 Among the longest-serving faculty members in the history of the university, Professor Evans' tenure spanned 45 years before his retirement in 2011.
A native of Bridgton, Maine, Jim joined the Lawrence faculty in 1966 as a 25-year-old with a bachelor's degree in chemistry from Bates College and a Ph.D. in nuclear chemistry and physics from Princeton University. Jim arrived in Appleton with a three-year tenure track offer from then-Lawrence President Curtis Tarr.
Early in his career, Jim taught introductory chemistry courses, inorganic chemistry, physical chemistry and Freshman Studies. He later added regular involvement with a distinctive honors-level Principles of Physics and Chemistry sequence. An active and engaged researcher, Jim's research and scholarship focused on proteins, protein fragments and peptides.
Blaming an inability "to convincingly say no," Jim began a 15-year stint of multitasking in 1979 when he traded some of his chemistry teaching duties for responsibilities as director of Lawrence's emerging computer center. He provided leadership in bringing the power of computing into both the academic and administrative areas of the university.
Jim was a natural choice for the role, having already helped usher in the first computer-related teaching to the Lawrence curriculum and collaborating with members of the physics department on a laboratory computing course.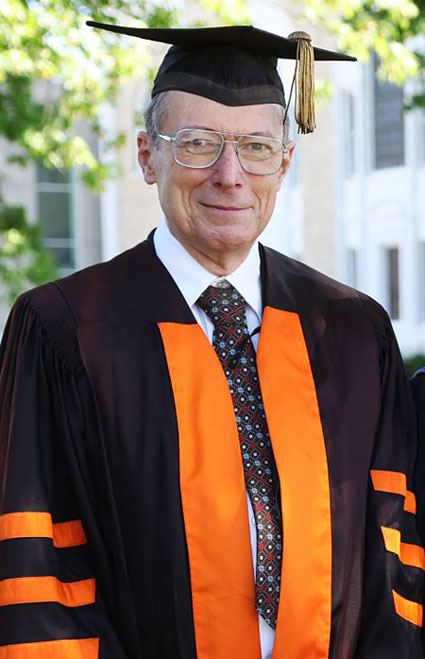 An interest in using computers beyond numerical work or signal processing also led Jim to write a text formatting program. With a physics colleague, he co-directed a multi-year (1979-82) National Science Foundation-funded project that focused on acquainting faculty members throughout the sciences and social sciences with computation. He also helped establish today's interdisciplinary mathematics-computer science major and taught several courses in that major.
Among many professional accomplishments, Jim wrote two books, "Itanium Architecture for Programmers" and "Alpha RISC Architecture for Programmers."
Beyond teaching chemistry and computer science, Jim served as an institutional "sidewalk superintendent," assisting with the planning and execution of a variety of campus building projects, including the construction of Thomas Steitz Hall of Science and Hiett Hall and major remodeling projects in Main Hall and Youngchild Hall.
Late in his career, Jim served in an advisory capacity to the dean of the faculty, the vice president for business affairs and other offices and departments, helping develop institutional strategies involving technology.
Plans for a memorial service are still pending at this time.
About Lawrence University
Founded in 1847, Lawrence University uniquely integrates a college of liberal arts and sciences with a nationally recognized conservatory of music, both devoted exclusively to undergraduate education. It was selected for inclusion in the book "Colleges That Change Lives: 40 Schools That Will Change the Way You Think About College."  Engaged learning, the development of multiple interests and community outreach are central to the Lawrence experience. Lawrence draws its 1,500 students from nearly every state and more than 50 countries.