There will be no shortage of world-class musicians showcasing their talents during Lawrence University's 2018-19 Performing Arts Series.
Season subscriptions are now on sale for both the Artist Series and Jazz Series. Subscribers also can choose from either four-concert series to create their own personalized "Favorite 4" package. Discounts are available to senior citizens. For the first time, tickets for all students with a school I.D. and children aged 3-12 are free. Single-concert tickets go on sale Sept. 17. For more information, contact the Lawrence Box Office, 920-832-6749 or boxoffice@lawrence.edu.
THE ARTIST SERIES
One of the country's premier chamber music ensembles, Imani Winds makes an encore return to the Lawrence Memorial Chapel stage Friday, Feb. 22, 2019 as part of next season's Artist Series. The five-member ensemble previously performed on the series in 2003 and 2009.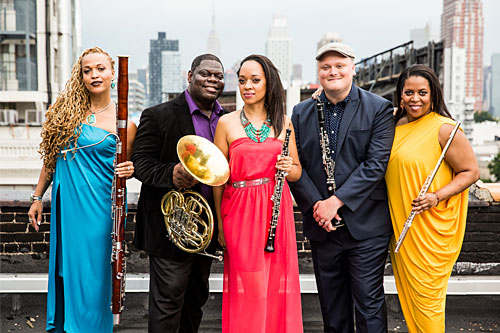 Founded in 1997, the Grammy Award-nominated group is known for its adventurous programing, which includes newly composed works as well as compositions featuring African, Latin American and American influences.
Andy Mast, conductor of the Lawrence Wind Ensemble, calls Imani Winds "a groundbreaking woodwind quintet comprised of exceptional artists who are committed to the highest standards of woodwind chamber music.
"Their strong commitment to innovative programming along with commanding performances of traditional repertoire makes Imani Winds a peerless performer in the musical world," Mast added. "Our audience is sure to be treated to a thrilling and engaging night of music next Februrary when they visit us."
Imani Winds — flutist/composer Valerie Colman, oboist Toyin Spellman-Diaz, clarinetist Mark Dover, horn player/composer Jeff Scott and bassoonist Monica Ellis — have toured throughout the United States as well as internationally. They've also participated in the residency program of The Chamber Music Society of Lincoln Center.
Joining them on next year's Artist Series are:
• Calidore String Quartet with oboist Christina Gómez Godoy, Friday, Oct. 5, 8 p.m.
Founded at the Colburn Conservatory of Music in 2010, the Calidore String Quartet has won accolades across the globe while establishing themselves as a rising star among chamber music ensembles. Grand prize winners in the inaugural M-Prize Competition in 2016 at the University of Michigan, the quartet performs regularly throughout the world.
Spain's Godoy joins the quartet for this concert, bringing with her exceptional musicality and color-rich sound. In 2013 at the age of 22, Godoy was appointed principal solo oboist in the Staatskapelle Berlin Orchestra. She has since performed as guest principal oboe in leading orchestras around the world, including the Bavarian Radio Symphony Orchestra, the Chamber Orchestra of Europe and the London Symphony Orchestra.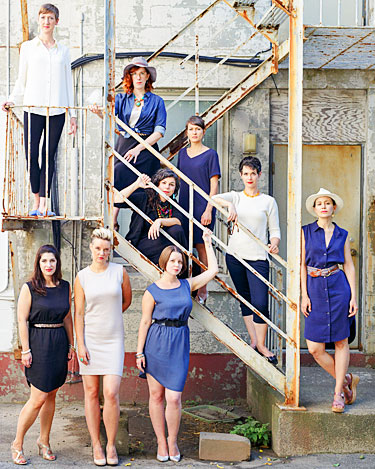 • Lorelei Ensemble, Friday, March 1, 2019, 8 p.m.
The nine-member, all-female vocal ensemble has been praised by The New York Times for its "warm, lithe and beautifully blended sound." Based in Boston, Lorelei Ensemble has earned a national reputation for its bold and inventive programming, working with established as well as emerging composers to create new works that reveal the extraordinary.
Beth Willer, who founded the group in 2007, is known for her "technical expertise" and commitment to the contemporary vocal art. She's led the ensemble in collaborations with the Boston Symphony Orchestra, Tanglewood Music Center Orchestra and Juventas New Music. The group was recognized by Chrous America with its 2014 Louis Botto Award for "innovative action and entrepreneurial zeal."
• Alarm Will Sound, Friday, April 5, 2019, 8 p.m.
One of "the most vital and original ensembles on the American music scene" according to The New York Times, the 20-member Alarm Will Sound is committed to innovative performances and recordings of today's music, performing demanding works with energetic skill.
Members of the ensemble began playing together while studying at the Eastman School of Music in Rochester, N. Y., and served as artists-in-residence in 2013-14 at the Metropolitan Museum of Art. Collectively they feature diverse experience in composition, improvisation, jazz, popular styles, early music and world music. With numerous composer-performers on its roster, Alarm Will Sound provides an unusual degree of insight into the creation and performance of new works.
Two Alarm Will Sound members, flutist Erin Lesser and trombonist Michael Clayville, are on the faculty of the Lawrence conservatory of music.
THE JAZZ SERIES
A New York City musical institution, the renowned Vanguard Jazz Orchestra takes the Lawrence Memorial Chapel stage Saturday, Nov. 3 at 7:30 p.m., closing Lawrence's annual Fred Sturm Jazz Celebration Weekend. The multiple Grammy-winning 16-piece big band features some of the world's finest musicians, most of whom lead their own bands when not performing with the orchestra.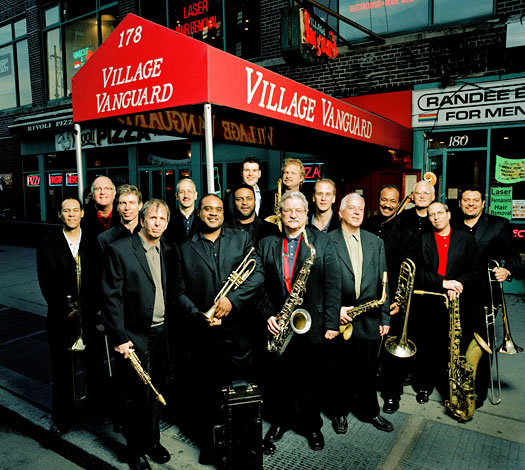 In the 52 years since Count Basie Orchestra trumpeter Thad Jones and drummer Mel Lewis from the Stan Kenton Orchestra co-founded the group in 1966, the orchestra has been a standing fixture on Monday Night Live at the Big Apple's Village Vanguard, drawing from a catalogue of more than 300 tunes. The New York Times described the orchestra's customary Monday night performances as "a residency with no close equivalent in jazz and few parallels in any creative field."
Since 1999, the orchestra has released eight albums, seven of which earned Grammy Award nominations, including two which won Grammys.
Joining them on next year's Jazz Series are:
• Regina Carter Quartet, Friday, November 2, 7:30 p.m.
Hailed by The Los Angeles Times as "a talented, charismatic player who is almost single-handedly reviving interest in the violin as a jazz instrument," Carter opens Lawernce's 38th annual weekend salute to all things jazz.
A native of Detroit who now calls New York City home, Carter has established herself as the foremost jazz violinist of her generation. The MacArthur Foundation recognized her integration of a wide range of musical styles into the realm of improvisational jazz violin by awarding her one of its $500,000 "genius" grants in 2006.
Carter's most recent release, "Ella: Accentuate the Positive," and complentary touring program, "Simply Ella," mark the 100th birthday of musical legend Ella Fitzgerald, the source of much of Carter's musical inspiration.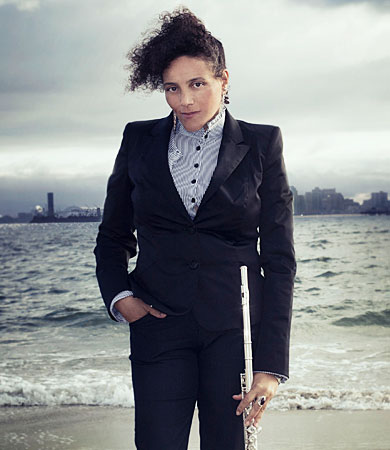 • Nicole Mitchell Quartet, Saturday, February 2, 2019, 8 p.m.
An award-winning, creative flutist, composer, bandleader, educator and trans-disciplinary conceptualist, Mitchell repeartedly has been honored as "Top Flutist of the Year" by DownBeat Magazine and the Jazz Journalists Association.
Known as a leading voice of jazz's cutting edge, the New York Times says Mitchell "brings an eclectic ear and a frothy vigor to her instrument," hailing her as "the most inventive flutist in the past 30 years of jazz."
In the mid-1990s, Mitchell founded the Black Earth Ensemble, for which she writes music with a storytelling sensibility. She also composes for contemporary ensembles of varied instrumentation and size while incorporating improvisation and wise aesthetic expression.
• Anat Cohen Quartet, Friday, May 10, 2019, 8 p.m.
Clarinetist-saxophonist Anat Cohen has won hearts the world over with her expressive virtuosity and delightful stage presence. The Jazz Journalists Association has voted Anat "Clarinetist of the Year" nine years in a row. She also has topped both the Critics and Readers Polls in the clarinet category in DownBeat Magazine every year since 2011.
Beyond the clarinet, Cohen has been recognized with multiple "Rising Star" honors in both the soprano and tenor saxophone categories as well as for Jazz Artist of the Year by DownBeat.
The Chicago Tribune praised Cohen for "The lyric beauty of her tone, easy fluidity of her technique and extroverted manner of her delivery," making her music "accessible to all."
Jose Encarnacion, director of jazz studies at Lawrence, provided a philosophical assessment of this year's Jazz Series.
"What is it to be inspired?," Encarnacion asked. "Is it to admire a glorious jazz band like the Village Vanguard Orchestra who has played phenomenal music every Monday night in the same New York City venue for 53 years? Is it to look in awe at the women in jazz and the major role they've played and the enormous contributions they've made the last 70 years? Singers like Billy Holiday and Ella Fitzgerald and instrumentalists like violinist Regina Carter, flutist Nicole Mitchell and clarinetist Anat Cohen clearly have been leaders in the development of jazz.
"Jazz is timeless. It grows, survives, innovates, is rooted, transformed, raw and elegant all at the same time," Encarnacion added. "Lawrence is inspired by the greats who have been, are and always will be. They have opened doors for us to peek into this truth and it is our duty and great honor to inspire others and make sure that door forever stays open. Join us this year and experience inspirational truth."
About Lawrence University
Founded in 1847, Lawrence University uniquely integrates a college of liberal arts and sciences with a nationally recognized conservatory of music, both devoted exclusively to undergraduate education. It was selected for inclusion in the book "Colleges That Change Lives: 40 Schools That Will Change the Way You Think About College."  Engaged learning, the development of multiple interests and community outreach are central to the Lawrence experience. Lawrence draws its 1,500 students from nearly every state and more than 50 countries.