A team of three Lawrence University students recently completed a rare research opportunity at one of the nation's premier laboratories in an effort to shed new light on how liquids can solidify.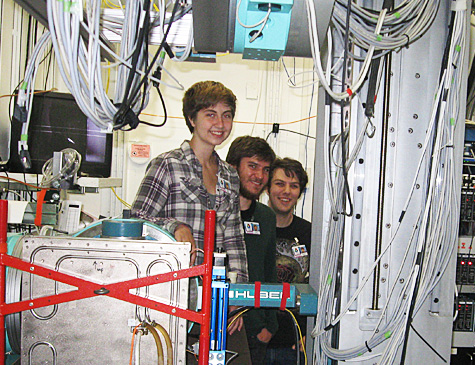 Senior Leo Sussman and juniors Ben Clark and Erika Roedl, under the direction of Nick Mauro, visiting assistant professor of physics, conducted a five-day-long experiment at the Advanced Photon Source (APS) at Argonne National Laboratory in suburban Chicago.
The project involved collaborations with students working with Lawrence Assistant Professor of Chemistry Allison Fleshman and a research group at Washington University in St. Louis.
The research project focuses on the underlying governing principles that dictate how a liquid forms into a particular kind of solid — glass. Almost any liquid can be formed into a type of glass if cooled quickly enough.
"Physicists are primarily interested in the discovery of new knowledge and new technology and the field of condensed matter physics is an area where we realize both at Lawrence," said Mauro. "Materials known as metallic glasses have very unique physical, electrical, thermal and mechanical properties. In our lab, we use advanced experimental techniques to try and understand how and why these unique materials form."
The student researchers heated samples of liquids and glasses in advanced furnaces that generate temperatures of nearly 1300 degrees Fahrenheit, allowing them to examine the samples' atomic structure using extremely bright X-ray beams.
"The work we conducted will help us to better understand how liquid atomic
structure evolves and how to tailor metallic alloys for particular applications.
These students are helping make these advances possible."


              — Assistant Professor of Physics Nick Mauro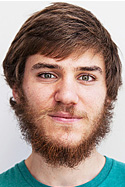 "My week at Argonne gave me a fantastic glimpse into life as a professional scientist, complete with triumphs and tribulations alike and inspired additional work when we returned," said Sussman, a physics and flute performance major from San Francisco, Calif. "It was exhilarating when the moment finally came to see the data we'd been preparing to collect for months start to appear on a monitor right before our eyes.
"I came away from the experience with a profound sense of awe for the amount of collective human knowledge, expertise and talent that went into building the facility," Sussman added. "One of the most thrilling aspects was working among dozens of other research groups, all striving toward the same overall goal of better understanding the world."
The experiments were carried out 24 hours a day with the team working in shifts over the course of five days. More than 60 different experiments using 35 various liquids and glasses were performed.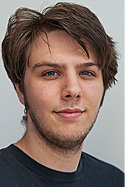 Clark called the opportunity to conduct work at Argonne's Advanced Photon Source "an incredible experience."
"Before working at the APS, I was both terrified and exhilarated, but being able to assist in the experimentation and sometimes even running parts by myself, with some supervision, gave me a sense of confidence I've never felt before," said Clark, a physics major from St. Louis, Mo. "This was by far one of the best experiences I've had in my life."
The APS is a state-of-the-art facility that accelerates electrons to nearly the speed of light, creating very intense and highly energetic X-rays. The APS is one of the brightest X-ray sources in the world and researchers from across the globe go there to conduct research in many different fields.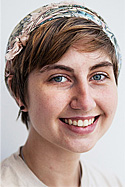 "As a student participating in the engineering track at Lawrence, I was looking forward to seeing what the experimental side of physics was really like," said Roedl, a physics major from Minneapolis, Minn. "At the lab I could feel the dedication the countless graduate students, professors and professional experimentalists have for their respective fields. Being in that atmosphere, as well as seeing Professor Mauro so enthused about the research we were conducting, was so inspiring."
Mauro, a 2005 Lawrence graduate who returned to his alma mater last fall, said the trip to Argonne was "a unique study experience for the entire research team."
"It is extremely difficult to get access to Argonne since the competition for beam time is very high. Our students had the opportunity to conduct cutting-edge research at a world-renown institution. The work we conducted will help us to better understand how liquid atomic structure evolves and how to tailor metallic alloys for particular applications. These students are helping make these advances possible."
About Lawrence University
Founded in 1847, Lawrence University uniquely integrates a college of liberal arts and sciences with a nationally recognized conservatory of music, both devoted exclusively to undergraduate education. It was selected for inclusion in the Fiske Guide to Colleges 2015 and the book "Colleges That Change Lives: 40 Schools That Will Change the Way You Think About College." Individualized learning, the development of multiple interests and community engagement are central to the Lawrence experience. Lawrence draws its 1,500 students from nearly every state and more than 50 countries.