The latest chapter in the long-running partnership between Lawrence University and the Mielke Family Foundation will be written this summer with the launch of the new John and Sally Mielke Community Collaboration Program.
The program is based on the Mielkes' deep commitment to enhancing the quality of life in the Fox Valley region and Lawrence's commitment to effective and ethical action in the contemporary world.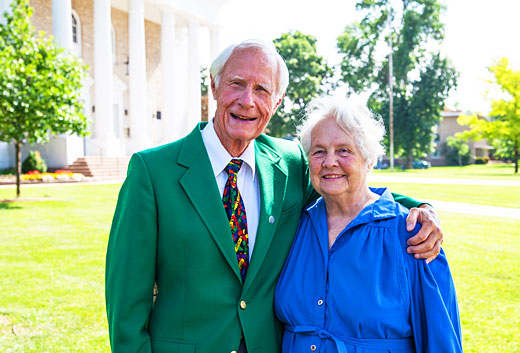 The John & Sally Mielke Generation II fund, an endowment within the Mielke Family Foundation, is committed to funding this collaboration that brings Lawrence faculty and students, the non-profit agencies, and community leaders together in cooperative undertakings.
By combining research and scholarship with local expertise and knowledge, the program aims to develop new approaches to issues that will improve quality of life in the Fox Cities. Lawrence students engaged in community-based learning and research will gain practical experience while learning first-hand how research can be developed and applied in partnership with people directly affected by the issues.
Ideally, the collaborations will not only make a real impact here in our community, but will generate new models for effective and ethical university-community action that could be adopted in other places.
"Partnership is an important value for John and Sally Mielke and for the university," said Lawrence President Mark Burstein. "This extraordinary gift from the Mielkes will support advanced research on societal issues that face the Fox Cities. All parties hope this initiative will ensure our community remains a leader for generations to come."
The program will focus on a single theme at a time and be dedicated to making a meaningful impact. Each theme is expected to last multiple years. Tools for addressing any theme could include Lawrence courses involving field work, or other community-engaged elements; research, assessment and evaluation; internships for Lawrence students at community agencies and workshops or training for community members.
While themes and specific activities will evolve over the life of the program, each undertaking will be guided by four essential components:
It will be led by Lawrence University, with advice and consultation from the Mielke Family Foundation or its representatives.
It is collaborative in nature, bringing Lawrence faculty and students together with the Fox Cities community to address issues of importance to the community.
It is for the benefit of the Fox Cities community.
It will provide distinctive unique opportunities for Lawrence faculty and students to assist the Fox Cities through research and service.
John and Sally Mielke noted that "the history of Lawrence University and Appleton is strongly intertwined. This initiative gives strength to the continuing effort of collaboration which is so beneficial to both."
In honor of the Mielkes, the program's initial thematic focus will be early childhood — from birth, or possibly even prenatal, through young childhood. The importance of early childhood experiences as preparation for future successful lives is a long-standing passion of John and Sally Mielke.
Partnership is an important value for John and Sally Mielke and for the university. This extraordinary gift from the Mielkes will support advanced research on societal issues that face the Fox Cities."
—Lawrence President Mark Burstein.
Activities associated with the first initiative might include a course on early childhood development that includes field work on community projects, paid internships in local agencies for Lawrence students and outreach events such as seminars for in-service teachers or workshops for area families, other influencers or stakeholders in early childhood development.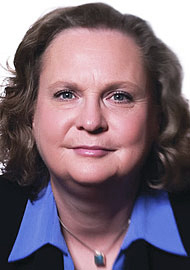 Beth Haines, professor of psychology at Lawrence, whose intellectual interests include developmental psychology, has been named the program's initial director.
Haines played a leadership role in helping launch the Community Early Learning Center (CELC) in downtown Appleton in 2014, a project also supported by the passion, time and generosity of the Mielkes. She serves as the chair of the center's research committee and created and oversees an ongoing assessment plan.
"The John and Sally Mielke Community Collaboration Program will provide many opportunities to truly have an impact on community needs," said Haines. "We've already begun to enrich and expand our community-based work on early childhood. The CELC is embarking on a project to bring a mindfulness-based Kindness Curriculum to early childhood programs in the community."
Approximately 30 students are currently participating in a training course taught by Haines and Kathy Immel, associate professor of psychology at UW-Fox Valley, to enable a large-scale assessment of the impact of the Kindness Curriculum at the CELC and the University Children's Center in the 2018-19 school year.
"The Community Collaboration program will allow us to engage more students in this project," explained Haines. "We've invited a Lawrence education student to attend the intensive training on the Kindness Curriculum for teachers and we hope to hire a recent Lawrence graduate to help with project coordination."
An assessment of the curriculum will be conducted after which it will be shared broadly with the local community and beyond. Lawrence students also will support the Mindful Parenting classes offered to area parents whose children are experiencing the curriculum in their preschool and 4K classrooms as well as others.
Lawrence faculty members Stephanie Burdick-Shepherd, assistant professor of education, and Daniell DiFrancesca, postdoctoral fellow of education, plan to offer a lab connected to their Children's Literature or Reading Foundations course for students interested in literacy and community to conduct readings of the mindfulness books from the curriculum at the Appleton Public Library or the Building for Kids, expanding both Lawrence student involvement as well as the wider Appleton community.
"We also hope to use the collaboration program funds for student internships to support local screening efforts to identify young children's mental health and developmental needs," said Haines.
Plans are being made to host a public screening of the upcoming Mr. Roger's movie in conjunction with a public forum on the way children's television programming has influenced education, parenting and the moral life of the American family.
About Lawrence University
Founded in 1847, Lawrence University uniquely integrates a college of liberal arts and sciences with a nationally recognized conservatory of music, both devoted exclusively to undergraduate education. It was selected for inclusion in the book "Colleges That Change Lives: 40 Schools That Will Change the Way You Think About College."  Engaged learning, the development of multiple interests and community outreach are central to the Lawrence experience. Lawrence draws its 1,500 students from nearly every state and more than 50 countries.