Brynley Nadziejka's study of metamorphosed igneous rocks relevant to understanding earthquake risk in tectonically active regions earned honorable mention recognition in the student research paper competition at the annual Institute on Lake Superior Geology (ILSG) conference.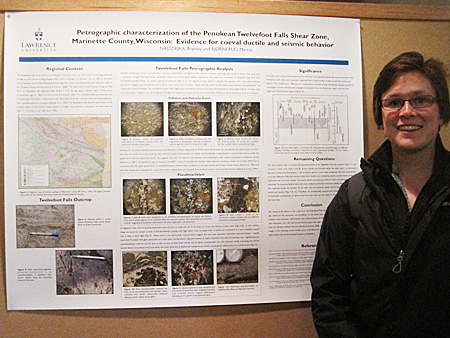 A senior from Kentwood, Mich., Nadziejka was recognized for her research at the Institute's recent annual meeting held in Hibbing, Minn. This was the second year in a row Nadziejka was honored by the ILSG. She won the best student poster award in 2013. This was the fourth consecutive year a Lawrence geology student has been recognized at the ILSG's annual meeting.
Nadziejka was among 33 student presenters from around the country at the annual conference. Amanda van Lankvelt, a 2010 Lawrence graduate currently pursuing a Ph.D. in geology at the University of Massachusetts, won the best paper award this year.
Nadziejka's research focused on metamorphosed igneous rocks in Wisconsin's Marinette County. The rocks represent the deep interior of the 1.8 billion-year-old Penokee Mountains, which formed in a tectonic collision when Wisconsin was at the edge of the ancient North American continent.
Micro-scale features on the rocks indicate slow ductile deformation at elevated temperatures and pressures, corresponding to depths of 7-9 miles in the crust. The rocks also contain pseudotachylyte, a glassy-type rock that is formed only by frictional melting during large earthquakes. The evidence reveals that as the mountains were growing, large earthquake ruptures sometimes propagated downward to depths where rocks are typically too warm to fracture.
The ILSG is a non-profit professional society that provides a forum for the exchange of geological ideas and scientific data and promoting better understanding of the geology of the Lake Superior region, whose rocks record more than 2.5 billion years of geologic time, more than half of Earth's entire history.
The annual meeting draws American and Canadian geologists from academe, industry and state and provincial agencies for four days of presentations and field trips.
About Lawrence University
Founded in 1847, Lawrence University uniquely integrates a college of liberal arts and sciences with a nationally recognized conservatory of music, both devoted exclusively to undergraduate education. It was selected for inclusion in the Fiske Guide to Colleges 2014 and the book "Colleges That Change Lives: 40 Schools That Will Change the Way You Think About College." Individualized learning, the development of multiple interests and community engagement are central to the Lawrence experience. Lawrence draws its 1,500 students from nearly every state and more than 50 countries.