Nearly 30 years after his first appearance at Lawrence University, legendary jazz guitarist Pat Metheny returns to campus — with his touring band Unity Group — Saturday, March 15 for an 8 p.m. Lawrence Jazz Series concert in the Memorial Chapel.
Tickets for Pat Metheny Unity Group, at $30 adults, $15 students, are available through the Lawrence Box Office, 920-832-6749 or online.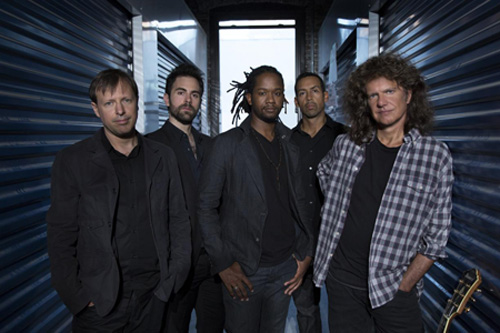 Metheny first performed at Lawrence in the fall of 1984, two years after he won the first of his 20 Grammy Awards. His most recent Grammy was awarded in 2013 for best jazz instrumental album with Unity Band. During a four-decade career, Metheny has enjoyed near unparalleled success. His impressive resume includes:
• 35 Grammy award nominations in 12 different categories.
• 20 Grammy Awards, with wins in an amazing 10 different categories, the only musician ever to earn a Grammy in that many categories. He also won an unprecedented seven Grammys in a row for seven consecutive Pat Metheny Group recordings. Founded in 1977, the Pat Metheny Group has won a total of 10 Grammy Awards.
• 3 Gold Records — "Secret Story," 1992;  "Letter From Home," 1989; and "Still Life (Talking)" 1987.
• 42 recordings totaling with 20 million records sold worldwide.
• Three-time "Guitarist of the Year" Award winner (2009, '10 and '11) in DownBeat Magazine's Readers Poll.
• Inducted into the DownBeat Hall of Fame in November, 2013.
• 2014 Goya Award — Spain's equivalent of the Academy Awards — for Best Soundtrack for the film "Living is Easy with Eyes Closed."
"One of the greatest musicians on the planet"
"I have always loved the music of Pat Metheny, which has always simultaneously surprised me and left me with a feeling of familiarity," said Steve Peplin, adjunct professor of jazz guitar in the Lawrence Conservatory of Music. "Pat has taught us that the true medium of the musician/composer isn't just sound, but the human spirit. Aside from being the heavyweight champ of jazz guitar, he has changed the sound of the guitar several times as a sound innovator.
"Pat is a great composer who always manages to create the thing we really want: the feeling. I have never once heard Pat without being moved," Peplin added. "To hear Pat with the masters in the Unity band is…should be…illegal."
The Unity Band, which will join Metheny on the Chapel stage, features its own line-up of stellar musicians:  saxophonist Chris Potter, bassist Ben Williams; percussionist Antonio Sanchez, and multi-instrumentalist Giulio Carmassi, who plays everything from piano and keyboards to woodwinds and brass, guitar, bass and drums.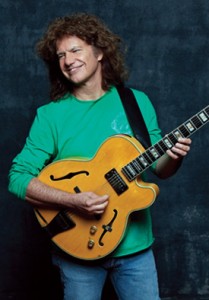 Metheny has called his collaborations with Unity Band "life changing."
"With Guilio added to the core four of us," said Metheny, "with Chris Potter, in addition to being one of the most exciting soloists in jazz on any instrument and one of the most versatile woodwind players in history, he also happens to be a killer piano player and very good guitarist, with Ben Williams being equally great on both acoustic and electric basses, and with Antonio Sanchez, one of the greatest drummers in the world right now, just about anything will be possible."
Internationally renowned musician and composer John Zorn calls Metheny "a living legend—one of those rare lights in the universe. His incredible facility and dedication, indefatigable energy and focus, imagination, and never-ending curiosity have distinguished him as truly one of the greatest musicians on the planet."
In 2013, Metheny collaborated with Zorn on "Tap: The Book of Angels, Volume 20," for Zorn's ambitious project "Masada Book Two." The album, a tour de force showcase of Metheny's versatility, features him playing guitars, bass, bandoneón, electronics, flugelhorn, keyboards, orchestrionics, percussion, sitar, tiples and others.
About Lawrence University
Founded in 1847, Lawrence University uniquely integrates a college of liberal arts and sciences with a nationally recognized conservatory of music, both devoted exclusively to undergraduate education. It was selected for inclusion in the Fiske Guide to Colleges 2014 and the book "Colleges That Change Lives: 40 Schools That Will Change the Way You Think About College." Individualized learning, the development of multiple interests and community engagement are central to the Lawrence experience. Lawrence draws its 1,500 students from nearly every state and more than 50 countries.