A gift of 14 African sculptures — seven for Lawrence University and seven for the Appleton Art Center — from Milwaukee art gallery owner David Barnett and his wife, Susan, a 1981 Lawrence graduate, will be officially dedicated Wednesday, June 16 in private ceremonies on campus and at the ACC.
The sculptures were created by members of the Shona tribe of Zimbabwe from a variety of stones, including opal, spring and serpentine.
Several of the pieces have been donated in memory or honor of people with special ties to Lawrence, the Fox Valley community or the Barnetts.  Lawrence's seven sculptures are located in four locations on campus.
"Beggar," a piece donated in memory of James Auer, a 1950 Lawrence graduate who was a decades-long reporter and art critic for the Milwaukee Journal and the Milwaukee Journal Sentinel and "Mother and Children," donated in memory of Barnett's parents, Philip M. and Ethel Barnett, are located along the new riverwalk nature trail behind the Warch Campus Center.
"Traditional Dancer," dedicated to the memory of Kaitlin Mahr, a member of the class of 2009 and "African Girl," dedicated in honor of Cory '92 and Michelle Nettles, are in the Wriston Art Center.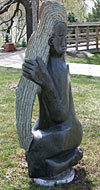 "Resting Man," dedicated to the memory of former Lawrence Professor of French Gervais Reed and "Proud of My New Hair" can be found on Hurvis Crossing over Lawe Street.
"Waving Woman," which was carved by Colleen Madamombe, widely considered one of the top sculptors in Zimbabwe, is located in Memorial Hall.