The hits just keep coming for Sam Genualdi.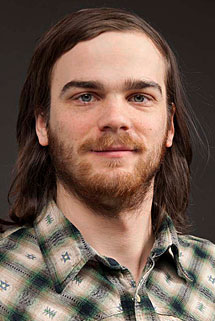 The Lawrence University senior, who was awarded a $30,000 Watson Fellowship last month, can add 2017 DownBeat Student Music Awards (SMA) competition winner to his resume.
Genualdi has received the "Outstanding Original Composition" award in the undergraduate category for his large ensemble composition "Treelight" in the jazz magazine's 40th annual competition.
Announced in DownBeat's June edition, the SMAs are considered among the highest music honors in the field of jazz education. They are presented in 13 categories in five separate divisions: junior high, high school, performing high school, undergraduate college and graduate college.
The composition award is all the more impressive given Genualdi's own admission.
"I didn't really get into notated music, written down on the page, until I came to Lawrence," said Genualdi, a student-designed contemporary improvisation major from Evanston, Ill. "I arrived not knowing how to read music very well, but once I was here, I voraciously tried to absorb as much information as I could to make myself the best musician I could be."
Patty Darling, instructor of music who directs the Lawrence University Jazz Ensemble and teaches jazz composition and arranging, offered Genualdi a commission last year to write  a large ensemble piece for the college's annual Fred Sturm Jazz Celebration Weekend. He spent nine months working on the five-minute piece.
"It's not your standard big-band music," Genualdi says of "Treelight." "It draws on influences from hip-hop, contemporary wind ensemble music and a lot of more spread out harmony. I had one central motif that I drew upon to create the whole thing. I took this short melodic idea and flipped it on its head a whole bunch of different ways to spin it out into the whole piece."
When he started the "Treelight project, "sorting material" was the initial step in the process.
"I had tons of ideas, way too many melodic fragments and thoughts, and just pages of different stuff, recordings on my phone, different little things that I was thinking about using," Genualdi explained. "Most of that came from just improvising. I'd sit my phone on the piano, record, and then just start playing. I'd listen back and pick things out. I ended up distilling it to this one idea and I wanted to see how many different ways I could change it."
Darling said all of Genualdi's compositions reflect "his exceptional talent as an improviser and as a diverse musician."
"Sam develops simple motifs into beautiful, extended phrases and integrates many musical influences into compositions that are unique and compelling," said Darling, a 1985 Lawrence graduate who won a DownBeat award herself in 1984 for best jazz arrangement.
"He's such a well-rounded musician: a composer, a performer, an improviser and a scholar," Darling added. "Sam is always open to new experiences and learning more. No matter what paths he chooses, I'm confident he will always be creating beautiful and meaningful music."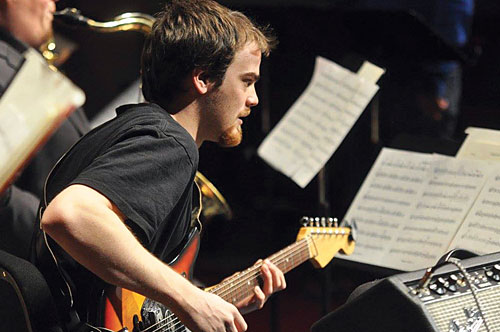 Genualdi plays guitar on "Treelight," which was recorded last fall by the Lawrence Jazz Ensemble under Darling's direction. He calls it "the best thing I've written that has seen the light of day."
The title was inspired by family vacations and backpacking trips in the woods and mountains out west when he was young.
"There isn't an English word for the way beams of light pass through the trees in a forest," said Genualdi. "There are words in Japanese for this shoot of light coming down but not an equivalent English word. I was poking around and found something that suggested 'tree light' might be the closest, but that's not an actual word. It's not defined in the dictionary."
Beyond a combination of shock and excitement, Genualdi said when he learned of his DownBeat award, his mind immediately drifted back to his freshman year and his experiences playing in the jazz ensemble under the late Fred Sturm, Lawrence's long-time director of jazz studies who died of cancer in 2014.
"I know wherever Fred is, he's proud, and that makes me very happy, too. I don't really care much about name recognition, but it will be really cool to see my name next to Patty's and Fred's and all my peers over the years who have won Downbeat awards."
On May 19, Genualdi will release his album "Looking Through the Glass," through his website. The album is a songwriting project featuring jazz saxophonist and composer Tim Berne and experimental percussionist Jon Mueller.
This is the third straight year a Lawrence student has won a DownBeat original composition award. Tim Carrigg, a 2016 Lawrence graduate, won back-to-back honors in 2015 and 2016.
As one of Sturm's former composition students, Darling points to the high bar he set as part of the reason for the recent string of successes.
"I'm thrilled our jazz composers are doing well. Fred always expected a lot from his composition students," said Darling, who has taught in the Lawrence jazz department since 2007. "Fred was always incredibly supportive, dedicated and positive so it's very important to me that we continue to uphold his traditions."
Since DownBeat launched its Student Music Awards competition in 1978, Lawrence students and ensembles have won a total of 28 SMAs, including eight in the past seven years.
About Lawrence University
Founded in 1847, Lawrence University uniquely integrates a college of liberal arts and sciences with a nationally recognized conservatory of music, both devoted exclusively to undergraduate education. It was selected for inclusion in the book "Colleges That Change Lives: 40 Schools That Will Change the Way You Think About College."  Engaged learning, the development of multiple interests and community outreach are central to the Lawrence experience. Lawrence draws its 1,500 students from nearly every state and more than 50 countries.