Emmy Award-winning composer and 2010 Lawrence University graduate Garth Neustadter discusses his work on the feature film "Pilot Error" when it makes its Wisconsin premiere Monday, March 2 at Marcus' Appleton East Cinema.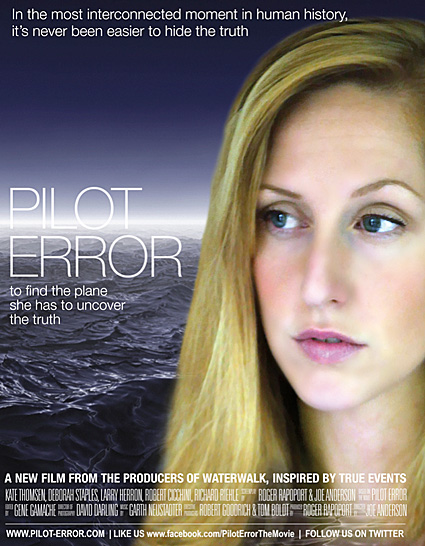 The movie also will be shown Wednesday, March 4 at the Green Bay East Cinema and Thursday, March 5 at the Oshkosh Cinema. The film will be shown at all three theaters at 4 p.m. and 7 p.m.
Neustadter, a Manitowoc native now living in Pasadena, Calif., wrote the film's score. Prior to all six screenings, he will lead an audience talkback related to the music in the film, including how composers collaborate with directors and how composers can enhance a film.
Following each screening, talkbacks also will be held with the film's producer/screenwriter Roger Rapoport and veteran airline training pilot and accident investigator Robert Hesselbein of Madison.
Set in Wisconsin and filmed in part in Milwaukee and Appleton, the film was inspired by true events, most notably the 2009 Air France flight from Rio de Janeiro to Paris that mysteriously disappeared in the Atlantic Ocean, killing more than 200 passengers and crew onboard.
The film explores many of the same questions raised following two other more recent air disasters:  the loss of Malaysia Air 370 in March 2014 and the Air Asia crash in the Java Sea last December.
Tom Boldt, is CEO of The Boldt Company based in Appleton, served as the film's executive producer and recommended Neustadter to Rapoport.
"He's off the charts as far as we're concerned," Rapoport said of Neustadter. "He's a special composer."
"Pilot Error" is the 10th film Neustadter has scored. He began working on it last August, and unlike some film projects that have deadlines as tight as two weeks, he had the luxury of a little more than two months to write approximately 60 minutes of music for this film. His score was performed and recorded live by Los Angeles studio musicians.
"I was extremely pleased with how the score turned out," said Neustadter, who won a 2011 Emmy Award at the age of 25 for his film score for "John Muir in the New World," a PBS American Masters documentary. "Having live musicians for the recording process was really important to the producer and the director. They (live musicians) definitely breathed a certain life into the score that you need for a film like this that you can't get with synthesized instruments."
Neustadter said one of the things that made his job on "Pilot Error" easier was that from the start, everyone involved with the project, from the director to the editor, was on the same page regarding the score.
"That's not always the case," said Neustadter, whose credits include scores for 2013 documentary "The Thingmaker" and the 2012 James Franco-Mila Kunis-Jessica Chastain feature "Tar," as well as films from China and India, Progressive Insurance ads and an American Express commercial that debuted during Sunday's (2/22) Academy Awards telecast. "As a composer, my goal is to realize what the director wants the music to be and can that align with what I envision the music to be. That was definitely the case with this film. We knew we wanted a larger orchestra score that could bring out the drama in the film but in a way that never became melodramatic or overplayed things too much."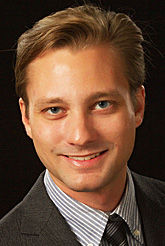 While a student at Lawrence, Neustadter earned first-prize honors (second place behind the grand prize winner) in the 2007 Young Film Composers Competition sponsored by Turner Classic Movies. A year later, TCM commissioned him to write an original score for a restored version of the 1923 silent film "The White Sister."
The film's other Wisconsin connection includes well-known Milwaukee Repertory Theater actress Deborah Staples.
Award-winning stage actress Kate Thomsen makes her screen debut as Nicola Wilson, an investigative reporter trying to find out why a jet headed from South America to Paris disappeared in the Atlantic, taking her close friend and 211 other passengers with it.
As she searches for answers as to how a plane can just disappear, Wilson puts her job, friends and career on the line. Even though she knows nothing about aviation, refuses to fly and doesn't speak French, Wilson uncovers astonishing details about the missing flight. Was it preventable? Has it happened before? Could it happen again? Was it pilot error?
According to Rapoport, the goal of the movie is to "encourage more hands-on flying and simulator training for airline pilots at a time when the industry is increasingly focused on automation. At the screening we'll be announcing some very good news about a major advance in weather forecasting technology that will benefit pilots everywhere."
"Pilot Error" is based on five years of research and interviews with more than 200 pilots, airline executives, plane manufacturers, regulatory agencies and the team that found the missing Air France 447 in the Atlantic. The film provides an inside look at the fate of pilots unfortunately kept in the dark about failed automation.
"Top airline training pilots speaking at our preview events have been warmly received by audiences trying to understand how, in the most interconnected moment in human history, it's never been easier to hide the truth," said Rapoport, whose first film, "Waterwalk," also was shot in Wisconsin.
Watch a trailer for the film.
About Lawrence University
Founded in 1847, Lawrence University uniquely integrates a college of liberal arts and sciences with a nationally recognized conservatory of music, both devoted exclusively to undergraduate education. It was selected for inclusion in the Fiske Guide to Colleges 2015 and the book "Colleges That Change Lives: 40 Schools That Will Change the Way You Think About College." Engaged learning, the development of multiple interests and community outreach are central to the Lawrence experience. Lawrence draws its 1,500 students from nearly every state and more than 50 countries.